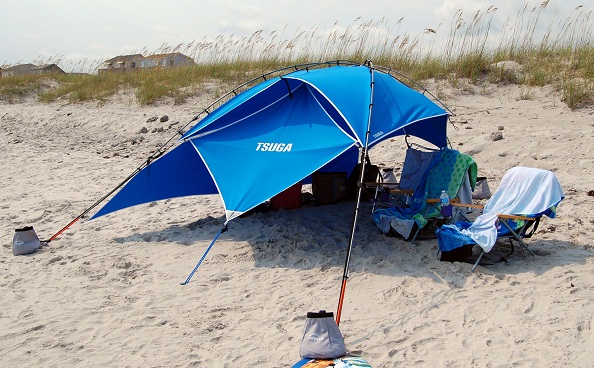 Portable shade canopies are great for the beach, tailgating and other outdoor gatherings, but most canopies are heavy and awkward to store, fade and fall apart. High-end canopies from Tsuga, fabricated of lightweight WeatherMax LT from Safety Components, combine extreme durability with a stylish appearance to make time spent outdoors even more enjoyable and trouble-free.
Tsuga's canopies are among the most versatile on the market. The asymmetrical design allows for multiple configurations from cabana-style for the beach to attaching to the back of a car for tailgating.
"At six to eight pounds and only two pieces out of the bag, our patented canopies can be set up by two people in two minutes," says Tsuga owner Jimi Combs. "Unlike other canopies that break after a single season, ours are engineered to last and when secured properly, can withstand winds up to 50 mph."
After Tsuga partnered with Safety Components, product manager John Pierce personally experienced how a Tsuga constructed with WeatherMax could withstand high winds and provide effective shelter. "I was so impressed with the design of the product I purchased one for a family trip to the beach. One day it was incredibly windy," said Pierce. "At one point a standard four-post canopy went tumbling past as we sat under our Tsuga with no problems at all. Lesser fabrics would have ripped off at the seams in such forceful gusts."
Tsuga's one system does it all. From camping, concerts, soccer games and lifeguard posts to farming field work, Tsuga provides a sun-shade solution that can be used freestanding or easily attached to a vehicle with Velcro. WeatherMax LT doesn't fade, is water resistant and provides complete UV protection, especially important for small children, the elderly and lifeguards.
In addition to its colorfastness, water- and abrasion-resistance, Combs said WeatherMax LT is great to work with. "It's more stable, doesn't tear and won't stretch much. It's light, so it's not rough on machines."
Tsuga's customers can choose WeatherMax LT colors from a rich palette. Resorts can match their logo and Appalachian State University chooses its school colors (black and gold), while the military favors Sand. "The most popular is Pacific Blue," Combs said. "I can see using all of them."
Located in the scenic High Country of Boone, North Carolina, Tsuga is dedicated to preserving the environment and supporting the community. Because Tsuga canopies don't rust and are easily repaired, they don't end up in landfills and are 100% recyclable. Both Tsuga and WeatherMax are manufactured locally.
"Tsuga Canopies proudly cuts, prints, sews and packages its products right here," says Combs. "By using regional vendors whenever possible, we are able to maintain an active role in every part of the process and ensure the quality of each and every product shipped. For example, Tsuga only uses high-quality components such as DAC poles, so WeatherMax LT is a natural choice for our fabric."
Tsuga Canopies is named for the Japanese word for hemlock. The suggested retail price of Tsuga Canopies start at $225.
Contact WeatherMax by Safety Components, 40 Emery St., Greenville, SC 29605. 864-240-2712; Fax: 864-240-5947. www.weathermax.net.