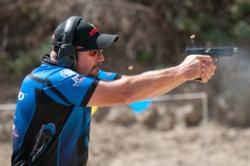 PIRU, Calif. – Team Smith & Wesson's Mike Seeklander of Owasso, Okla. held off Springfield Armory's Rob Leatham of Mesa, Ariz. by just 0.46 seconds to take the Production division title at the Steel Challenge World Speed Shooting Championships in Piru, Calif.
Seeklander, who is a firearms instructor at the U.S. Shooting Academy, won two of the eight stages on his way to posting a final time of 99.73 seconds, placing him 22nd among all shooters in all divisions. He also finished eighth in the Limited Pistol event with a time of 102.10 seconds.
Leatham finished 23rd overall and second in Production with four stage wins and a final time of 100.19 seconds.
"Mike's shooting performance was rock solid at this year's Steel Challenge and beating Rob is no small feat, especially considering he's won the Steel Challenge overall title twice in his career," said Mike Dalton, match director and one of the co-founders of the Steel Challenge.
Third place in the Production contest went to Houston Shaw of Lake Cormorant, Miss. who finished with a time of 105.78 and one stage win.
Team CZ-USA's Angus Hobdell of Tempe, Ariz. finished fourth with 106.68 while Jason Koon, the Team HK shooter from Alpharetta, Ga., placed fifth with 116.99 seconds.
Celebrating its 30th anniversary this year, the Steel Challenge World Speed Shooting Championships has served as the unofficial proving ground for the latest shooting equipment and determined who within the shooting sports community is truly the fastest of the fast.
For more information on the Steel Challenge World Speed Shooting Championships and the Steel Challenge Shooting Association, visit SteelChallenge.com, follow @SteelChallenge on Twitter, find the Steel Challenge on Facebook or visit the Steel Challenge blog.