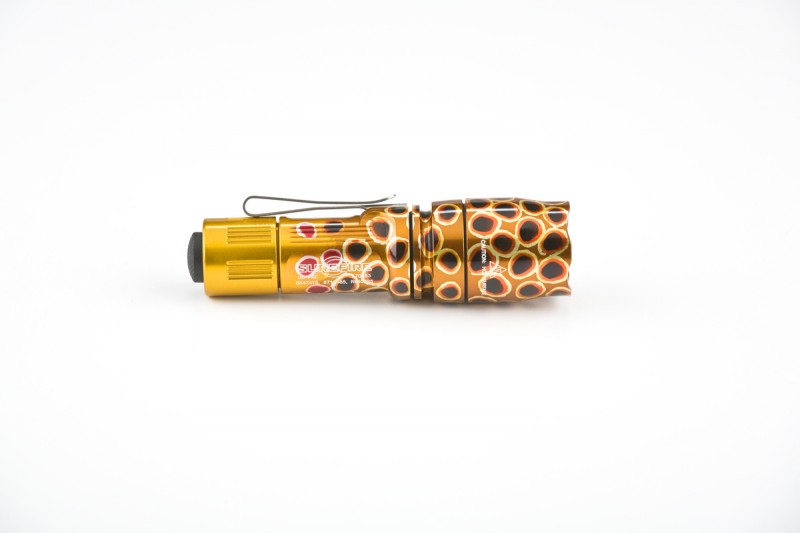 CAMARILLO, Calif. – A single cell high output flashlight – designed with fly-fishers, hikers, campers and other outdoor use in mind – is now available from fly reel manufacturer Abel. The American-made and fully machined aerospace E1B aluminum flashlight is produced under contract with SureFire, Fountain Valley, Calif.
The ultra compact dual-output flashlight features a virtually indestructible power-regulated LED emitter and a precision Total Internal Reflection (TIR) lens. A pushbutton
tailcap switch lets users activate the flashlight and select an output level: press or click for a 110-lumen high beam – four times the light of a big two-D-cell flashlight.
"The Abel compact E1B light delivers either a 5-lumen ultra long-runtime low beam or 110 lumens for extreme brightness. Use the low beam for reading a map; the high output for navigating a trail in the dark. The flashlight produces useful light levels for 37 hours," said Don R. Swanson, Abel president.
At 4-inches long and weighing 3-ounces, the light fits comfortably in a fly-fishing vest or chest-high wader pocket.
The compact flashlight comes with a single 123A high energy lithium battery with 10-year shelf life.
The Abel E1B compact is $225 in red or olive, $275 in Abel's brown trout finish.
Specifications:
High-strength aerospace aluminum body, Mil-Spec; Abel hard-anodized
Weatherproof O-ring and gasket sealing
Manufactured in conjunction with SureFire
Length: 4 inches
Weight: 3 ounces
Max Output – High: 110 lumens, Low: 5 lumens
Battery: Single 123A high energy lithium
$225 in red or olive finish, $275 in Abel brown trout finish