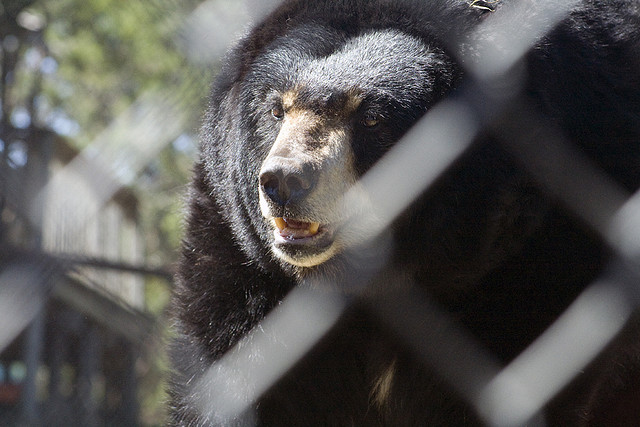 AUSTIN, TX – Wildlife biologists are advising hunters, ranchers and rural residents that black bears appear to be roaming longer distances and may approach people or houses in search of food and water because of the drought.
If conditions remain dry, people could see more bears, said Mike Krueger, district leader of the Edwards Plateau Wildlife District for Texas Parks and Wildlife Department.
"We're getting a few reports of people seeing bears during daylight hours, and that's unusual," Krueger said. "It's the associated water around homes and the food. The pet food, the smell of cooking; all those things could attract bears."
Recent bear sightings could reflect young bears who have been turned out by their mothers and are setting out to establish their own home ranges.
Because of the drought, the bears appear to be traveling longer distances, sometimes even hundreds miles, to find better habitat conditions. Known breeding bear populations in Texas are in far West Texas, so it's possible bears seen in Central Texas traveled from there, or from Mexico. Bears are still considered rare in Texas.
A black bear was killed in early August in Kerr County north of San Antonio. Texas Parks and Wildlife Department investigated the incident, since bears are protected and may not be hunted. The man who killed the bear said he felt he and his dogs were in danger. The bear was a 2 year old male, weighing 103 pounds.
"We need to encourage everyone to be more tolerant of bears," Krueger said. "We recommend people try to scare bears away, or go to a safe place and call us. But killing a bear should be a last resort unless a person is truly threatened."
Krueger said when the first waves of hunters head to the field in September, some might see broken windows or other signs of bears attempting to enter buildings where food was kept, or wildlife feeders overturned.
Bears are omnivores, meaning they eat almost anything. Research shows free-roaming black bears are mainly vegetarians, and up to 90 percent of their diet is vegetable material, including nuts, fruits, berries and plants. Most of the protein in a bear's diet comes from insects like beetles, wasps, termites and ants.
According to the TPWD brochure Bear Safety in Mind, bears are normally shy and not aggressive to humans. But if a bear regularly visits a ranch or deer stand, people should try to scare it with rocks, a slingshot or air horn.
If people encounter a bear at close range, they should talk calmly while backing away slowly. Don't make direct eye contact, and don't run away.
If a bear approaches you, stand your ground and raise your arms, backpack or jacket to appear larger, and yell at the bear to scare it off.
Hunters should keep camps clean to prevent odors that will attract bears, and discard gut piles far from campsites. Placing deer corn in piles or in open feeders will attract more bears, while using an automated feeder hung out of reach of bears will decrease bear visits. Also, switching bait from corn to soybeans will reduce bear activity. And, planting food plots is the best way to attract deer and avoid bear visits.
It is against the law to kill a black bear in Texas, with penalties of up to $10,000, added civil restitution fines, jail time and loss of all hunting privileges. The black bear, Ursus americanus, is listed as threatened by the State of Texas and the Louisiana black bear, Ursus americanus luteolus, sometimes seen in eastern Texas, has additional protection and is federally listed as threatened under the Endangered Species Act.
To report a black bear sighting in Texas, call a TPWD Wildlife Division regional office: West Texas (Alpine), (432) 837-2051; Central Texas (Kerrville), (830) 896-2500; East Texas (Tyler), (903) 566-1626; Panhandle/Rolling Plains (Canyon), (806) 655-3782; Cross Timbers (Brownwood), (325) 643-5977; South Texas (Pleasanton). (830) 569-8700. If it's an emergency, call the local sheriff's office or 911.
Contact:
Tom Harvey, 512-389-4453, [email protected]