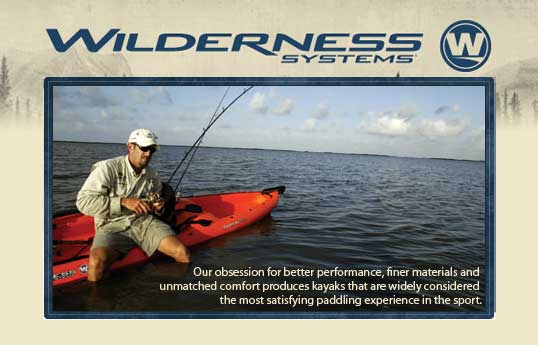 Easley, S.C. (August 15, 2011) –  Canoe & Kayak Magazine honored Wilderness Systems as "Boat Brand of the Year" at the 25th annual "Paddlesports Industry Awards." The award was handed out at Canoe & Kayak's annual paddlesports industry party, which took place Aug. 5, 2011, during  Outdoor Retailer Summer Market in Salt Lake City, Utah. This is the third consecutive win for Wilderness Systems, making it the only brand to have earned a three-peat in the 25-year history of the award.
Canoe & Kayak conducts the annual survey, in which over 250 specialty paddlesports retailers cast votes for the "Boat Brand of the Year." Sue Rechner, CEO of Confluence Watersports, and Bob McDonough, lead designer for Wilderness Systems, accepted the award on behalf of Wilderness Systems.
"It is truly an honor to be recognized by our dealer partners," Rechner said. "We humbly accept the award as a great compliment that we are on the right track. And while we couldn't be more excited about the hat trick, it also motivates us to continually set the bar higher and consistently work harder and smarter on behalf of our specialty dealers. The award is shared by an entire team of people who put their hearts and souls into ensuring Wilderness Systems continues to live up to its promise. On behalf of the Wilderness Systems team, we thank our dealer partners and the staff at Canoe & Kayak for continuing to support the passion and the play behind all of paddlesports."
Not resting on laurels, Wilderness Systems continues to refine and innovate its high-end touring and kayak fishing lines. At Outdoor Retailer Summer Market 2011, Wilderness Systems introduced the  Tsunami 135 and 140 PRO composite touring kayaks, and the redesigned  Ride Series of rec and angler kayaks.
We welcome you to join the Wilderness Systems community. Also, join us on Facebook.
About Wilderness Systems:

Innovative designs tuned for performance, premium outfitting, and superlative quality have aligned Wilderness Systems boats with the most acclaimed paddling experiences in the world. Since 1986, Wilderness Systems has pushed the limits of design and innovation, by refusing to compromise. A Wilderness Systems kayak offers the ultimate in performance and design for the recreational boater to the expedition paddler. Taking that same drive into the angling market, Wilderness Systems fishing kayaks exemplify the ultimate experience for anglers. For the times you can't be on water, experience Wilderness Systems at www.wildernesssystems.com and join the Wildy Community.