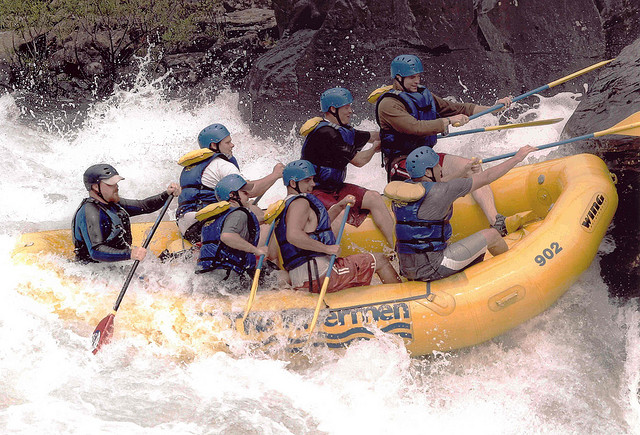 Moab, UT, Aug. 18, 2011 – The entry fees, pledges and contributions have been counted and Utah's Moab Adventure Center (http://www.moabadventurecenter.com/) announced the 2011 Raft for the Cure event held June 25 in Moab, Utah broke all previous records for fundraising and attendance. The summer event attracted over 385 participants, up from just over 300 in 2010 and generated more than $25,000 for the Susan G. Komen Foundation.
The daylong event included rafting the Colorado River (for ages 5 and up), a buffet lunch at Red Cliffs Lodge, a community barbecue and live music concert. The $100 adult registration fee ($85 youth ages 5-15) included a commemorative Raft for the Cure t-shirt, a rubber memory wristband, activities, meals and all river transportation.
"This year's changes included six local rafting companies joining forces to significantly increase our capacity," explained event organizer Brandon Lake, co-founder of the Moab Adventure Center. "We also held the post rafting event at Swanny Park in Moab this year which encouraged more local participation."
Lake explains how the idea for a rafting fundraiser got started. "After hearing the news that one of our own employees, Betty Conner, discovered she had breast cancer, we created this event to help Betty and thousands of others who are affected by breast cancer every year. Today, Betty is a survivor. This event gives us a chance to celebrate those who have won the battle, support those who are currently fighting it, and remember others who have passed on."
Moab Adventure Center has just announced that the date for next year's 6th Annual Raft for the Cure event will be June 30, 2012. The entry fee will remain the same; $100 for adults and $85 for youth 5-15. It includes river rafting on the Colorado, transportation to/from river, equipment, lunch, concert, T-shirt and wrist band.
For a video of the 2011 event, information and registration go to www.raftforthecure.com. A Facebook page has also been created to keep friends and followers posted on news and events: http://www.facebook.com/pages/Raft-for-the-Cure/127775017253053
Moab Adventure Center (http://www.moabadventurecenter.com/) is a division of Western River Expeditions (http://www.westernriver.com/), an adventure travel company headquartered in Salt Lake City, with operations and offices in Moab, Utah and Fredonia, Arizona. The company is the largest single tour provider in Moab, UT. Its programs are available from March through October.
Established in 2004, Moab Adventure Center serves active travelers with half, full, and multi-day adventure programs including Moab rafting, Hummer safaris, Arches National Park Tours, canyoneering, Moab mountain biking, Colorado River jetboat tours, horseback riding and hot air balloon rides. In addition to activities, the Adventure Center also offers Moab lodging and Jeep rentals as well as complete Moab vacation packages.
For information please call (435) 259-7019 or (866) 904-1163.