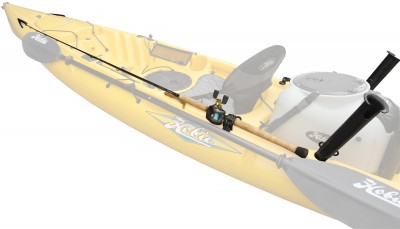 Oceanside, California – August 17, 2011 – Hobie does not stop with fishing boats. They understand that accessories are both fun and often necessary. Their series of fishing-friendly accessories makes it possible for anglers to customize to fit their own preferences. The first-ever Horizontal Rod Holder Kit and the Hobie H-Bar are new for summer 2011.
The Horizontal Rod Holder Kit a.k.a.Rod Holster lets anglers in most kayaks, Hobie or otherwise, store rods along either or both sides of their vessel. This keeps rods secure and protected, especially when fishing under or around heavy cover such as brush or docks or launching in rough conditions. It is easy to use; the rod is simply inserted into the tip protector and the rod handle locks into the clasp. Patent Pending. MSRP: $19.95
Designed with stand-up anglers in mind, the Hobie H-Bar adds utility and options to the Hobie Mirage Pro Angler. "We designed the H-Bar to provide unsurpassed stability and an optimal support platform for entering and exiting our boat," commented Morgan Promnitz, Hobie's fishing product manager. "Standing up and making a cast to feeding fish will be easy. Cast even further while leaning against the super comfortable foam pad. Add a stripping basket to the H-Bar for snag-free fly fishing fun."
Made from clear-coated anodized aluminum, the H-Bar is light, strong and quiet to prevent fish from spooking. Accessories such as fishfinders and rod holders can be mounted on the bar or it can be left clear for easy stand-up paddling. The H-Bar folds away in seconds by removing two pins, leaving the front hatch and cockpit area fully accessible.
For a wide array of additional accessories and parts, log onto www.hobiefishing.com and click on "Fishing" then "Accessories" and also check out the link for the latest "Hobie Kayaking/Fishing Parts and Accessories Catalog"
Since 1950, Hobie has been in the business of shaping a unique lifestyle based around fun, water, and quality products. From their headquarters in Oceanside, California, Hobie Cat Company manufactures, distributes, and markets an impressive collection of watercraft worldwide. These include an ever-expanding line of recreation and racing sailboats, pedal-driven and paddle sit-on-top recreation and fishing kayaks, inflatable kayaks, and fishing boats plus a complementary array of parts and accessories.
Oceanside, California – July 13, 2011 – Hobie does not stop with fishing boats. They understand that accessories are both fun and often necessary. Their series of fishing-friendly accessories makes it possible for anglers to customize to fit their own preferences. The first-ever Horizontal Rod Holder Kit and the Hobie H-Bar are new for summer 2011. The Horizontal Rod Holder Kit a.k.a.Rod Holster lets anglers in most kayaks, Hobie or otherwise, store rods along either or both sides of their vessel. This keeps rods secure and protected, especially when fishing under or around heavy cover such as brush or docks or launching in rough conditions. It is easy to use; the rod is simply inserted into the tip protector and the rod handle locks into the clasp. Patent Pending. MSRP: $19.95 Designed with stand-up anglers in mind, the Hobie H-Bar adds utility and options to the Hobie Mirage Pro Angler. "We designed the H-Bar to provide unsurpassed stability and an optimal support platform for entering and exiting our boat," commented Morgan Promnitz, Hobie's fishing product manager. "Standing up and making a cast to feeding fish will be easy. Cast even further while leaning against the super comfortable foam pad. Add a stripping basket to the H-Bar for snag-free fly fishing fun." Made from clear-coated anodized aluminum, the H-Bar is light, strong and quiet to prevent fish from spooking. Accessories such as fishfinders and rod holders can be mounted on the bar or it can be left clear for easy stand-up paddling. The H-Bar folds away in seconds by removing two pins, leaving the front hatch and cockpit area fully accessible. For a wide array of additional accessories and parts, log onto www.hobiefishing.com and click on "Fishing" then "Accessories" and also check out the link for the latest "Hobie Kayaking/Fishing Parts and Accessories Catalog" Since 1950, Hobie has been in the business of shaping a unique lifestyle based around fun, water, and quality products. From their headquarters in Oceanside, California, Hobie Cat Company manufactures, distributes, and markets an impressive collection of watercraft worldwide. These include an ever-expanding line of recreation and racing sailboats, pedal-driven and paddle sit-on-top recreation and fishing kayaks, inflatable kayaks, and fishing boats plus a complementary array of parts and accessories. hobiefishing.com