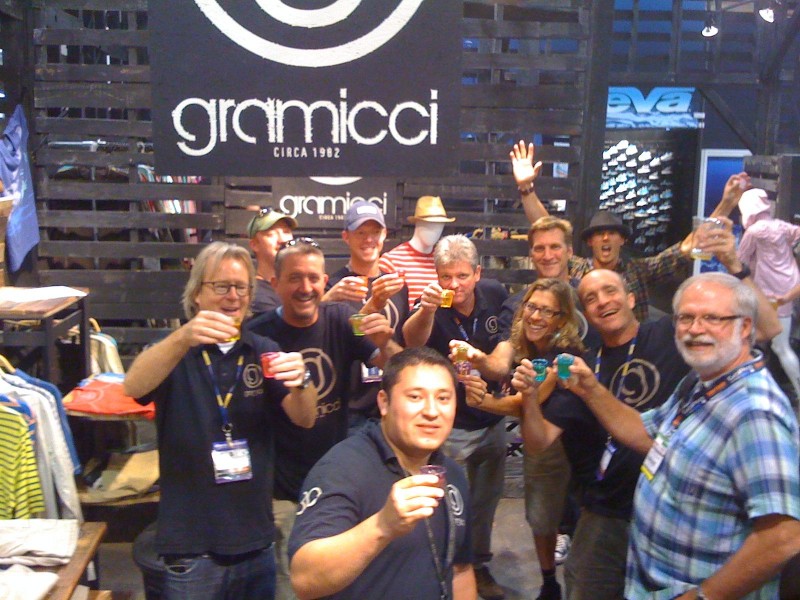 Gramicci, the renowned climbing and outdoor apparel company, celebrated thirty years in business this year. As a gesture of thanks to its retailer partners, Gramicci invited current partners and new dealers to register to win a new FIAT 500 in a raffle at the Gramicci booth at the Outdoor Retailer Show in Salt Lake City. The thank you celebration worked-packing in a full house of outdoor retail buyers and awarding Don Pollie with Kittery Trading Post the winning ticket! Don has been a loyal retailer for the entire 30 years.
Since 1938 Kittery Trading Post, in Kittery Maine has been outfitting the world to be outside. As a serious retailer from the 1960's to now, Kittery has proven to provide the highest service, knowledgeable staff and diverse affordable gear for all outings. Pictured below Gramicci staff with Don Pollie.
"As my three 30 something year old children would of said 25 tears ago 'Totally Awesome,"I have never won anything of substance my entire life and all of the gang at Gramicci made this fun & a very memorable experience. I cannot say enough good things about them" Don Pollie – Senior buyer at Kittery Trading Post
The drawing took place at the Booth on the second day of the trade show at 5:45 pm. Dealers had to be present to win. Jello shooters and champagne flowed as dealers rushed in to register.
"To have a veteran buyer win, was an ideal situation to top of a huge week of celebrating! Some say it had to have be rigged.  Honestly there was too much chaos for us to have rigged a thing! We pulled 6 tickets- the first person was not present – the second one was Don – he had to have jumped ten feet in the air when we called his name – it was a great sight!" explains Marty Weening, President of Gramicci. "We invited all dealers to rightfully share in the celebration of our 30th birthday. We got to where we are today because of them. We wanted to show our appreciation for the business they have given us. We wanted them to feel that appreciation when they stop by our booth. The Fiat 500 is a perfect give-a-way – it is innovative, award winning, and not the norm in automobiles. Never the Norm is the Gramicci way."
"We had dealers that had carried Gramicci in the past and new shops that had never heard for the brand- all clamoring to win and see the new collections for 2012."  Adds Paul Cronin – VP Director of US Sales.
With the birthday celebration, Gramicci presented it's most technologically sophisticated clothing it has ever brought to market– G-Movement™ for men and women lead by designer James Sawin. This collection features the newest generation of performance fabrications, as well as its sustainable NPT- Natural Performance Technology ™ fabrics – a blend of the earths most durable and organically grown natural fibers designed for both high performance sports enthusiasts, as well as consumers looking for distinct design.
These two categories will lead the market in natural performance and responsibly produced collections with performance factors rivaling and exceeding the Nike Dry Fit® tees and treated cotton by Under Armor®. Recent independent tests show that the Camura DT double traverse endurance knit for men, and the Corawood performance knit for women of hemp and cotton blend wick away moisture and dry at five times the rate and two times faster than other synthetic performance shirts. This measured comfort with performance is ideal for these racers and active enthusiasts of all sports. The properties of the hemp fibers are anti-microbial or odor resistant and highly durable. Best of all the materials used are herbicide and pesticide free, dyed with low impact dyes and made in fair labor compliant facilities.
The live car raffle registration successfully drew in a new crowd of retailers and welcomed back long time buyers, amping up the festivities.  Additionally, to thank the industry for their support, Gramicci gave away hundreds of commemorative "30" year tee shirts, champagne toasts, jello shooters and raffled a $2000 gift certificate on August 6th for those coming in the booth wearing their Gramicci.