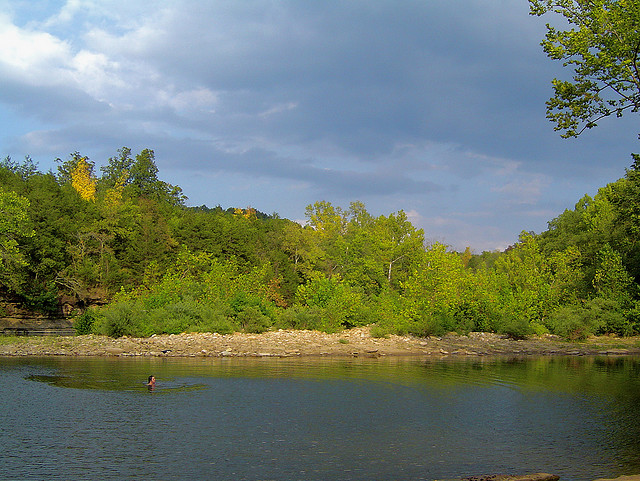 Minneapolis, Minn., August 3, 2011 -The next TESTRIDE™ stop will be in conjunction with the Forrest Wood Cup FLW Championship on Lake Ouachita in Hot Springs, Arkansas. The public is invited to attend the TESTRIDE events on Saturday, August 13th and Sunday, August 14th, from 10 a.m. to 3 p.m, at the Hill Wheatley Park on Lake Hamilton, Majestic Lodge Road in Hot Springs. Come early as the first 50 people receive a complimentary Rapala lure and all participants receive a complimentary TESTRIDE™ t-shirt.
Free TESTRIDE™ days allow consumers to experience features and benefits of new Evinrude-powered Ranger Boats on the water. "Pro-level anglers like have special TESTRIDE™ training with key product knowledge," shared George Liddle of LMC. "That means customers get to see the latest gear and try the equipment out. With a pro sharing what they know about the products right there, it makes for a fun event. Even better-it's free."
The staff and pro anglers enjoy it, too. "I love taking potential boat buyers out," added TESTRIDE™ director George Feder. "We can showcase not just the boat and motor, but the full package-with electronics and custom rigging. It is worth driving an hour to get to a TESTRIDE™ event. Folks will have a lot of fun and find it very educational."
Dealers appreciate being able to dovetail into the event with their products. "We love this kind of promotion through Evinrude and Ranger," shared Reji Short of Trader Bill's Outdoor Sports of Hot Springs, the local Ranger Boats dealer. "We're excited to have TESTRIDE™ come to our neck of the woods here in Hot Springs. It's one thing to see everything at the Expo, and another to have a chance to get on the water in a new Ranger Boat."
It can definitely be worth one's while in financial compensation. Up to $1500 in future boat purchase incentives are available just for taking a TESTRIDE™.
See www.liddlemarketingcompany.com for complete details. LMC is proud of the sponsor relationship for TESTRIDE™ with Evinrude Outboards, Ranger Boats, Minn Kota, Dobyns Rods and Rapala.
Photo: Jrwooley6