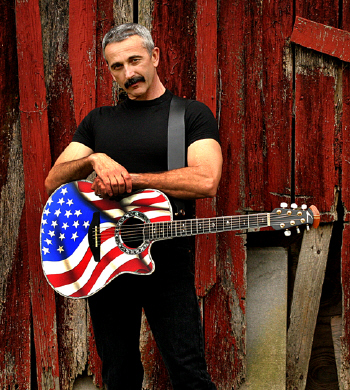 Tucson, Arizona – The Entertainment Stage at the EPIC Outdoor Game Fair will feature well-known country music stars Aaron Tippin and Crossin Dixon. The two acts will anchor the beginning and end of the three-day festival. In addition, the entertainment at the Main Stage will feature concerts by the Mike Brookshire Band, the Moonshine Mafia as well as other local bands. All performances are included with the price of admission tickets that are available online at www.epicgamefair.org. Hosted by Safari Club International Foundation (SCIF) and Quail Unlimited (QU), the EPIC Outdoor Game Fair is September 23-25, 2011 at Foxhall Resort and Sporting Club just outside of Atlanta, Georgia.
"Adding such top entertainment to the EPIC Outdoor Game Fair is just the icing on the cake for what will be a crowd-pleasing event," said Joe Hosmer, President of SCIF. "The Entertainment Stage is meant as a focal point where attendees can gather and watch fun and exciting shows – all for the regular price of admission! They're just one more reason this is a can't-miss event."
Aaron Tippin, a singer known for his songs about hard work and patriotism, will be performing the closing act of the EPIC Outdoor Game Fair from 6 to 7:15 pm on Sunday, September 25. Tippin rocked the country music world in 1990 with his song "You've Got To Stand For Something" and continued releasing hits such as "Working Man's Ph.D." and "That's As Close As I'll Get To Loving You." After the tragic events of 9/11/01, Tippin wrote the emotional anthem "Where The Stars And Stripes And The Eagle Fly." Besides being a singer-songwriter, pilot, farmer, winemaker and competitive bodybuilder – Tippin is an avid outdoorsman. He recently joined former Arkansas governor, Mike Huckabee, on a turkey hunt in Texas.
Rising country music stars, Crossin Dixon, will play the opening night of the EPIC Outdoor Game Fair from 6 to 7:15 pm on September 23. Comprised of equal parts Southern rock and contemporary country, Crossin Dixon rose to Nashville's attention in the mid-2000s on the strength of their live act. The band is made up of four Mississippi natives – vocalist Jason Miller, drummer Michael Bole, and guitarists/vocalists Brandon Hyde and Charlie Grantham. Crossin Dixon songs include "Guitar Slinger," "Make You Mine," "I Love My Old Bird Dog (& I Love You)" and "Goodbye to Henry."
Atlanta's hometown artist, Mike Brookshire, will be performing from 2:30 to 3:40 pm on Friday, September 23. Born in Atlanta, Mike learned to play on an old flat-top put together by his father from pieces salvaged from several old guitars. In 2007, Mike was inducted into the "Hall of Fame" by the Atlanta Country Music Hall Of Fame, the "Visionary Award" by the Georgia Music Industry Music Association, and awarded "Song Writer of The Year" by The Atlanta Society of Entertainers. He currently tours and plays solo dates around the south with his band, and has a great album out, "A Lot Of Explainin' To Do." Between gigs and sessions, he also
finds time to play at some of the industry's biggest events and galas, such as his yearly appearance on stage with such artists as Kenny Chesney, Carrie Underwood, Taylor Swift, Lady Antebellum, Sugarland, Montgomery Gentry, Brooks and Dunn, Reba McEntire and many more at the Academy of Country Music Awards.
Moonshine Mafia, a 4-piece band based out of Payson, Arizona will appear on the Entertainment Stage on Saturday and Sunday. They perform anything from classic country to current country as well as favorite classic rock songs from The Eagles and Pink Floyd.
In addition to the concerts on the Entertainment Stage, stars of the outdoor world, Scott Linden and Haley and G.O. Heath will also be featured during the weekend. Linden, the star of Wingshooting USA is bringing his "Bird Hunting Boot Camp" seminar to the stage. Full of fun, audience interaction, prizes and pop quizzes, Scott uses props for a dynamic, information-packed seminar that usually plays to standing-room-only crowds and garners rave reviews. Family Traditions with Haley Heath is a popular program on the Sportsman Channel that epitomizes today's generation of hunters and shows first-hand how family traditions can be passed down in powerful ways. Haley, a 5th-generation hunter, "Ultimate Outdoorsman Finalist" and the first woman to receive The Sportsman Channel's "Viewer-Favorite" award, hosts the show. Haley and her husband, G.O. will be signing autographs at the Entertainment Stage.
The entertainment on the Main Stage at the EPIC Outdoor Game Fair will provide much-needed rest times from the action-packed activities that will be going on throughout the event. From archery to shotgun shooting to dog training to fishing and equestrian sports, the three-day event will have it all and will be a top destination this fall for families in the southeast.
There are many places online with up-to-the minute information about all of the exciting entertainment, events and seminars that are being planned for the EPIC Outdoor Game Fair. Besides the EPIC Outdoor Game Fair website (www.epicgamefair.org), you can also get regular updates at the event blog, EPICGameFairBlog.org and follow us on Facebook, Facebook.com/EPICOutdoorGameFair and Twitter, Twitter.com/EPICGameFair