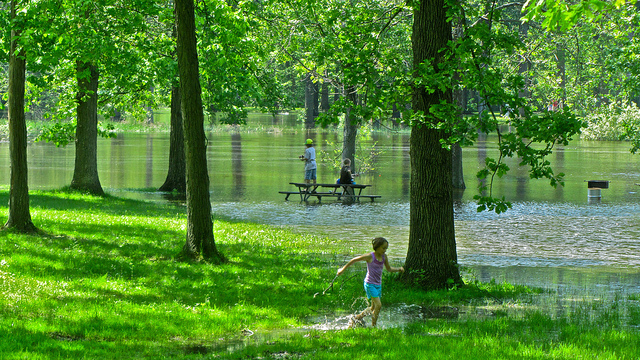 Livonia, MI, August 9, 2011 – The second annual Boating & Outdoor Festival at Metro Beach Metropark has been chosen to host BRP's Ultimate Playground. BRP will offer test rides to pre-registered attendees on their Sea Doo Personal Watercrafts and Boats, Can-Am Side-by-Side and ATV's and Can-Am Roadster's September 23-25, during the festival.
The BRP Ultimate Playground will share the grounds with the Festival at Metro Beach's South Marina. An off-road course will be created for the Can-Am ATV's and Side-by-Sides. Sea Doo boats and personal watercraft will be accessible from Docks off of Metro Beach and the Can-Am Roadsters will have a demo area in the main parking lot. A link will soon be available on boatingandoutdoorfest.com for interested individuals to pre-register (required) to participate in the demo rides.
Other areas of interest at the Festival will include outdoor recreation exhibits, waterfront living, fine art, fishing, food & beverages and of course the South Marina basin full of boating exhibits ranging from powerboats to fishing boats, sailboats and more. Special attractions include Duma the waterskiing dog, meet and greet with Nickelodeon's Dora the Explorer and a Tiki Bar with live music.
The Boating & Outdoor Recreation Festival is produced by the Michigan Boating Industries Association (MBIA). The festival, located at Metro Beach Metropark, will be held September 22-25, 2011. Hours: Thurs., Fri.: Noon – 8PM, Sat.: 11AM – 8PM and Sun.: 11AM – 6 PM. For more information, current promotions and contest information, visit www.boatingandoutdoorfest.com. Admission: $9 for adults, children 12 and under free with an adult. A Metroparks vehicle entry permit is required to enter any Metropark which is only $25 annually for regular admission, $15 annually for seniors, or $5 daily. General park information can be found at www.metroparks.com or by calling 1-800-47-PARKS.
MBIA is a non-profit Association dedicated to the advancement, protection and promotion of the recreational boating industry in Michigan, representing nearly 400 marine businesses in Michigan. The boating industry in Michigan represents a $3.9 billion industry, with more than 758 marinas, 460 marine dealers and more than 51,000 jobs. For more information go to www.mbia.org.
Michigan Boating Industries Association
32398 Five Mile Rd., Livonia, MI 48154
P: 734.261.0123, F: 734.261.0880, E: [email protected]
Photo: Ellen M