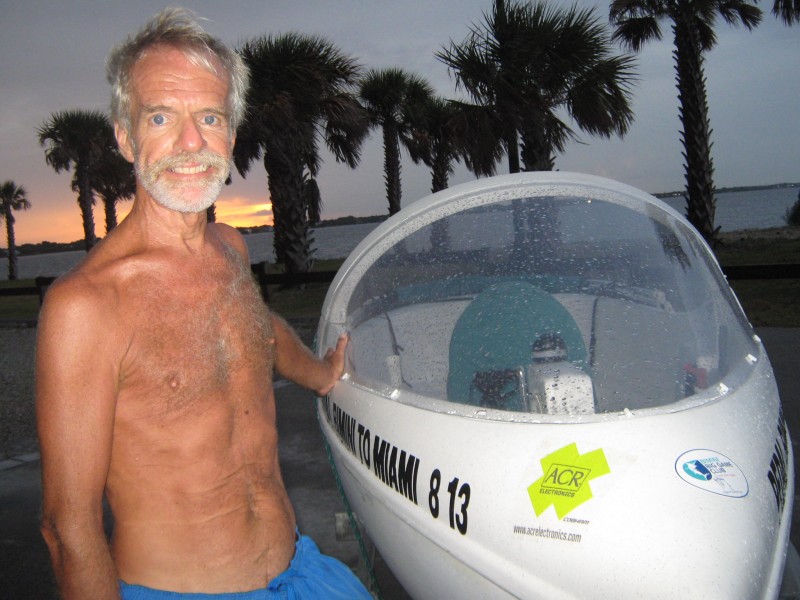 ALICE TOWN, BIMINI—AUGUST 8, 2011— Ernest Hemingway, who resided, fished and forever branded this tiny Bahamas out island with his writings in the 1930s, would have considered Bill Boes a kindred spirit—a man willing to challenge the sea for a personal goal.
The 61-year-old Boes, an asthmatic with one kidney and battling arthritis, this weekend will shove off in a 12-ft pedal boat from the marina at the historic Bimini Big Game Club (www.biggameclubbimini.com), which is providing complimentary rooms and dockage for his party.
His goal is twofold: to raise awareness for human powered vehicles and money for the House of Hope, which provides food and services to the needy in Martin County, Florida. His challenge is to traverse the Strait of Florida in a very difficult four-knots-per-hour, 14-16 hour crossing to South Florida's coast—hopefully landing somewhere in northern Broward County, depending on the steering currents of the Gulf Stream.
Boes, who lives in Stuart, Florida, will be pedaling an Escapade model pedal boat manufactured by Nauticraft in Muskegon, Michigan.   There will be a chase boat following Boes as he departs Alice Town, tentatively scheduled for early Saturday morning, August 13th(weather and sea conditions permitting).
A surfer in his youth and now a devoted fitness enthusiast following a daily regimen and nearly vegan diet, Boes hopes he is physically up to the challenge.  A native of Breezy Point, New York, which is a spit on the western tip of Long Island, with Jamaica Bay one side and the Atlantic ocean on the other, Boes literally grew up on the beach and on the water.  When he was 22 he pedaled the entire 127-mile length of Long Island, a 14-hour trip.
Boes admits the crossing from Bimini just might be his ultimate physical challenge, battling fatigue and the vagaries of Mother Nature at the same time.
As a safety backup, Fort Lauderdale, Florida-based ACR Electronics (www.acrelectronics.com) is providing Boes with its 406 MHz GPS AquaLink™ Personal Locator Beacon.  In an emergency, the waterproof AquaLink™ transmits a unique registered distress signal that not only tells rescuers where the sender is (within 100 meters or less), but who they are. An ACR PLB played a role in the rescue of a South Florida boat construction company owner and his companion off Bimini earlier this summer.
Telling people "who he is" isn't really important for Boes, whose true aim is to bring attention to what can be achieved through human power, and to raise donations for the House of Hope, where he will donate any money raised (less expenses) from the challenge.
To learn more about Boes and to support the pedal challenge, please go to the Facebook page Pedal to Bimini or call Debra Scott at 561-318-1271.