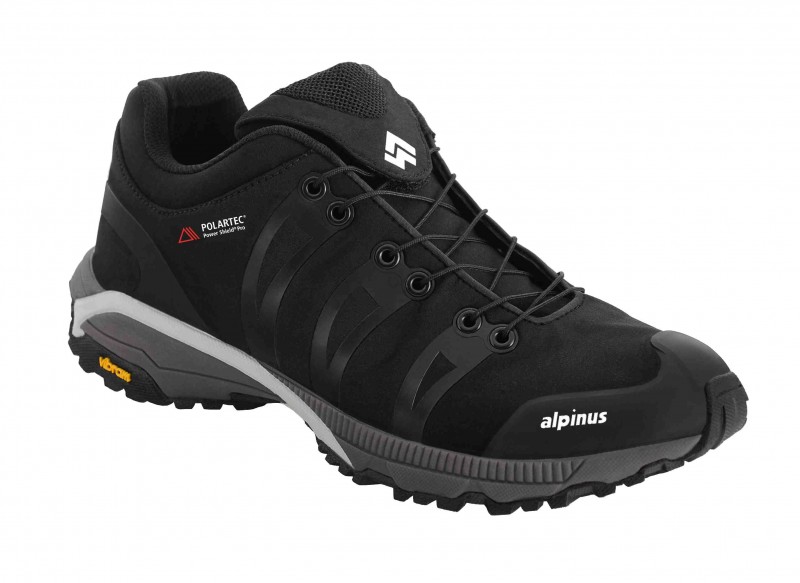 (Lawrence, Mass) – In the spring of 2012, the world's leading outdoor apparel manufacturers will introduce a multitude of new garments featuring the latest Polartec fabric creations. From new ultra-wicking baselayers, to the most effective waterproof breathable jackets on the market, to high performance eco-friendly recycled fabrics, Polartec continues to offer the world's most innovative fabrics.
Polartec® NeoShell®, the most breathable waterproof fabric on the market, continues to gain momentum with the launch of Eider's Uphill Jacket and Pants, which will first be available in Europe spring 2012. Made from woven and ripstop Polartec® NeoShell® fabrics with stretch, the Uphill Jacket and Pants are technical outerwear built for the most demanding mountaineers.
Polartec® Power Shield® Pro (the highly weather resistant and breathable soft shell fabric) is being used in footwear for the first time. Polartec has worked with European brand Alpinus to pioneer the use of Polartec® Power Shield® Pro fabric in a trail running shoe. The Alpinus Ahern shoes feature an extremely abrasion-resistant face for long-lasting durability, and provide high weather resistance while retaining critical breathability.
New Polartec® Windbloc® and Polartec® Power Shield® soft shell jackets are being introduced for spring/summer 2012. Patagonia is launching their Adze Jacket, a windproof soft shell with a supple feel and great stretch, using a Polartec® Windbloc® fabric which provides mobility, durability, and total protection from the wind. Polartec worked with Patagonia to develop a Polartec® Windbloc® fabric package with a grid back exclusive to them. Norrona will introduce their first Polartec® Power Shield® garment in their spring/summer 2012 collection. The Svalbard flex2 Jacket (available in men's and women's) is a highly breathable, wind resistant and durable jacket made using a lightweight Polartec® Power Shield® fabric that works well for all seasons – perfect for those in need of a soft shell jacket with excellent breathability and stretch.
Polartec® Power Stretch® Pro, a version of the longtime classic Polartec® Power Stretch® designed to keep your skin dry when you sweat, offers increased durability and wind and abrasion resistance thanks to the nylon outer surface. The North Face worked with Polartec to design their new spring 2012 women's Pika Full Zip Jacket using Polartec® Power Stretch® Pro to create a versatile mid layer/light outerwear designed to move with you and keep you dry and comfortable.
Polartec® Power Dry® High Efficiency, a version of the popular Polartec® Power Dry® fabric designed to keep your skin dry when you sweat, is differentiated with a grid back that maximizes warmth, minimizes weight and enhances breathability. Polartec® Power Dry® High Efficiency fabrics weigh less, take up less space, and deliver more insulation and breathability than most other fabrics in their class. The North Face is using Polartec® Power Dry® High Efficiency in their new spring 2012 men's Snake Eyes Jacket, a versatile mid layer/light outerwear designed to keep you comfortable in all activities.
Polartec continues to drive innovation in the world of recycled fabrics and 2012 represents the full-scale rollout of Polartec fabrics featuring Repreve® 100 yarns made of 100 percent post consumer recycled content. Every pound of Repreve® 100 yarn saves a significant amount of energy and greenhouse gas emissions compared to virgin polyester, while delivering the same look, feel and performance. Polartec is converting many fabric styles to Repreve® 100, and an estimated 40 percent of what Polartec produces will be Repreve® 100 by the end of the year.
Polartec recently announced a first of its kind, closed loop recycling process, theRepreve® Textile Takeback Program. In typical garment manufacturing, 8 to 15 percent of all fabric produced becomes cut-waste left over after panels are cut. Polartec has worked with Unifi of Greensboro, North Carolina, and Peckham Inc. of Lansing, Michigan, to define a process allowing for Polartec polyester cut-waste to be recycled back into Polartec's exclusive Repreve® 100 branded yarn. This new yarn will now include a blend of recycled bottles and recycled fabrics and will be used to produce performance Polartec fabrics.
About Polartec, LLC
Polartec, LLC is the developer, manufacturer, and marketer of Polartec® performance fabrics. Polartec® products range from lightweight wicking base layers, to insulation layers, to extreme weather protection and are utilized by the best clothing brands in the world. For more information, visit Polartec.com.