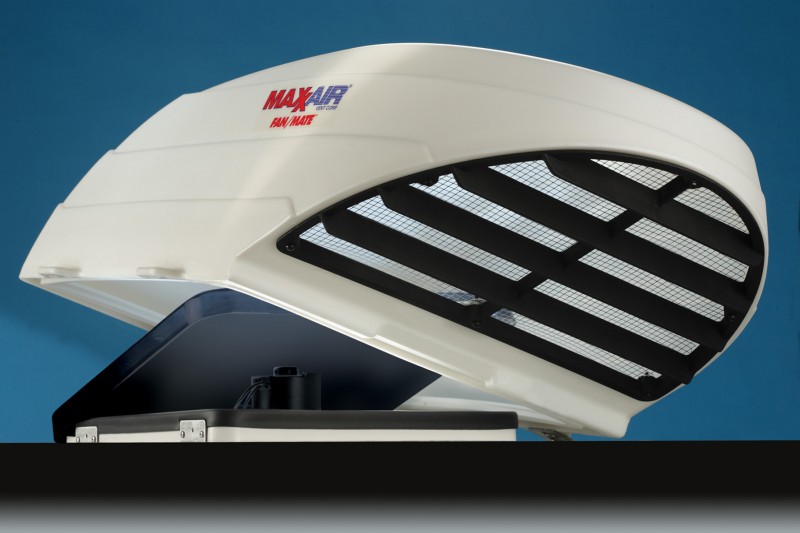 When the weather isn't the most pleasant, proper ventilation can make staying in an RV more comfortable.  MaxxAir Vent Corporation's Fan/Mate lets ceiling fans run despite rainy weather.  This durable rain cover completely encloses a roof fan or roof vent, providing fresh air while also delivering rain protection for the RV's interior.
Available in two models the 850 and 950 feature a 20% larger vent area than previous versions for better fan performance.  It's constructed from high-strength polyethylene with UV inhibitors for years of service.
Both models have a protective exhaust screen and louvers to keep rain out and fan blades free of tree leaves and wind-blown debris.  Due to the covers' convenient, hinged mounting brackets, opening the Fan/Mate cover doesn't require any tools and allows easy access for servicing the fan.
Designed for use with high-powered ceiling fans, such as a Fan-Tastic Vent or MaxxAir's new MaxxFan, the Fan/Mate is offered in white or black to accent custom-painted RVs.  Each unit comes with a three-year limited warranty and measures 32.5″ L x 20.5″ W x 9.93″ H.
MaxxAir's Fan/Mate has a starting retail price of $79.95.  The black 950 model starts at $109.95.
Contact MaxxAir Vent Corporation, 5513 W. Sligh Ave., Tampa, FL  33634, USA.  800-780-9893; Fax: 813-876-2550.  [email protected];  www.maxxair.com.