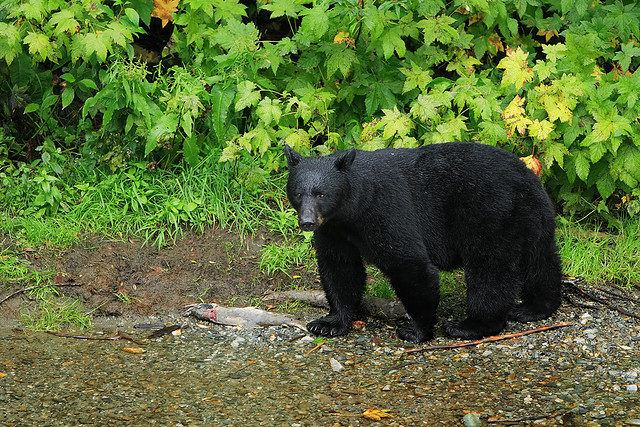 Two young campers suffered minor injuries early this morning after being attacked by a yearling black bear that entered their campsite in Stokes State Forest in northern Sussex County.
The injured campers, an 11-year-old Brooklyn boy and a 12-year-old Jersey City boy, were part of a larger camping group that were lodged in several tents in the Gren Anderson section of Stokes State Forest when the young bear entered their campground sometime after 5 a.m.
One child was scratched on the shoulder and the other child has a puncture wound on his foot. As a precaution, both children have been taken to a local hospital for treatment.
A responding State wildlife technician shot the bear near the campsite, wounding the animal in the neck. The injured bear subsequently fled into the adjacent woods and is being tracked by conservation officers and the Department of Environmental Protection's bear response team, aided by a blood sniffing dog. Snares and traps also are being set in the wooded area.
The DEP has closed sections of the Appalachian Trail and intersecting hiking trails that run through Stokes State Forest, until further notice. All available State resources are being used to track the bear and to notify the public, including a coordinated effort by the State Division of Fish and Wildlife, DEP conservation officers, State Park Police, State Police and DEP Parks and Foresty personnel.
The injured boys were part of a youth camping group that included two adult counselors and nine juveniles at the State-owned campsite. The group was asleep when the bear entered a first tent and injured one of the boys, according to reports to State Police and the DEP. The bear then went to a second tent where it swiped at a second boy.
The adult counselors gathered the children in a partially enclosed cabin and made noise to try to scare the bear away, while authorities were alerted by a telephone call. The bear was still on the scene when the first State conservation officer arrived a short time later.
This is the first reported instance of a black bear attack against humans in New Jersey this year. Such aggressive attacks are infrequent. The DEP advises campers and hikers to store food properly in bear-proof containers, or in their vehicles, and to always use caution in bear country.
For more information on black bears in New Jersey, visit: http://www.nj.gov/dep/fgw/bearfacts.htm.