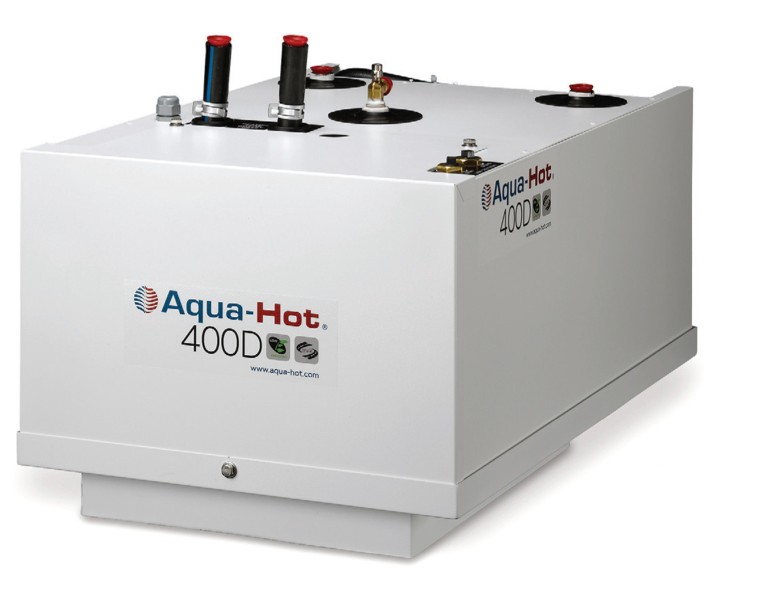 When traveling, creature comforts such as warmth and plentiful hot water feel extra-luxurious.  But there's usually a price to be paid with a clunky, space-hogging heater.  Aqua-Hot's new 400 series Hydronic Heating System gets the job done quietly in a very small footprint.
Unlike noisy, cabin-mounted forced-air systems, the 400 is mounted in the bay while producing quiet, even heat by circulating hot water through up to eight Aqua-Hot Cozy Heat Exchangers.  Five separate thermostatic heating zones and two circulation loops ensure consistent warmth throughout the living area.
Providing on-demand 120° SteadyHot water, the 400 eliminates the need for an external storage tank.  With zero recovery time, the dependable unit has a flow rate of 1.25 gallons per minute and can generate a generous 75 gallons of hot water an hour.
The self-contained unit reduces potential leak paths and reduces installation time while saving space.  At 5.4 gallons, the 400 features a 32% increase of stored heat than previous models in the same footprint.
Environmentally friendly, the Aqua-Hot 400 produces 32% lower emissions than competitive models during a 10-minute run-cycle.  Energy-efficient, it barely uses 0.1 of a gallon of diesel per hour when driving or parked.
With safety a priority, the 400's design features internal steel fuel lines for fire safety.  Zero-pressure tanks and an interlock switch prevent the unit from operating when the cover is removed.
Measuring just 12″ H x 18.5″ W x 30″ L and weighing only 140 lbs. empty, the compact Aqua-Hot 400 from Aqua-Hot Heating Systems can be easily installed as an RV is being built or retrofitted into an existing coach.  According to the 2010 NADA Recreational Vehicle Appraisal Guide, an Aqua-Hot system may add up to $9,400 to the resale value of an RV.  Consumers will soon be able to find the Aqua-Hot 400 as standard or optional equipment on new 2012 coach models.
Contact Aqua-Hot Heating Systems, 15549 E Hwy 52, Fort Lupton, CO 80621.  Toll free: 800-685-4298 or 303-659-8221; Fax: 303-857-9000.  [email protected]; www.aqua-hot.com.