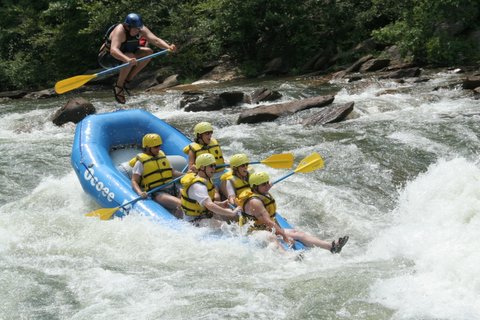 DENVER, July 20, 2011: Colorado's commercial rafting season got off to mixed reviews this year, with outfitters reporting outstanding conditions but many prospective customers delaying their ventures onto the state's rivers due to concerns about high water levels. Today, members of the Colorado River Outfitters Association (CROA) report that the peak of the spring runoff has passed, that water levels have stabilized and that the true heart of the rafting season has arrived.
"That's not to say that the excitement is over," clarified CROA chairman Johnny Cantamessa.  "Quite to the contrary, the healthy snowpack that accumulated over the winter should sustain great rafting at all experience levels late into the summer and early fall. If you want a gentle class II-III float trip as part of your family vacation, we've got that. If you want to crank things up on class IV-V rapids, we have a number of locations ripe for that as well."
As an example of how Colorado rivers are now truly open for business, two highly popular runs on the Arkansas River that have been mostly impassable during the spring and early summer are now flowing at consistently welcoming water levels. "The Royal Gorge and The Numbers are now on our daily itinerary," said CROA member Mike Kissack. "Folks from around Colorado and other knowledgeable rafting enthusiasts wait for these stretches to come available every year the way Widespread Panic fans wait for their favorite band to hit Red Rocks. Well, the box office is now open!"
For more information on planning a Colorado rafting vacation, please visit www.croa.org.