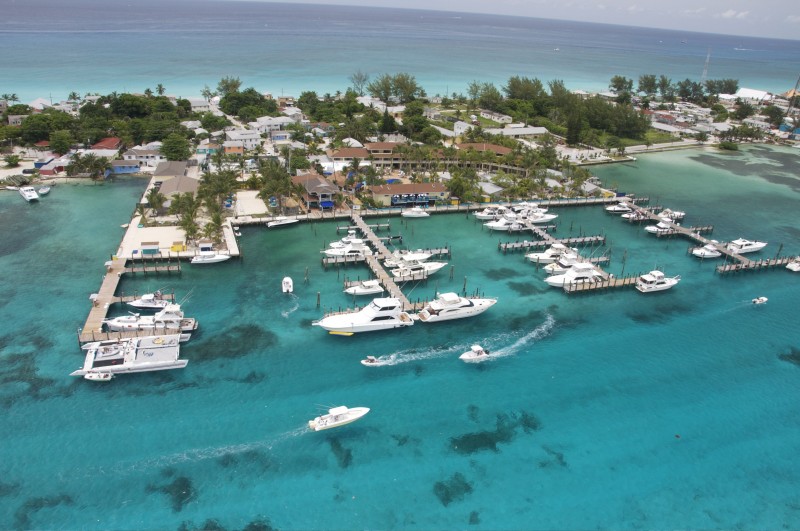 BIMINI, THE BAHAMAS‹JULY 21, 2011–Veteran hospitality executive MichaelWeber has been named General Manager for the Bimini Big Game Club, a Guy Harvey Outpost Resort and Marine. The historic 51-room resort property is located in the island's cultural center in Alice Town.
Eric Jarvis, president of SBC Operations, Ltd., announced the appointment.Weber, who most recently served as General Manager for Our Lucaya Beach & Golf Resort in Freeport, Grand Bahama, is replacing Christopher Pollock, a Bahamas native, who has been retained as an advisor.
"Mike Weber's long history of successful hotel and resort management in South Florida and The Bahamas is a perfect match for the mission of Guy Harvey Outposts and ourselves to provide sport fishermen, boaters and divers as well as families with a top-of-class experience in both traditional hospitality services, and a variety of outfitter pursuits," said Jarvis.
Weber, the General Manager of the Year for Coral Hospitality Management in2004/2005, has a long list of industry achievements, including development and implementation of the first strategic European Marketing Plan for the Fort Lauderdale Convention & Visitors Bureau.
Closed for two years, the Big Game Club re-opened last year as a Guy Harvey Outpost Resort and Marina following a multi-million-dollar renovation that included all guest rooms, the new Bimini Big Game Bar & Grill, the Outfitter Shop and the Gulfstream Conference Center and adjoining Hemingway's Rum Bar and Social Lounge. Located on the main navigation channel in Bimini, The Big Game Club has again become the epicenter of water-oriented pursuits, including offshore game fishing, backcountry fishing and diving. The resortfeatures a 75-slip marina capable of accommodating boats up to 145 feet in length.
Host to numerous major sportfishing tournaments for more than half a century, The Big Game Club in May returned to its roots as host of the Billfish Invitational, sponsored by Guy Harvey and scheduled to become a yearly event along with other tournaments and family fun-fishing outings.
Bimini's location along the legendary Gulfstream (a 'river' of warm water) location is at the apex of a superhighway for migrating fish and acts as a kind of sushi conveyor belt carrying abundant food to the local fish. Deepwater game fish include marlin, tuna, sailfish, wahoo and swordfish, while big grouper, barracuda and schools of snapper can be found on the reefs. Bimini¹s flats are home the fishermen¹s favorite prey, bonefish and permit. With more than 50-record-setting catches in the waters around the island, Bimini has earned its title of Sport Fishing Capital of the World.
About Bimini Big Game Club, a Guy Harvey Outpost Resort and Marina
Founded as a dinner club in 1936 in Alice Town, the island's cultural hub, by Nassau entrepreneur and bon-vivant, Neville Stuart, the Big Game Club has over the last 74 years hosted world-class fishermen, major tournaments, international celebrities and tens of thousands guests looking to bask in the unique "Islands in the Stream" mantra made famous by author Ernest Hemingway who lived and fished in Bimini in the mid 1930s.
Today, the Big Game Club's Outpost concept is designed to take the resortbeyond that of a fishing lodge  (though admittedly a majority of visitors will be there for the world class fishing) to create an eco-destination attracting both fishing and diving enthusiasts while focusing on adventure travel, sustainable tourism and marine conservation.
Guy Harvey Outpost Resorts has teamed with top-of-class sportsmen to delivertop-of-class fishing and diving experiences, known to the group as Outpost Pursuits.
Renowned dive authority Neal Watson oversees the Club¹s new dive operation, Dive Bimini, showcased by its 60 ft. double deck, glass bottom dive boat, the largest in the Bahamas out-islands.
Bonefish Bimini, headed by artist, conservationist and fly-fishing personality, Vaughn Cochran, works with the island¹s elite bonefishingguides and is quickly restoring awareness of Bimini's legendary "Big Bones."
Sportfishing charters operations have been established at the Club, with the recent arrival of record setting Captain Billy Black, a fixture on the Bahamas offshore fishing circuit.
The Bimini Big Game Club, which is located on the main navigation channel in Bimini Bay, currently features a 51-room resort and a 75-slip marina capable of accommodating boats up to 145 feet in length. A full service fuel dock will be operational by Spring 2012.