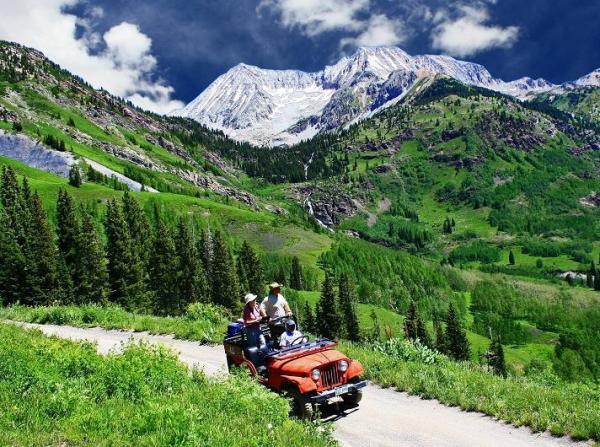 GUNNISON-CRESTED BUTTE, Colo. (July 19, 2011) — Visitors can experience Colorado splendor like it used to be in Marble, with a quiet, uncrowded setting amongst aspen groves, evergreen forests, 14,000-foot peaks, clear streams and comfortable, hospitable lodging. The town's notoriety and unique character also has been linked to the largest vein of pure, white marble in the world that was discovered in 1882 by surveyors looking for gold. By 1900, Italian miners were producing marble blocks that were used for the Colorado Capitol's interior, Denver Mint, Tomb of the Unknown Soldier, pillars of the Lincoln Memorial and numerous well-known structures across the United States.

The town's population burgeoned to 1,500 in 1915, but the impact of both World Wars and removal of the train tracks that shuttled the marble blocks took their toll. Today, Marble is mostly a residential enclave of about 125 residents at the base of the historic marble quarry, once again in operation by Italian owners.  Another 200 live in the area surrounding the old town boundaries.

Chunks, blocks and columns of marble peek out of every block of the Marble landscape, and there are National Historic Register sites on every corner: Mill Site Park, Marble City State Bank, Marble High School, Marble Community Church, Haxby House, Marble Town Hall and William Parry House. Located in the northwest corner of Gunnison County, Marble is situated on the headwaters of the Crystal River in the Elk Mountain Range and just off Colorado Highway 133 and the West Elk Loop Scenic Byway.  The closest communities are Redstone, just 8 miles away, and Carbondale, 30 miles down the Crystal River.  Crested Butte is approximately 45 miles to the south when taking Kebler Pass, open generally from the end of May through October.

Ways to Enjoy Marble Year-Round

Many of Marble's hiking trails feature plenty of vertical, but a walk around the "flats" of town yield ice cream, a community center/coffee bar, a barbecue restaurant, an art and sculpture gallery, and a historic schoolhouse and museum.  Pick up provisions at the Marble General Store and stop by Abstract Marble and Gift Shop, which sells stone for sculptors and landscapes, cutting boards, memorial headstones, benches, gifts and specialty products.

Look for plenty of fly-fishing holes on the Crystal River, brown and rainbow trout in Beaver Lake, and some of the toughest kayaking in the U.S. on the Crystal River, ranging from Class II to V+. Heard of Maroon Bells located in the Snowmass and Raggeds Wilderness areas?  From Marble, you get a private audience with the "Back of the Bells" instead of dealing with the crowds seeking a glimpse from the Aspen side.  Be sure to stop at Lizard Lake to see the astounding red salamanders as well as at the legendary Crystal Mill, one of the most photographed spots in Colorado. Crystal River Jeep Tours, established in 1951 and the oldest adventure tour business in Colorado, can take you to Crystal Mill, Crystal City, Lead King Basin Loop and Devils Punchbowl from May through November.

OutWest Guides specializes in mule deer and elk hunting, guided fly-fishing trips and horseback rides, and overnight pack trips.  ATV and snowmobile rentals to explore miles of majestic roads that wind throughout the White River National Forest are available through RPS Rentals. Marble winters are peaceful and piled high in snow, perfect for backcountry skiing, Nordic skiing, snowshoeing, ice climbing, ice skating, snowmobiling, and sledding. When planning a visit, chose from cabins, vacation rentals, an inn, a lodge and a campground with RV hookups for lodging options.

Key Events The 23rd annual MARBLE/marble Symposium has three sessions planned: July 2 – 9, July 15 – 22 and July 29 – Aug. 5.  Approximately 35 participants will be creating marble sculptures of their own design during each session; some stay for all three sessions as this unique outdoor setting serves as inspiration when returning to their studios worldwide.

Artists from as far as Japan, India, Switzerland and England work with tools that either they bring from home or are provided by the symposium.  Participants are guided through the process with daily workshops and ongoing personal instruction, and beginners to advanced are welcome.  For information, visitwww.marbleinst.org or call (303) 297-1429 or (970) 963-5726 (June – August). Marble Fest is an arts and music festival that takes place Aug. 5 – 7.  Food and craft vendors complement a lineup of bands that ranges from blues to bluegrass and jam bands to jazz.  There's also acoustic music throughout the weekend on the porch of the town's one restaurant, Woody's Rollin Smoke Bar-B-Que.  On Aug. 5, the music runs from 5 – 10 p.m., with Joint Point and Fatty Jenkins featured in the lineup.  Join in the fun on Saturday from 11 a.m. to midnight with Stonefed and Williams Brothers Band among the entertainment on the main stage.  Sunday features Honey Don't, Pete Kartsounes Band and several other groups performing from 10 a.m. – 6 p.m.

Visit www.marblefest.org for the full lineup of more than 30 bands and all the details.  Admission is free but donations are requested. Experience two great running courses surrounded by fall foliage splendor at the Lead King Loop & Quarry Climb on Sept. 18.  The 25k Lead King Loop course starts in Marble, rounding Beaver Lake, climbing 2,900 vertical feet in about 4 miles into the backcountry Lead King Basin, and switch backing down past waterfalls to Crystal. The race passes the famous 110-year-old Crystal Mill and climbs out of the river valley before a fast downhill finish at Beaver Lake Lodge. The 12.5k Quarry Climb course starts at Beaver Lake Lodge, winds through Marble until crossing the Crystal River and climbs approximately 1,200 feet in 3 miles through an aspen grove to the base of the marble quarry. Return downhill to the finish with amazing vistas of the valley and Yule Creek. There's also the Lake Kids Loop, a scenic and relatively flat 1.25 mile run around Beaver Lake for kids and their parents.  The races benefit Marble Charter School.

For more information, visitwww.leadkingloop25k.com or call (970) 704-1275.  Register online atwww.active.com. Visitor Information & Personalized Vacation Packages
To find out more about Gunnison-Crested Butte's calendar of events and personalized vacation packages, call the Gunnison-Crested Butte Tourism Association's toll-free number (800) 814-8893 or visitwww.GunnisonCrestedButte.com/packages.  Find the Tourism Association on Facebook atwww.facebook.com/gcbta or follow us on www.twitter.com/gcbta. The Gunnison-Crested Butte Regional Airport is served year-round by United Airlines and during the winter by American Airlines.

About Gunnison County, Colorado Gunnison-Crested Butte is nestled among almost two million acres of pristine wilderness in southwest Colorado.  Winter sports enthusiasts know the area for its world-class alpine skiing and snowboarding at Crested Butte Mountain Resort, snowmobiling, cross-country skiing, snowshoeing and ice fishing.  Gunnison-Crested Butte is also a haven for outdoor summer activities.

In the warmer months, visitors can choose from recreational activities such as hiking, climbing, mountain biking, boating, whitewater rafting, kayaking, fly-fishing, camping and horseback riding.

Year-round visitors enjoy distinctive restaurants, unique shops and stimulating cultural opportunities, and have a wide range of lodging options — from rustic inns to guest cabins and bed-and-breakfasts to full-service resort hotels. Gunnison, county seat and a real western town, is home to the Gunnison-Crested Butte Regional Airport, Gunnison Whitewater Park, Gunnison Valley Observatory, Pioneer Museum and Western State College, which offers bachelor's and master's degrees in liberal arts and sciences and pre-professional fields.  Both Crested Butte and Gunnison have thriving historic central business districts packed with shopping and dining opportunities. Recognized as the "Official Wildflower Capital of Colorado" by the Colorado Legislature and one of the National Trust for Historic Preservation's "Dozen Distinctive Destinations" in 2008, Crested Butte is 28 miles from Gunnison and the site of rich mining, ranching and skiing heritage and home to the Crested Butte Mountain Heritage Museum and Mountain Bike Hall of Fame.  Only three miles up the road is the resort village of Mt. Crested Butte, home to the ski area, an active base area, the area's conference center, and outstanding hiking and biking trails. Marble is located in the Upper Crystal River Valley along the Elk Mountains and is the gateway to nearby Crystal, home to one of the most photographed mill sites in the country. Marble has seven sites on the National Register of Historic Places and is the location of the Yule Marble Quarry. In Gunnison County, visitors will find the Curecanti National Recreation Area, where dinosaur fossils were recently discovered; the Blue Mesa Reservoir, Colorado's largest body of water and home to the largest Kokanee salmon fishery in the United States; and The Black Canyon of the Gunnison, one of our country's newest national parks.  Gunnison County includes the quaint and historic towns of Pitkin, Gothic, Tin Cup, Marble, Powderhorn, Almont and Crystal, plus the better-known communities of Gunnison, Crested Butte and Mt. Crested Butte.  Gunnison County is part of the West Elk Loop and Silver Thread Scenic & Historic Byways.