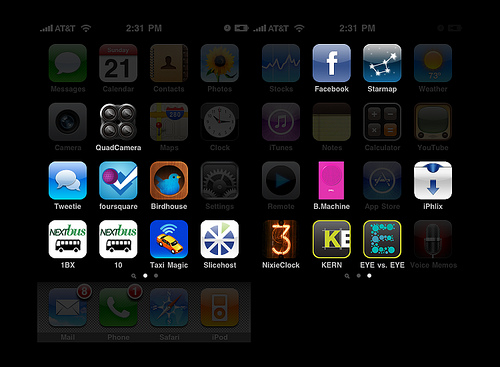 JEFFERSON CITY, MO., JULY 18, 2011 — If you are looking for an easy way to access information about Missouri state parks and historic sites, the answer is in the palm of your hand. A new free mobile application for smartphones is designed to provide visitors with convenient access to detailed state park information. The app is currently available for the Apple iPhone and is coming soon for Android smartphones. Innovative features within the app are sure to enhance any visit to a Missouri state park or historic site.
"Our amazing state parks are timeless in what they offer and these new mobile applications will make sure today's visitors have the latest technology to easily access information about them," said Bill Bryan, Missouri State Parks director.
The free Lite version of the Pocket Ranger(tm) Mobile Tour Guide enables you to find a state park by location or activity. Features such as the Trails menu in the individual park pages make it easy for hikers and bikers to view a list of available trails. With a quick glance at each trail's description, you will even find the app helpful in finding a trail to match your ability.
The spectacular scenery at any of Missouri's state parks and historic sites provides you with plenty of opportunities to snap a photo. With the app's social networking feature, you can easily share these photos with family and friends and post a message to have them join in the outdoor fun. Additional features of the app include a direct link to the park's reservation site so you can make arrangements for an overnight stay or extend your vacation. Along with this feature, you will appreciate having access to useful information such as weather alerts, operational times and park events at your fingertips.
Additional features are available by upgrading to the Pro version with a portion of these profits going to Missouri State Parks. By purchasing the Pro version, you can have an even more dynamic visit by recording trails and marking waypoints during an outdoor excursion so you can go back to that favorite fishing spot time and time again. With the friend finder feature, experience the comfort of knowing where your family and friends are within the park. Feel even more secure with the alert feature of the app, which notifies select contacts in the event of an emergency.
The Pocket Ranger(tm) Mobile Tour Guide can be downloaded from the iTunes Store and Android's Market, or directly at StateParkApps.com<http://www.stateparksapp.com/>. Download your Official Guide for Missouri State Parks & Historic sites today.
For more information about state parks and historic sites, visit mostateparks.com or contact the Department of Natural Resources toll free at 800-334-6946 (voice) or 800-379-2419 (Telecommunications Device for the Deaf).