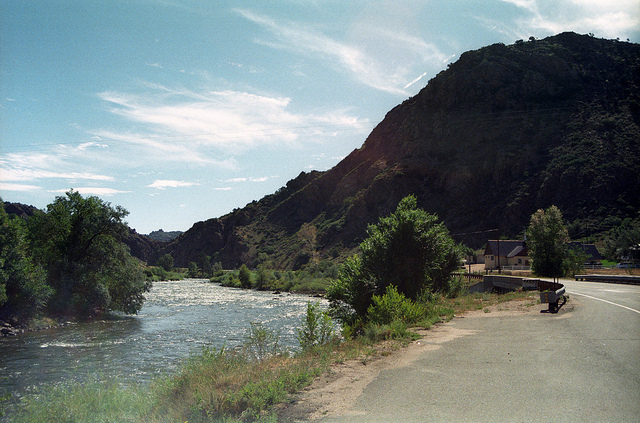 SALIDA, Colo. – The Arkansas River, within the Arkansas Headwaters Recreation Area (AHRA), is now subsiding from its peak level and therefore, sections of the river that have previously been under a High Water Advisory, are now available for whitewater boating. Two of the most scenic and adventurous sections of the Arkansas River, The Numbers and the Royal Gorge, await your arrival!
Families will appreciate the lower flows in Browns Canyon and Bighorn Sheep Canyon with mild to moderate rapids. The more experienced and venturesome will find an exhilarating experience in The Numbers or Royal Gorge, with unique and aptly named rapids to conquer.
The lower flows are also good news for those eager to get on the river to test their angling skills. Browns and Rainbows are hungry after the runoff, just waiting for the perfect fly or lure to tempt their feeding response.
After a day of sun and fun, AHRA also has a number of campgrounds located on the banks of the Arkansas to relax in and recount the day's adventures.
For a list of Arkansas River outfitters, camping information, a full calendar of events and other visitor information visit AHRA's website www.parks.state.co.us/Parks/ArkansasHeadwaters/ or call AHRA's Visitor Center at (719) 539-7289.
The AHRA is managed through a cooperative effort between the Bureau of Land Management and Colorado State Parks. Formed in 1989, this partnership allows agencies to provide visitors with recreation opportunities and care for significant natural resources of the Upper Arkansas River Valley.
Colorado Parks and Wildlife get everyone outdoors! Attracting more than 12 million visitors per year, Colorado's 42 State Parks are a vital cornerstone of Colorado's economy and quality of life. Colorado State Parks encompass 224,447 land and water acres, offering some of the best outdoor recreation destinations in the state. Colorado State Parks is a leader in providing opportunities for outdoor recreation, protecting the state's favorite landscapes, teaching generations about nature and partnering with communities. Colorado State Parks also manage more than 4,300 campsites, and 63 cabins and yurts. For more information on Colorado State Parks or to purchase an annual pass online, visit www.parks.state.co.us.