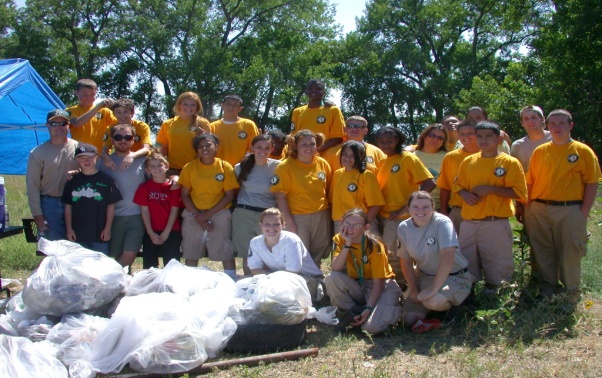 BRIGHTON, Colo. – Barr Lake State Park will celebrate the park's namesake lake on Saturday, July 16. Each year, the U.S. Environmental Protection Agency and the North American Lake Management Society celebrate July as "Lakes Appreciation Month."
Barr Lake is valued as a state park and wildlife refuge offering fishing, boating, and bird watching while also serving as an important source of irrigation and municipal water.
Join the celebration of lakes by participating in fun educational and recreational opportunities, as well as a service activity at Barr Lake this Saturday, from 8 a.m. to 3 p.m.
The service activity, a volunteer shoreline cleanup, tree planting and invasive weed removal, begins at 8 a.m. To participate in the cleanup, register at the volunteer table at the Barr Lake Nature Center. Come dressed for being near the water and in the outdoors by wearing sturdy shoes, long pants, gloves, and a hat, along with sunscreen and bug spray. To reward volunteers for their efforts, a complimentary BBQ lunch will be served at noon along with a drawing for fabulous prizes.
In addition to the shoreline cleanup, various entities will host booths with free activities during the day. At the boat ramp there will be free canoe instruction, archery demonstration, face painting, a jumping castle and a climbing wall, an official Secchi dip reading, LIVE bird demonstration, fishing techniques and pontoon boat rides in the afternoon.
Sponsors for the event include Adams County Open Space, Barr Lake and Milton Reservoir, the Watershed Association, Barr Lake State Park Volunteers, Bear Paw Archers, the City of Brighton, Colorado Lakes and Reservoir Management Association, Colorado Parks & Wildlife, Carbon Express, Commerce City, Dick's Sporting Goods, East Cherry Creek Valley Water and Sanitation District, Farmers Reservoir and Irrigation Company, Friends of Barr Lake, JACesare, North American Lake Management Society, Rocky Mountain Bird Observatory, and USA Archery.
Colorado Parks and Wildlife gets everyone outdoors! Attracting more than 12 million visitors per year, Colorado's 42 State Parks are a vital cornerstone of Colorado's economy and quality of life. Colorado State Parks encompass 224,447 land and water acres, offering some of the best outdoor recreation destinations in the state. Colorado Parks and Wildlife is a leader in providing opportunities for outdoor recreation, protecting the state's favorite landscapes, teaching generations about nature and partnering with communities. Colorado State Parks also manage more than 4,300 campsites, and 63 cabins and yurts. For more information on Colorado State Parks or to purchase an annual pass online, visit www.parks.state.co.us<http://www.parks.state.co.us>.