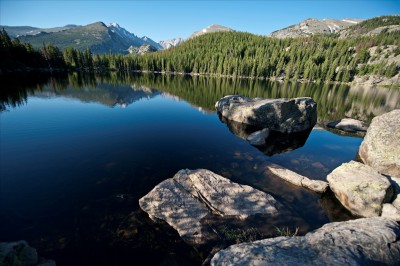 CLARK, Colo. – Steamboat Lake State Park embraces the hot, beautiful weather, heavy populated wildlife, and its many park visitors with guided interpretive programs throughout the week. This week, many guest-speakers will be a part of the educational programs. These include Mike Middleton, from the Division of Wildlife talking about Routt County's Mountain Lions and a Clark local, Mari-Beth Cate, appealing to the little ones by having nature story time. All of the programs will be interactive, educational and also inspiring! Programs are free with a valid state parks pass.
Wednesday, July 13 at 11 a.m. –

Nature Story Time with Mari-Beth

.  Join our favorite Steamboat local, Mari-Beth Cate, as she acts out creative, fanatical stories about nature. The program appeals to the younger ones, ages five to nine years old. Meet at the visitor center.
Thursday, July 14 at 2 p.m. – 

Attack of Steamboat Lake's Bats!

Ever wonder what those flying bird-like animals are hovering above your campsite in the late evening? Get up close and personal with Steamboat Lake's bats as you join the park's naturalist, Desiree Wilcox, on a bat education hike, interactive lesson, and bat caging experience.
Friday, July 15 at 10:30 a.m. – 

The Building Beaver and Wrestling River Otter

. Dive into Steamboat Lake and learn about the water life seen in and around the freezing lake waters. Be prepared to have fun as you not only learn interesting facts about water animals, but also as you dress up and act out animal behaviors! Meet at the visitor center.
Saturday, July 16 at 2:30 p.m. 

Talking about Mountain Lions: The Pride of Routt National Forest!

Join Colorado Parks and Wildlife's guest speaker, Mike Middleton, as he talks about Colorado and its intimidating, yet admirable mountain lions! We will sit by the campfire and enjoy the educational program at the scenic amphitheater at Sunrise Vista Campground. Please dress warmly, and be prepared for rain.
Colorado State Parks get everyone outdoors! Attracting more than 12 million visitors per year, Colorado's 42 State Parks are a vital cornerstone of Colorado's economy and quality of life. Colorado State Parks encompass 224,447 land and water acres, offering some of the best outdoor recreation destinations in the state. Colorado State Parks is a leader in providing opportunities for outdoor recreation, protecting the state's favorite landscapes, teaching generations about nature and partnering with communities. Colorado State Parks also manage more than 4,300 campsites, and 63 cabins and yurts.  For more information on Colorado State Parks or to purchase an annual pass online, visit www.parks.state.co.us.