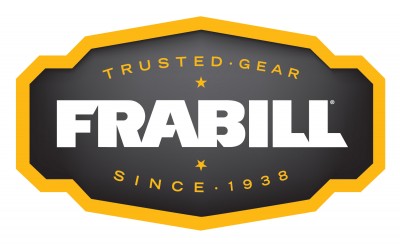 Jackson, Wis. – You asked for it. We built it. By popular demand, the outerwear experts have engineered Frabill Suit, a companion jacket and bibs combo to accompany the smash hit from last winter, ICESUIT. Frabill Suit bridges that gap between uncompromising warmth and cold weather outerwear that's lightweight enough for layering – layering that lets the user call the shots depending on the weather, be it brutally cold or balmier than the typical winter day.
Like all of Frabill's apparel introductions, the design and engineering come from the 'gray matter' of Chris Leonard, creator of the original FXE Snosuit – still considered the benchmark in extreme conditions outerwear. Leonard's challenge was to develop a suit that incorporated all of the trademark features of ICESUIT, but in a lighter and layer-able package. As anticipated, he achieved those lofty goals and more with the Frabill Suit.
The jacket is armored with a 300 denier oxford nylon shell, which is waterproof, windproof and breathable. Securing the sheath, all seams are double-stitched for durability, as well as seam-sealed to keep moisture out. Beyond that, comprehensive ergonomic patterning provides superior comfort and range of motion.
Frabill Pro Staff Tony Roach speaks to the layering options afforded by the design of the Frabill Suit. "The oversized patterning gives the suit flexibility to wear in any weather condition. If temperatures plummet, I can slip into the Frabill Suit wearing a midlayer like Frabill's new FXE Snosuit Windproof Fleece Jacket. Temperatures rebound, and a sweatshirt is pretty much all I need underneath to stay warm."
The Frabill Suit jacket also features genuine 3M Scotchlite™ reflective material. Unbranded, generic reflective material is a dim bulb by comparison. And that matters when safety is at stake fishing in darkness. Large external cargo pockets and dual internal mesh pockets add even more to the pot.
The famously engineered bibs feature many of the same core components, such as the waterproof, windproof and breathable 300 denier oxford nylon shell, as well as ergonomic patterning that allows the garment to move fluidly with the human body. Double-stitching and seam-sealing are standard issue, too.
Frabill Pro Staff Pat Kalmerton chimes in on the performance of the Frabill Suit bib. "As a fulltime ice fishing guide, I spend a lot of time kneeling over tip-ups. I'm especially impressed by the padding in the knees. And for banking time on a Frabill Sit-N-Fish monitoring tip-ups for my clients, the padded seat sure keeps my backside comfortable."
Wearers will also appreciate the Frabill Suit's full length, ankle to hip leg zippers. Even oversized winter boots slide in and out with minimal resistance. Bunker-gear style bib straps with extended adjust-ability and stretch distribute weight, which prevents sore shoulders and a stiff back at the end of the day. Last but not least, the bibs sport easy-access hand warming pockets and upgraded knee and ankle material to extend the life of your outerwear investment.
Frabill Suit provides infinite and modifiable cold weather protection. Everything else is just a shell of itself.
MEDIA CONTACTS:
Noel Vick
Traditions Media, LLC
612.708.7339
Cory Schmidt
Traditions Media, LLC
218.821.4148