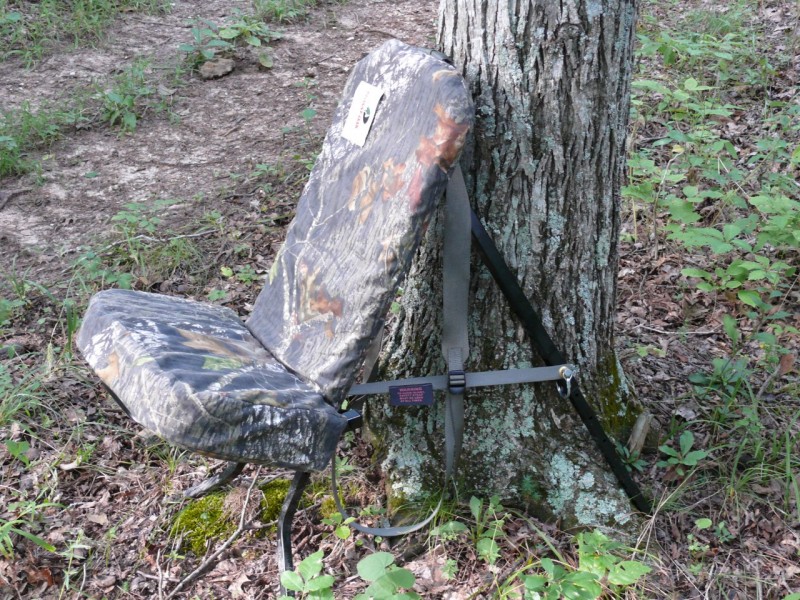 SAINT MARY, MO – Make your next hunting, fishing or camping experience more comfortable with the original All-Terrain Pack Chair available in Mossy Oak® Break-Up®.
The chair frame is constructed from all aluminum and powder coated in flat black. It weighs approximately 8.5 pounds with a weight limit of 300 pounds. The telescopic leg design gives you the ability to sit on uneven terrain, and it also works great in blinds as well as next to a tree. The angle of the front legs allows for minimum sinking in mud or gravel. The sitting height ranges from 10 inches to 19 inches. This accommodates the different window heights in blinds, as well as your personal comfort.
"I've hunted out of ground blinds since the 70s and have never been comfortable until I started hunting out of a Sitting Hawk chair," said Jim Miller, host of Tex-Mex Outdoors. "It's the best and most comfortable hunting chair I have ever sat in."
The detachable pad has a 2-inch foam back and a 3-inch foam seat that allows you to sit comfortably for long periods of time. The patent-pending chair turns into a backpack for carrying gear in or carrying game out.
For more information, log on to www.sittinghawk.com or call Kim Schilly at 573-846-7032, email [email protected]
Sitting Hawk LLC produces official licensed products of Mossy Oak/ Haas Outdoors Inc. Haas Outdoors Inc. is headquartered in West Point, Miss., was established in 1986 and is home of Mossy Oak (www.mossyoak.com). Mossy Oak specializes in developing and marketing modern camouflage designs for hunters and outdoorsmen. Mossy Oak patterns can be found on a multitude of products worldwide. Haas Outdoors Inc. is the outdoor industry leader in modern camouflage design, international licensing and marketing. Haas Outdoors Inc. markets its services and products under widely recognized brands including: Mossy Oak, BioLogic, Mossy Oak Productions, MOOSE Media, Nativ Nurseries, and Mossy Oak Properties.
For More Information:
Kim Schilly
Sitting Hawk LLC
Ph: 573-846-7032
[email protected]<mailto:[email protected]>