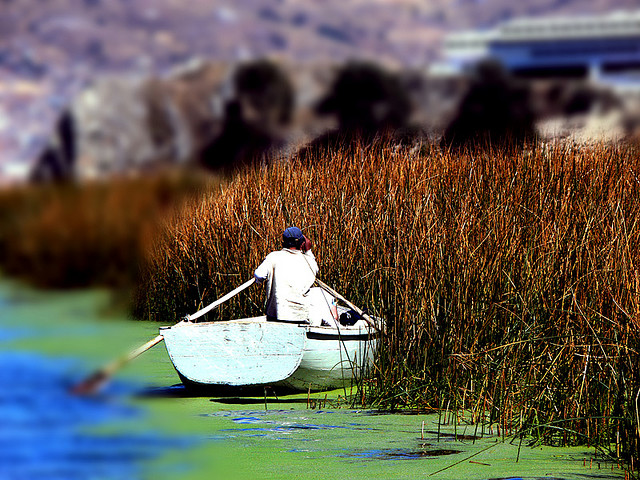 DENVER – Inspectors at Colorado State Parks have checked more than 50,000 boats for aquatic nuisance species (ANS), including zebra and quagga mussels, this summer and found only two boats with mussels attached, indicating that the education program is working. Both of the boats, which came from other states, were inspected and decontaminated before they entered the water,said Gene Seagle, ANS coordinator for Colorado State Parks.
"Educating boaters about the risks of ANS and how to check your boat has been a high priority for several years and it's paying off," said Seagle. "Most boaters arrive at the reservoirs in state parks already knowledgeable about ANS and how to check your boat."
The education effort includes a series of three to five minute videos, posted on the Colorado State Parks website www.parks.state.co.us, to help boaters prepare for the mandatory boat inspections. The short and easy to understand videos, posted under the gold "boating" tab, offer information about ANS, the threat they pose to Colorado's waterways and how to check your boat. The videos were paid for, in part, by Great Outdoors Colorado through Lottery Funds.
"Especially during busy holiday weekends, like the Fourth of July, the boat inspections go faster when boaters arrive at the boat ramps already well informed about ANS and their boats cleaned," said Seagle. Colorado State Parks has one of the most progressive and active ANS inspection programs in the nation. Last year, more than 200,000 boats were inspected at the 29 state parks with reservoirs and lakes.
Seagle said the two out-of-state boats with adult quagga mussels attached were found at Crawford Lake State Park in May and Jackson Lake State Park in June. In 2010, eight boats – all from other states – had ANS, and were decontaminated along with 12 other boats with suspected ANS, said Seagle.
To protect Colorado's water, boaters leaving a lake or other waterway, boaters should:
CLEAN all mud, plants or animals from the hull of your boat.
DRAIN all of the water from the boat, live well and lower unit of the engine.
DRY the boat and contents before the next launch.
Attracting more than 12 million visitors per year, Colorado's 42 State Parks are a vital cornerstone of Colorado's economy and quality of life. Colorado State Parks encompass 224,447 land and water acres, offering some of the best outdoor recreation destinations in the state. Colorado State Parks is a leader in providing opportunities for outdoor recreation, protecting the state's favorite landscapes, teaching generations about nature and partnering with communities. Colorado State Parks also manage more than 4,300 campsites, and 63 cabins and yurts. For more information on Colorado State Parks or to purchase an annual pass online, visit www.parks.state.co.us.
Contact:
Gene Seagle, (303) 866-3203, ext. 4343, [email protected] or Deb Frazier, (303) 866-3203 ext. 4342, [email protected]