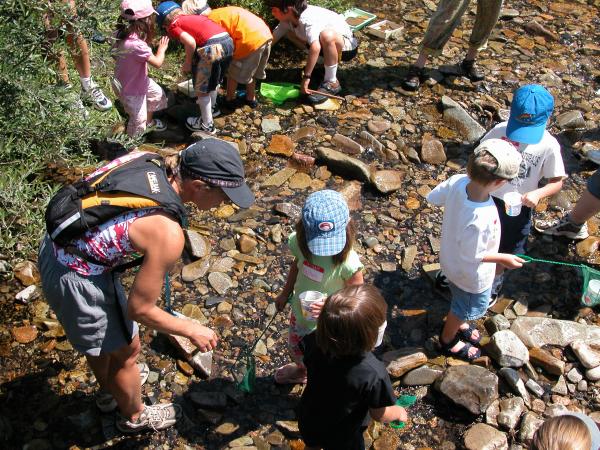 GUNNISON-CRESTED BUTTE, COLORADO (June 29, 2011) – While the Gunnison-Crested Butte Valley is well-known for its outstanding outdoor recreation and summer festivals, there's an intellectual side that is sure to please travelers who like to learn while exploring. A writers workshops, the Public Policy Forum of Crested Butte, Wednesdays at Western State College, Marble/marble Symposium and activities at Rocky Mountain Biological Laboratory aim to give participants something to think and talk about.
Wednesdays at Western State College, Wednesdays from June 22 – Aug. 17
Wednesdays at Western are single-day courses that are as diverse, engaging and entertaining as the instructors. Many of the programs include transportation and a sack lunch.
INTRODUCTION TO FLY FISHING WITH THE GUNNISON RIVER FLY SHOP
June 22, 9 a.m. – 3 p.m., $15
SILVER TRIANGLE TOUR WITH DUANE VANDENBUSCHE
June 29, 8 a.m. – 5 p.m., $25
SUMMIT HIKE UP MATCHLESS MOUNTAIN WITH KAREN IMMERSO
July 6, 7 a.m. – 3 p.m., $15
GEOLOGY TOUR OF TAYLOR PARK WITH BRUCE BARTLESON
July 13, 9 a.m. – 3 p.m., $20
BASIC SWING DANCE WITH RITA BOHN AND BOB WOJTKO
July 13, 6:30 – 8 p.m., $5 per person
CREATE ART FROM UNLIKELY MATERIALS! WITH CAROL CONNOR
July 20, 1 – 4:30 p.m., $10
HIKE TO HASLEY PASS WITH TOM PRATHER
July 27, 8 a.m. – 4 p.m., $20
PHOTOGRAPHY WORKSHOP AND DAY HIKE WITH ALLAN IVY
August 3, 6 a.m. – 2 p.m., $20
OUTDOOR SKETCHING WITH MELISSA MASON
August 10, 9 a.m. – 2 p.m., $15
BEGINNING BIRDING WITH JIM BERRY
August 17, 6 a.m. – 1 p.m., $15
To register or for more information, contact Western State College's Extended Studies office at (970) 943-2885 or [email protected] and visit www.western.edu/extendedstudies. Pre-payment and pre-registration are required, and space is limited for most courses.
Marble/marble Symposium, Marble, July 2 – 9, 15 – 22, 29 – Aug. 5
The 23rd annual MARBLE/marble Symposium has three sessions planned: July 2 – 9, July 15 – 22 and July 29 – Aug. 5. Approximately 35 participants will be creating marble sculptures of their own design during each session; some stay for all three sessions as this unique outdoor setting serves as inspiration when returning to their studios worldwide.
Artists from as far as Japan, India, Switzerland and England work with tools that either they bring from home or are provided by the symposium. Participants are guided through the process with daily workshops and ongoing personal instruction, and beginners to advanced are welcome. For information, visit www.marbleinst.org or call Madeline Wiener at (303) 297-1429 or (970) 963-5726 (June – August).
Public Policy Forum of Crested Butte, Wednesdays from July 6 – Aug. 31
For the 10th year, the Public Policy Forum of Crested Butte will be presenting world-class speakers and creating dialogue about foreign and domestic policy and its impact on Americans' lives. The forum will host a different speaker each Wednesday in July and August at 7 p.m.
July 6: John Harte – "The Politics of Climate Change"
July 13: Ed Zwick – "Movies and Public Policy"
July 20: Daniel Wordsworth – "Haiti and its Refugees"
July 27: Ambassador Philip C. Wilcox – "The Changing Middle East and U.S. Policy"
August 3: Professor David Kennedy – "America's New Gilded Age"
August 10: Andy Silverman – "Our Immigration Mess"
August 17: Andrew Romanoff – "The Role of Money in Politics"
August 24: Dr. Ned Calonge – "Health Care Reform"
Renowned speakers such as Sandra Day O'Connor, Ted Turner, Senators Timothy Wirth and Gary Hart, Ambassador Joseph Wilson and Sister Helen Prejean have attended the forum in past years.
All events will be held at Crested Butte Center for the Arts except the July 27 and Aug. 3 presentations will be at Union Congregational Church. The cost to attend is $8; students are free with an ID. For more information, visit www.crestedbutteforum.org.
Writing the Rockies: The Gunnison Creative Writers Workshop, July 28 – 31
This outstanding writers workshop returns to Western State College (WSC) for the eighth summer on July 28 – 31. Writing the Rockies is offered in partnership with the college's masters of fine arts program. Participants can sample a variety of writing tracks or stay focused on one of the single writing genres of fiction/nonfiction, poetry, or screenwriting.
The event will feature keynote addresses by successful authors, poets and screenwriters, as well as readings by featured writing faculty, panel discussions, manuscript critiques, and pitch sessions with agents, book packagers and editors. The three keynote speakers are Wisconsin Poet Laureate Marilyn Taylor; John Helfers, an acquisitions editor and book packager; and Linda Seger, screenwriter, author and script doctor.
Writing the Rockies is held at the Aspinall-Wilson Conference Center and open to individuals at any stage of their writing career. Undergraduate and graduate college credit is available through WSC's Extended Studies program. Go to www.western.edu/writingtherockies for a list of faculty, schedule and registration. The cost is $295 or $175 for a single day. A limited amount of on-campus lodging is available for $40 per person per night. For more information, email Mark Todd at [email protected] or Larry Meredith at [email protected] or call (970) 943-2016.
Rocky Mountain Biological Laboratory, Gothic
While vivid stories of the old mining days abound and historic buildings dot the landscape, Gothic also is rich in science, summer activities and volunteer opportunities for locals and visitors due to the presence and stewardship of Rocky Mountain Biological Laboratory (RMBL), a scientific field station, since 1928. Schedules and registration information about the following activities can be found at www.rmbl.org.
• Kids Nature Camp
Through nature awareness games, hikes, art and literature children ages 4 – 11 have fun learning about the science and ecology of a spectacular mountain setting at Kids Nature Camp, June 6 – Aug. 12. For various age categories, weekly topics, costs and a full schedule, go to the website.
• Tuesday Talks
Find out what RMBL scientists are discovering about the local ecosystem. The talks are held on Tuesday nights in the summer from June 14 to Aug. 9 in Enders Dining Hall and in the town of Crested Butte (location to be announced), beginning at 8 p.m. A full schedule of speakers and topics will be listed on the website. Call (970) 349-0892 at least 24 hours in advance to make dinner reservations if you plan to eat.
• Exploration Experiences
This special summer series is designed for adults and families with kids ages 12 and older to get a firsthand look into the exciting work of biological field research conducted at RMBL. From June 16 to Aug. 18, these guides tours take place on Thursdays from 9 a.m. – 1 p.m. include a visit with researchers and learning about the biological diversity of local ecosystems and the fascinating world of science. A schedule of weekly topics will be available on the website. The cost is $40 per person and includes lunch.
Gunnison Valley Observatory, Gunnison:
Home of the largest public telescope in Colorado, the Gunnison Valley Observatory will be open for public viewings every Friday and Saturday night from June 17 – Sept. 17. The evenings will feature multiple scope viewing opportunities and brief astronomy-related presentations. Gates open at 8 p.m. in June and July and 7:30 p.m. in August and September. The suggested donation is $5 for adults is $3 for children. Visit www.gunnisonobservatory.org.
Curecanti National Recreation Area & Black Canyon of the Gunnison National Park:
There are many ranger-led activities available at Curecanti National Recreation Area, www.nps.gov/cure, and Black Canyon of the Gunnison National Park, www.nps.gov/blca, both located west of Gunnison. Check the websites for schedules and descriptions.
From late May or early June through Labor Day, ranger-guided Morrow Point Boat Tours through the upper Black Canyon of the Gunnison within Curecanti are available Wednesdays through Mondays at 10 a.m. and 12:30 p.m. Reservations are required by calling (970) 641-2337, ext. 205.
VISITOR INFORMATION & PERSONALIZED VACATION PACKAGES:
To find out more about Gunnison-Crested Butte's calendar of events or to book personalized vacation packages, visit www.GunnisonCrestedButte.com/packages or call (800) 814-8893. Find the Tourism Association on Facebook at www.facebook.com/gcbta or follow us on www.twitter.com/gcbta. During the summer, air access to the Gunnison-Crested Butte Regional Airport is provided by United Airlines.
ABOUT GUNNISON COUNTY, COLORADO:
Gunnison-Crested Butte is nestled among almost two million acres of pristine wilderness in southwest Colorado. Winter sports enthusiasts know the area for its world-class alpine skiing and snowboarding at Crested Butte Mountain Resort, snowmobiling, cross-country skiing, snowshoeing and ice fishing. Gunnison-Crested Butte is also a haven for outdoor summer activities. In the warmer months, visitors can choose from recreational activities such as hiking, climbing, mountain biking, boating, whitewater rafting, kayaking, fly-fishing, camping and horseback riding. Year-round visitors enjoy distinctive restaurants, unique shops and stimulating cultural opportunities, and have a wide range of lodging options — from rustic inns to guest cabins and bed-and-breakfasts to full-service resort hotels.
Gunnison, county seat and a real western town, is home to the Gunnison-Crested Butte Regional Airport, Gunnison Whitewater Park, Gunnison Valley Observatory, Pioneer Museum and Western State College, which offers bachelor's and master's degrees in liberal arts and sciences and pre-professional fields. Both Crested Butte and Gunnison have thriving historic central business districts packed with shopping and dining opportunities.
Recognized as the "Official Wildflower Capital of Colorado" by the Colorado Legislature and one of the National Trust for Historic Preservation's "Dozen Distinctive Destinations" in 2008, Crested Butte is 28 miles from Gunnison and the site of rich mining, ranching and skiing heritage and home to the Crested Butte Mountain Heritage Museum and Mountain Bike Hall of Fame. Only three miles up the road is the resort village of Mt. Crested Butte, home to the ski area, an active base area, the area's conference center, and outstanding hiking and biking trails. Marble is located in the Upper Crystal River Valley along the Elk Mountains and is the gateway to nearby Crystal, home to one of the most photographed mill sites in the country. Marble has seven sites on the National Register of Historic Places and is the location of the Yule Marble Quarry.
In Gunnison County, visitors will find the Curecanti National Recreation Area, where dinosaur fossils were recently discovered; the Blue Mesa Reservoir, Colorado's largest body of water and home to the largest Kokanee salmon fishery in the United States; and The Black Canyon of the Gunnison, one of our country's newest national parks. Gunnison County includes the quaint and historic towns of Pitkin, Gothic, Tin Cup, Marble, Powderhorn, Almont and Crystal, plus the better-known communities of Gunnison, Crested Butte and Mt. Crested Butte. Gunnison County is part of the West Elk Loop and Silver Thread Scenic & Historic Byways.