American hunting clothier, RIVERS WEST, has a long standing reputation for making the most durable, waterproof gear on the market. The Ranger Jacket continues that tradition by combining modern engineering with tried and true design forged by RIVERS WEST. At 1.6 lbs, and equipped with a diverse set of features not found on lesser garments. Available in Realtree AP, Mossy Oak Break-Up, Mossy Oak Break-Up Infinity and Olive Drab it will retail for $199.
Technical Features Include: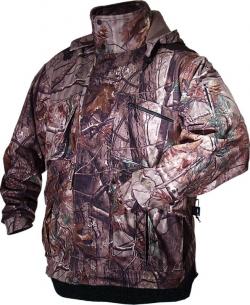 – Snap-Off Hood
– Sling-Gripper Shoulders
– High Collar with Chin Guard
– Underarm Zipper Vents
– Center Front Storm Fly w/ Snap Closure
– (1) Flashlight/Knife Pocket
– (2) Interior Cargo Pockets
– (2) Cargo Pockets
– (2) Handwarmer Pockets
– (2) Expandable Chest Pockets
– (2) Zippered Left Sleeve Pockets
– Shirt-Tail Hem
– Rear License Holder
Made from the company's LAW (Lightweight, All-Weather) System, the Ranger Jacket is 25% lighter than the Original product RIVERS WEST debuted in 2001. Although the jacket is lighter and thinner, it is just as waterproof and durable as ever. So much, in fact, that RIVERS WEST offers a 12-month unbreakable guarantee that urges hunters to plow through briar patches, thorn bushes, or barbed wire fences. Not only that, but the fabric comes with a 10-year waterproof warranty.
For more information, visit www.RIVERSWEST.com.
Contact:
Ben Masters @ 425.272.2949