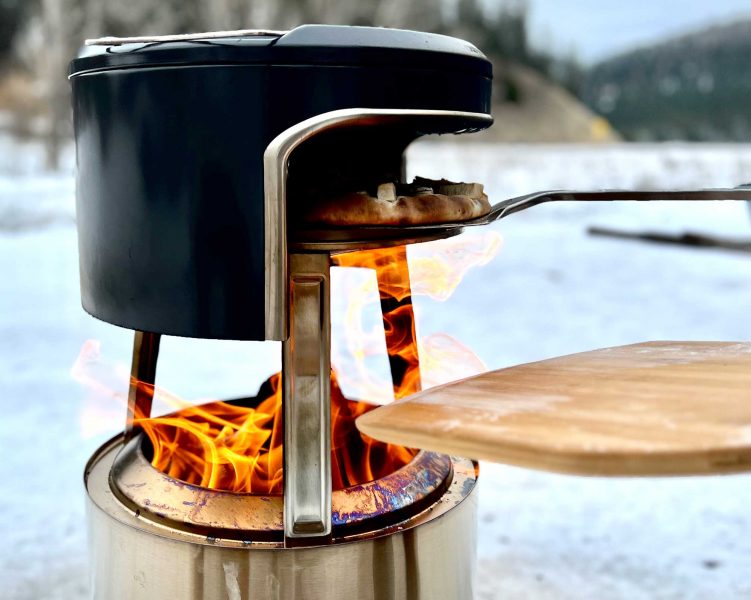 If you're an adventurer with a love for food, you can take your taste buds on an adventure outdoors, too, with three delicious artisan pizza camp recipes. Artisan pizza is the art of making a fresh pie by hand "with care" for process and quality — with you being the chef.
Artisan pizza's go beyond traditional-style pizzas (think pepperoni, sausage and veggie) with a unique and specific set of simple upscale ingredients and toppings. And, with some patience and a good recipe, you can make an upscale pizza outside, right at your campsite or in your own backyard.
"Wood-fueled" pizza on a stone might be the only way you crave your pizza after tasting the smoky delicious flavor profiles that cooking over a campfire brings. Cooking pizza outdoors is becoming even more popular among the camping community (especially for avid glampers) as new pizza-baking outdoor equipment becomes available to elevate the camping experience.
For these recipes, you can use any style of outdoor wood-fueled pizza ovens. For these artisan pizzas, I used Solo Stove's Pi Fire, which is an accessory to the Solo Stove Ranger fire pit. When baking pizza over a wood fire, you can also use a cast iron skillet above a traditional campfire flame for a rustic experience.
Below are three artisan recipes for every part of your camping day. Who says pizza must just be for lunch or dinner? From breakfast pizza to dessert pizza, you can level up your camping food experience.
Making the pizza dough
For all these fresh artisan campfire pizzas, the easiest way to work with pizza dough at camp is to make it at home before you head out, so your pre-made chilled dough is ready and on hand to easily grab from your cooler. You can use a favorite recipe or search for one online if you'd like to make your pizza dough from scratch.
An easy way to get delicious pizza dough is to use Rhodes frozen dinner rolls. Set the bag in your refrigerator overnight. Then combine four to nine rolls — depending on your pizza size — and make a ball to use as crust for each pizza. These can be placed in an outdoor-friendly container and stowed away in your cooler.
---
Everything But the Bagel Artisan Breakfast Pizza
It's true. You can make a delicious breakfast artisan pizza for breakfast camp. This artisan pizza breakfast recipe is not only creative and delicious but pairs very well with your hot cup of morning coffee and provides you with some nutrients and fuel for your day.
Ingredients
Pre-made dough
1 shallot
Splash of Sherry Vinegar
1 fresh Red Pepper
Everything But the Bagel Seasoning (Trader Joe's is a personal favorite)
Salt
Fresh parmesan cheese
½ cup heavy cream
Fresh mozzarella
First, before heading out to camp, blend together ½ cut of cream, a splash vinegar, 1 shallot, pinch of salt, and 1 fresh red pepper in a blender or food processor to make your breakfast pizza sauce.
Find a dough recipe online that you like and pre-make your dough.
At camp, follow your oven baking instructions or a cast iron skillet recipe. For example, for some pizza ovens, you'll want to heat the pizza stone with your wood fuel for about 45 minutes before cooking your pizza.
If you're using thicker dough, cook your pizza dough first for a few minutes to prevent it from being undercooked and gooey. For a thinner pizza, no pre-baking of your dough is needed.
Layer your pre-made red pepper sauce evenly on the dough, then top with the fresh parmesan (measured to taste) and fresh mozzarella cheese. It's fun to take a block of cheese and grate it fresh at camp, too. You can get the whole family involved. Lastly, sprinkle your Everything But the Bagel Seasoning all over your camp breakfast pizza.
Use a pizza peel to slide your pizza into the stove and turn it 180 degrees a few minutes into baking. Then slice and enjoy.
---
Honey Bacon Brie Walnut Chicken Artisan Pizza
If you like sweet and savory flavors mixed, this lunch (or dinner) artisan pizza recipe is for you. Brie is a soft cow's-milk cheese named after Brie, the French region from which it originated.
This recipe will elevate your pizza experience as you add a little bit of "fancy" to your camping experience.
Ingredients
Pre-made dough
1 package of bacon
½ lbs. Brie cheese
2 Tbsp. honey
¼ cup chopped walnuts
1 lbs. pre-cooked chicken strips
Arugula
To make this artisan pizza at camp, start by cooking your bacon over a campfire to your desired crispiness (or make it at home first and pack it to go). If you're using thicker dough, cook your pizza dough first for a few minutes to prevent it from being undercooked and gooey. For a thinner pizza, no pre-baking of your dough is needed.
Thinly slice your Brie cheese with the rind attached and place the cheese all over the pizza, leaving room on the outer edge. Your Brie will melt and become your pizza sauce. Chop your bacon to your desired size. (I used small bacon bit chunks) then sprinkle all over.
Next, add your pre-cooked chicken strips, and walnuts to taste. Use a pizza peel to slide your pizza into the stove and turn it 180 degrees a few minutes into baking.
When your pizza is done, drizzle honey all over evenly to taste. If you like a little kick to your pizza, try Mike's hot honey for a bit of spice. Slice your artisan pie and enjoy.
---
S'mores Dessert Artisan Pizza
If you have a sweet tooth, this traditional camping dessert mixed with the traditional artisan pizza makes for a fun, flavorful, delicious creation.
Some people say that S'mores are a necessity for any complete camping experience — especially with kids in tow. Why not "glamp" it up a bit for a fun twist on a staple camping dessert?
Ingredients
Pre-made dough
5 Stevia or sugars in the raw packets
¼ cup Nutella
5 graham crackers (or graham cracker crumbs)
1 bag of mini marshmallows
Chocolate syrup
Powdered sugar (optional)
For this recipe, use thinner pizza dough. Take your chilled pre-made dough and sprinkle sugar (or Stevia) all over —  using five packets or measuring with your desired sweetness. Slide your thin pizza dough into the Solo Stove Pi Fire pizza oven or place it in your cast iron skillet.
Once your crust cooks for a few minutes remove it from the oven (or bring your skillet so it's accessible away from open flames) and spread ¼ cup of Nutella (or more if you're a Nutella lover) as your base. Next, sprinkle your mini marshmallows and graham cracker crumbs on top.
Put it back over the fire. After a minute of baking, turn your pizza 180 degrees if using a pizza oven. When your pizza is ready, your mini marshmallows should be picture-perfect toasted brown.
Lastly, finish your dessert creation with a few drizzles of chocolate syrup. If you want to elevate the sweetness even more, sprinkle your S'mores pizza with powdered sugar. Slice in squares for sharing and enjoy.
---
If you think making pizza as camp food is odd or eating pizza for breakfast is odd, you'll find it interesting to know that pizza is so popular across the globe that it was once delivered in space. A South Florida Reporter article reported that in 2001, the Russian Space Agency was paid more than a million bucks to deliver a six-inch pizza to the International Space Station to Yuri Usachov. The article also noted that 36 percent of Americans believe that pizza is a breakfast meal.
---
Suzanne Downing is an outdoor writer and photographer in Montana with an environmental science journalism background. Her work can be found in Outdoors Unlimited, Bugle Magazine, Missoulian, Byline Magazine, Communique, MTPR online, UM Native News, National Wildlife Federation campaigns and more.