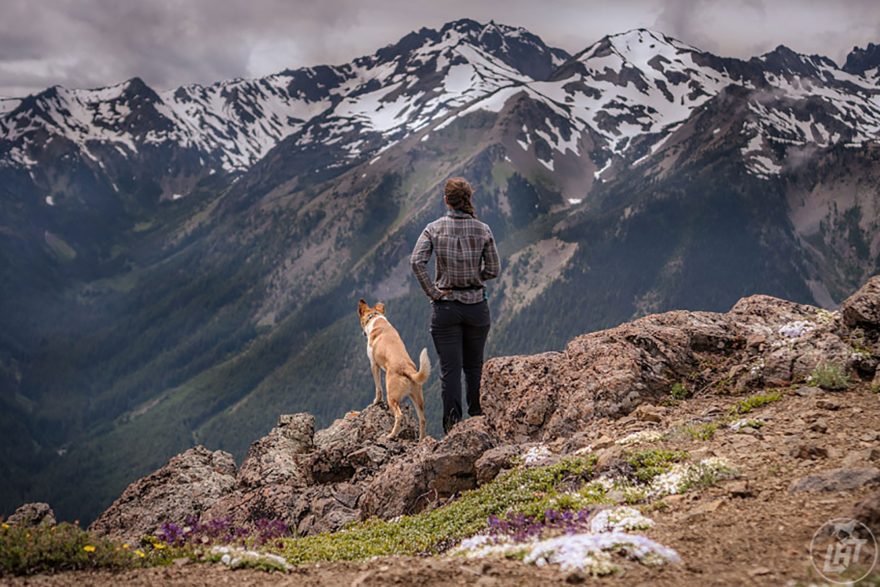 Hiking with your dog is a great way to enjoy nature and get in some beneficial exercise outdoors. Sometimes it just makes sense to take your dog along with you while you're on the trail rather than leave them at home. Dogs can be great hiking companions (depending on the breed and age of your pup) and can help you make lasting memories together.
Hiking is also a great way to help you and your dog bond as you spend more time with your furry companion on the trail. Your time spent together reinforces your relationship and can help build mutual trust — creating an even stronger bond than you had before. Hiking with your dog is also an inexpensive activity and one you can enjoy on your own schedule.
In theory, your entire hiking experience can be amplified with a furry companion as you watch them interact with nature by taking in the sights, smells and sounds. It can also help to expose your dog to different social situations. But for some people, hiking with their dog can be stressful — especially if they (or other hikers with dogs) don't have the right equipment or don't understand basic hiking etiquette with dogs.
Before you hit the trail with your dog, here are five tips from Jen Sotolongo, a dog trainer in Portland, Oregon, who's the founder of Long Haul Trekkers — an award-winning multi-media brand featuring a blog, shop and courses for adventure dogs and their humans.
Train your dog before you hit the trail
"If your dog pulls like crazy or is reactive, I can promise you that hiking won't be very fun!" said Sotolongo, who recommended hiring a professional trainer before taking your dog hiking.
There are a variety of dog training programs available. Check your local area and see what training programs for dogs are available near you. Sotolongo said whether you do a board and train program or private lessons, they will give your dog the skills they need to be the ultimate trail companion.
Board and training is a dog training service offered by a trainer where they keep your dog overnight at their facility (or home) for a certain period of time. This type of training allows the professional trainer to work on commands with your dog multiple times a day, and they'll get a lot of one-on-one attention.
Build your dog's endurance
"Don't head out for an eight-mile hike if your dog has only gone for hour-long leisurely neighborhood walks," said Sotolongo, who recommended starting with shorter trails and gradually building up to longer distances to set your pup up for success.
For example, you could try going a half-mile into a trail and then turning around. See how your dog does on the trail. See how they react. See how they are physically the next day. Then, repeat. Over time, you can build up to a mile in, then two, and so on. Building endurance can make your dog stronger and more athletic leading to a healthier and happier pooch.
Learn basic first aid for dogs and pack a dog-specific first aid kit
"The most common injuries and issues for hiking dogs are torn paw pads and heat exhaustion," said Sotolongo.
"If your dog starts limping, check for torn paw pads. If you're planning to hike on a warm day, start early, and bring along plenty of water. Know the signs of dehydration and stop and rest as your dog needs."
You never know when an emergency will arise and you'll want to be prepared. You can find more information on what to include in your dog's first-aid kit on the American Kennel Club website. The list includes things like gauze, adhesive tape, cotton balls, Hydrogen Peroxide, a Pet Emergency Pocket Guide and more.
Keep your dog on a leash until they're ready
"Hiking off-leash is a privilege that your dog must earn through training," Sotolongo said.
"When you're building recall, the leash is your best friend. If your dog won't come to you while they are on leash, why would they come to you off-leash? Again, this is where a trainer comes in very handy!"
Sotolongo learned this the hard way while she was 15 miles deep into a trail run with her dog who had OK recall.
"We stumbled upon a group of birders, with dogs at either end. My dog didn't come when I called her and lunged at both dogs in the group. I was beyond mortified."
Avoid letting your dog greet every dog they pass
While hiking, not all dogs you'll encounter on the trail will be friendly. It's best to always ask permission of the dog owner before letting your dog approach another dog.
"It doesn't matter if both dogs are off-leash or on-leash, a mix of both, or if they are following the leash rules or not, always ask permission of the owner before allowing your dog to approach another dog," Sotolongo said.
» Additional resource: The Essential Guide to Hiking with Dogs: Trail-Tested Tips and Expert Advice for Canine Adventures by Jen Sotolongo
She emphasized that hiking trails are not like dog parks, so allowing your dog to rush or greet other dogs without permission is considered inconsiderate and can be potentially dangerous.
"As someone who has a reactive dog, hiking gives me a lot of anxiety sometimes — the exact opposite of what it's supposed to do! I worry a lot about other dogs rushing into my dog's space. We've put in a ton of work into training, and I advocate for his space. That can all be undone with one bad encounter."
---
Suzanne Downing is an outdoor writer and photographer in Montana with an environmental science journalism background. Her work can be found in Outdoors Unlimited, Bugle Magazine, Missoulian, Byline Magazine, Communique, MTPR online, UM Native News, National Wildlife Federation campaigns and more.