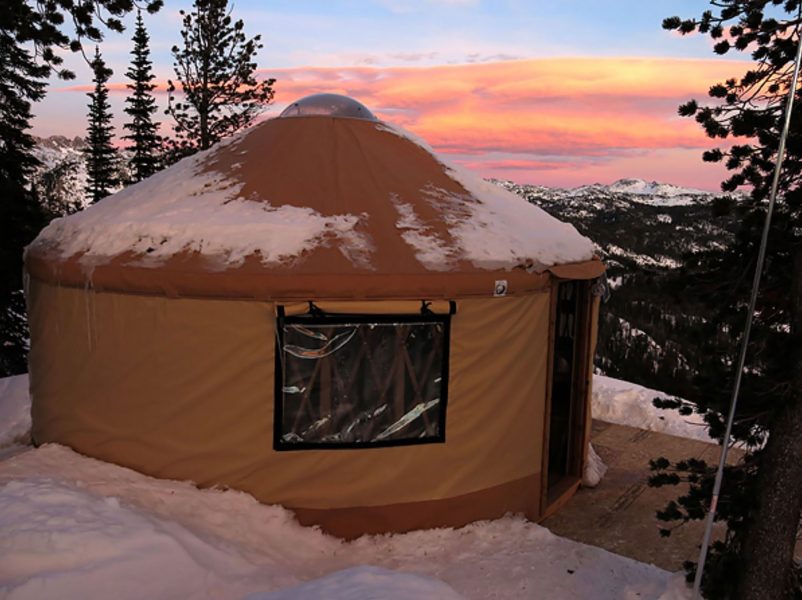 So, you want to go on a backcountry yurt trip?
First off, heck yeah! Hiding out in the backcountry to ski or snowboard for a couple of days is a refreshing alternative to crowded parking lots and lift lines. And spending a few nights in a yurt in the middle of winter can feel a bit like living in your own personal igloo, falling somewhere between a tent and cabin in terms of size and sturdiness.
There are plenty of backcountry yurts scattered about the mountains for rent, but they can vary a bit in amenities and services. They typically have a wooden frame with a heavy tarp-like material stretched over top to form the walls and roof, along with a wooden floor, forming one big room with a few bunk beds, usually a table and a few chairs, and a small area for preparing food. Though they're not insulated the way a cabin might be — yurts meant for ski trips, for example, will usually have a wood or pellet stove inside, so you'll stay nice and toasty throughout your trip and have a source of heat to dry your socks out at the end of the day. You're likely to be able to find one with an outhouse, too.
All told, it might feel pretty luxurious if you're used to tent camping.
Most yurts will require a few hours of skinning to reach, but some guide services, such as Beartooth Powder Guides in Cooke City, Montana, offer snowmobile transport in and out for an additional cost. If you're new to backcountry ski trips, consider hiring a guide to accompany your group and show you the ropes.
Here are a few more things to consider when planning your first backcountry yurt ski trip.
1. Think About What Type of Experience You Want
There are plenty of backcountry yurts and huts scattered about the mountains for rent, but they can vary quite a bit in amenities and services. Options range from pretty bare bones yurts with little more than bunk beds and a wood stove, to luxury cabins staffed by a chef to serve up hot meals after your long days of skiing.
Plenty fall somewhere in the middle in terms of comfort, with outhouses and minimal kitchen setups.
A quick Google search for backcountry ski yurts or huts in whatever mountains you're hoping to explore should garner a range of possibilities and amenities for you to choose from.
2. Choose Your Group Wisely
When embarking on a backcountry trip, it's helpful to choose a group of people with similar skiing or snowboarding abilities and safety experience. Look into the type of terrain around whatever spot you choose, and make sure everyone is comfortable getting up and down the slopes you plan to hit and has the touring equipment to do so. A group full of people who have taken avalanche safety courses is ideal, especially if you're going to forego the guide option.
Because you'll be making a lot of safety and risk management decisions on your trip into what's likely avalanche terrain, choosing a group of people you know can communicate well is important, too.
Consider how much space and privacy you care to have, too, in a backcountry yurt. A yurt might have three bunk beds, for example, but actually filling them up with six people and all their stuff could make the space feel pretty tight. And you can't be shy about changing when you're all in one open room together.
3. Safety Considerations
Before going anywhere in the backcountry, make sure everyone in your group has the safety essentials and knows how to use them — avalanche transceiver, snow probe and shovel. Depending on how far from cell service you plan on going, it's helpful to take a satellite safety device with you in case of emergency. And, as with any outdoor adventure that takes you far from civilization, it's smart to have a comprehensive first aid kit on hand.
Keep an eye on the local weather patterns and frequently check whatever avalanche reports cover the area you'll be skiing in, too, so you know as much as possible about the snowpack and any potential safety hazards before heading out.
4. What to Pack
On top of your safety gear, don't forget any essential ski or snowboard gear!
Make a list and check it more than twice to make sure gloves or goggles don't get left behind. Bring layers, whatever you need to keep you warm, and plenty of socks, but pack efficiently; remember, you might have to carry everything you take in on your shoulders. Definitely bring headlamps and extra batteries — and check on the lighting situation in your yurt before you go — and anything you might need to repair small gear issues. A roll of duct tape can really work some magic in a pinch. A lot of yurts have bunk beds with simple mattresses, so you will likely only need to bring a sleeping bag for nighttime.
Though it might sound like a silly indulgence, I highly suggest taking a pair of slippers to wear after a long day of skiing to give your feet a rest, and more importantly, keep melted snow puddles out of the yurt. Remember to pack actual shoes, too; it might be easy to forget them if you're starting out your trip in ski boots, but it's a real pain to have to put ski boots on every time you want to leave the yurt to go to the bathroom.
Last but not least, take a few things for entertainment in the evenings, like a deck of cards.
You'll want to take a large pack, the type you'd take on an average backpacking trip, along with a smaller daypack to carry the essentials when you're out skiing each day. Of course, if you're lucky enough to rent from a service that will carry your belongings in on a sled towed behind a snowmobile for you, you'll have a bit more leeway with what you can bring. If that's your situation, I might suggest throwing some beers on the list.
5. Cooking in a Yurt
Kitchen amenities may vary from yurt to yurt, so be sure to check into the details of the specific place you'd like to visit, but there is likely to be a very basic set-up on a small table or shelf with a few pots and pans, utensils, and a small propane stove. If you're lucky, there may even be a French press.
Yurts are big enough that they're safe to cook inside, so no need to worry about freezing your tail off outside while boiling water for some ramen on a tiny backpacking stove. Again, if you're able to transport your belongings to the yurt via snowmobile, you'll of course have more freedom in how much and what type of food and drinks you can bring with you. Go ahead, bring that fancy cheese and a six-pack of your favorite après drink. Sometimes, there will be a cooler available in the yurt to store food, or you'll have room on the sled for your own cooler. Unlike tent camping in warmer months, there's no need to worry about securing all your food and finding the perfect branch for a bear hang when you're in a yurt during hibernation months.
Water is actually quite easy to take care of, thanks to the snow. There will probably be some sort of bucket in the yurt that you can use to gather snow from outside. Then, all you have to do is place it on or near whatever type of stove is heating your space to melt the snow, and voila, you've got your water for the day.
6. Prepare for the Unexpected
Weather can be unpredictable, and snow storms certainly don't care if you've had the perfect trip planned for months. If there's a big storm, or major temperature swings make the snowpack unstable and dangerous just as you're preparing to leave, or even in the middle of your trip, you might have to skip out on skiing for a day or two, or stick to the most conservative, low-pitched terrain. And if all else fails, you probably have that deck of cards and perhaps a flask or two of whiskey. Remind yourself that you still get to spend a couple of days in a beautiful place with your buddies. Can't get much better than that.
---
Sam Weber is a Philadelphia-based student and former newspaper reporter who believes that writing about skiing is almost as good as actually getting to ski. She loves to explore all types of nature and go camping with her dog, Fergie, whenever possible.