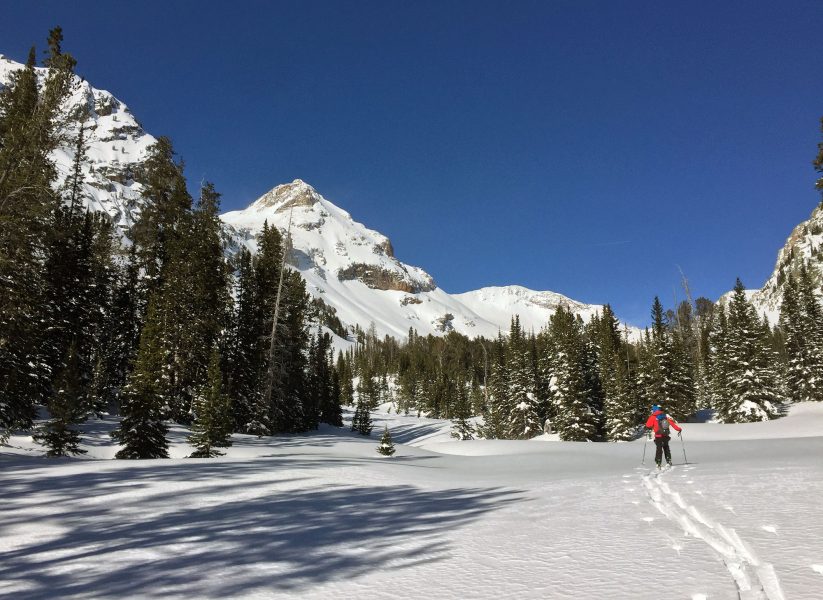 What's alluring about backcountry skiing and snowboarding — untouched lines, deep powder, solitude in majestic mountains — is precisely what can make it dangerous. Mother Nature is unpredictable, and avalanches can lurk beneath the most enticing snow. That's why it's important to be prepared and do your homework before venturing out into avalanche terrain and to know the basics of staying safe in the backcountry while skiing and snowboarding.
Especially if you're a backcountry novice, here are a few tips for getting out and enjoying untracked terrain safely:
1. Take an Avalanche Course
Most importantly, anyone thinking about trading lift lines for skin tracks should take an avalanche safety course. There are often free community avalanche education resources available in mountain towns, such as educational talks given at gear stores, and of course, the internet is full of free avalanche safety and awareness videos. Nothing's really the same as actually being out in the snow and learning safety techniques first-hand, though.
Beginner's avalanche safety courses will teach you how to understand avalanche forecasts, analyze weather patterns, assess terrain and snowpack, use your safety equipment properly, and rescue your partners. They usually last three days, and costs can range significantly, but the abundant information and real-world experience they provide are well worth it.
Plus, they're fun! You get to play in the snow for a few days while learning a lot of fascinating information. The American Institute for Avalanche Research and Education, the U.S.'s leading avalanche safety organization, has great resources on its website for finding avalanche courses.
2. Get the Right Equipment … and Know How to Use It
The three essentials for safety in the backcountry are an avalanche transceiver (or beacon), a snow shovel and a snow probe. Transceivers are worn close to your body and emit radio signals that can be picked up by other transceivers in your proximity. In the event that someone gets buried in an avalanche, the signals of the transceiver worn by the buried person and those worn by their partners can "talk" to each other and help locate the buried person.
Once you use your transceiver to find a buried person's general location, you use a snow probe, which is a collapsible metal rod, to probe the avalanche debris and feel for the person's body to more accurately pinpoint their location below the snow. Finally, your shovel is, of course, used to dig the person out. You will also use a shovel to dig snow pits before starting your ski day to check how stable the snowpack is. All of these skills are taught in avalanche safety courses, and it's important to continue practicing them throughout your time as a backcountry adventurer.
In addition to the three safety essentials, it can be helpful to have walkie-talkies to communicate with your ski partners, and depending on the cell service where you're skiing, perhaps a satellite communication device for emergencies. Avalanche airbag packs are another increasingly popular piece of backcountry gear. They have airbags that can be triggered in the event of an avalanche and act as floatation devices to help keep your body on top of the snow and protect your head and neck from debris.
3. Know Your Terrain and Watch the Weather
Pay attention to the weather before you go, or even better, keep track of snow storms throughout the season. Big storms that dump piles of hard-to-resist powder equal higher avalanche danger. It's also helpful to learn about what sort of terrain is most likely to be dangerous. For example, snow slides more easily in really steep areas, and a patch of trees that might look like a nice place to stop can be ill-advised. If you can ski or snowboard through trees, an avalanche can travel through them, too.
You can learn more about understanding weather patterns, assessing snowpack stability and risk of certain terrain are all taught in avalanche courses or avalanche awareness talks. Also, if you live near avalanche terrain, there is likely to be a local snow safety organization that issues avalanche danger reports each day with information about any recent avalanches in the area.
4. Choose Your Partners Wisely
Never, ever head into the backcountry alone. "Safety in numbers" only works for backcountry skiing and snowboarding up to a certain point, though. Experts agree that groups of three to four people are ideal for safe backcountry travel. Any larger, and it can get more difficult to handle group dynamics and talk through important risk management choices.
It's important to trust everyone you go out with and that you're on the same page about safety.
And of course, choose people you'll have fun with. At the end of the day, we get out on the snow to have a good time. By preparing yourself well to be a responsible backcountry traveler, you'll ensure that you have a great day and stay safe doing it.
---
Sam Weber is a Philadelphia-based student and former newspaper reporter who believes that writing about skiing is almost as good as actually getting to ski. She loves to explore all types of nature and go camping with her dog, Fergie, whenever possible.