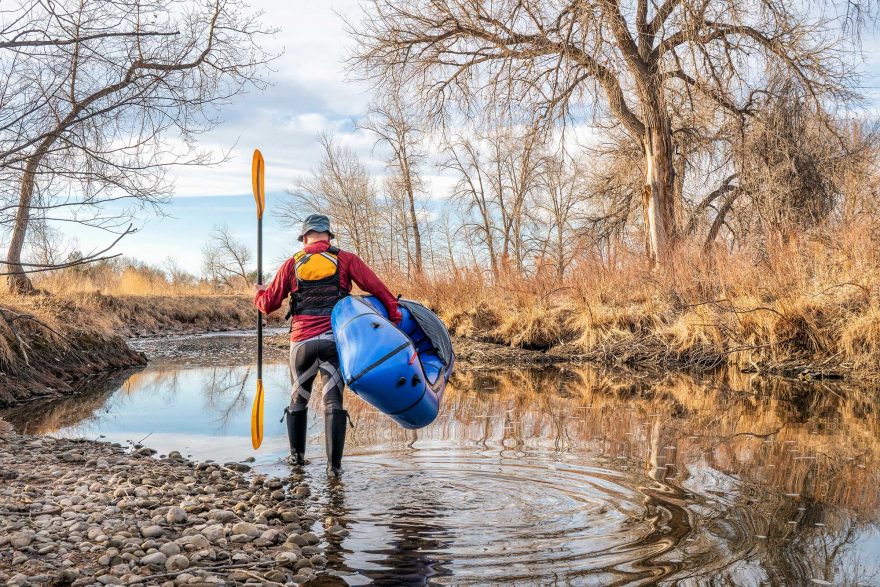 When you're a true adventure lover or outdoor enthusiast, most — if not all — days tend to be filled with some sort of excitement, even if only for a few minutes. But sometimes you just crave those bigger, more epic, memorable adventures. That's where packrafting can come into play.
Instead of choosing between going for a hike or a paddle, packrafting allows you to enjoy both in one outing. It also opens up a whole new world of previously inaccessible terrain (think small alpine lakes deep in the backcountry or sections of river you can't drive to).
Intrigued? We don't blame you! Here's a crash course (pun not intended!) in packrafting, along with the essential gear you'll need to get started and a few safety tips.
Packrafting 101
So what exactly is packrafting? It combines two wildly popular outdoor activities:, hiking (or, depending on the distance involved, backpacking) and kayaking. The result is one glorious, challenging adventure.
Like so many other outdoor activities, packrafting has very few rules. One of those few — and perhaps the most critical — is that you must use an inflatable raft or kayak. A packraft is, by definition, inflatable, which makes sense as it's the most portable option.
Going hand in hand with rule No. 1, rule  No. 2 is that you must carry the inflatable boat for your entire hike — hence the "pack" in packrafting.
That's where the rules of packrafting basically stop. You can hike as much or as little as you'd like, and as soon as you find a body of water, you can stop and switch to rafting. The biggest benefit here, of course, is that packrafting allows you to paddle in otherwise very hidden, hard-to-reach places. Pretty awesome, right?
Required Packrafting Gear
Packraft
Paddle — note that some packrafts come with a paddle, but not all. Look for a double-bladed paddle that disassembles into three or four pieces.
Dry bags
Sturdy hiking shoes or boots for the trek in — consider getting a waterproof pair, as many packrafting routes tend to be muddy due to their proximity to water.
Tips for Packrafting
1. Choose a small, lightweight packraft.
While they're all inflatable and light-ish, size absolutely matters, and a pound or two makes a big difference. Keep in mind that you'll not only have to pack your boat in, you'll have to carry it back out, too — after you've exhausted yourself between both hiking and paddling.
Having said that, all your other gear also needs to go with you in the boat. That's why it's important to choose a packraft that's compact and lightweight, but also appropriate for your personal gear setup. Someone who generally sticks to day trips and occasional overnights will be just fine in a smaller packraft, but someone who goes on multi-day trips will need something larger to accommodate camping gear.
Many packrafts, like this model from Microraft, actually incorporate clever storage compartments inside the tubes, or walls. In fact, that's one of the main differences between a true packraft and something else that would simply be an inflatable kayak.
Pro tip: Store your belongings in dry bags, then put them inside the tubes as you're inflating your packraft. Not only does this save space and the hassle of trying to figure out where to keep these items, but it also helps stabilize your raft (plus, it's just really cool!).
2. Select your packraft based on the types of trips you want to do.
Or alternatively, vice-versa, pick trips based on the type of packraft you get. If you plan to paddle solely around calm alpine lakes, you can get away with something fairly basic. If you want to put your packraft into rivers and take on some rapids, though, you'll want to have more features, such as a spray skirt or deck.
3. In addition to the boat itself, you need some packrafting gear.
At the absolute minimum, you need a packrafting paddle. It should be portable and lightweight for easy carrying (most of them break down into four pieces), but also comfortable and sturdy enough that you'll feel safe using it in a variety of conditions.
And while they aren't required per se, a PFD and wetsuit should be part of your packrafting gear arsenal. A PFD's sole purpose is to save your life in case of an emergency, so that one's a given. As far as a wetsuit, water is often substantially colder than people realize — even in the middle of the summer in scorching temperatures.
Finally, you may also need some specialty packrafting equipment based on your specific needs. For example, if you plan to paddle rivers, you'll want to have standard whitewater gear including a helmet and rope.
4. Test your packraft at home.
Inflating a packraft is a unique experience in and of itself. Instead of using a traditional air pump like inflatable kayaks and paddleboards, packrafts use a manual inflation bag. It definitely takes some practice, so you'll want to inflate your packraft a few times at home before attempting it in the wild. This will take any intimidation out of the process, plus will likely save you some time trailside.
5. Do some test runs.
Or test hikes, that is. Before committing to actually packrafting to a specific destination, hike the route once or twice with your regular hiking gear. Not only will this help you get familiar with the trail, but it will also give you an idea of whether you can realistically take on the additional burden of carrying your packraft in and out. Along the same lines, consider testing your packraft by putting into a local lake or pond before you pack it for a longer excursion.
6. Bring water shoes and/or keep your shoes dry.
When you get to the water, put your hiking shoes in a dry bag, whether you're going barefoot or changing into water-appropriate shoes. Don't forget, you'll need to wear your hiking shoes on your way back — you'll want them to be dry!
7. Dress accordingly.
Along the same lines, you'll want dry clothes to wear on the hike out. Hiking in wet clothes is not just uncomfortable (hellllllooooo, chafing!), but it can also actually be unsafe and contribute to hypothermia. Bring a change of clothes at the very least, but you may also want to consider getting a wetsuit or wetsuit pants.
8. Embrace the packrafting "Culture of Safety."
Hiking and paddling are both inherently dangerous, as are wild bodies of water. No matter how experienced you are with packrafting, safety should always be your top priority. The "Culture of Safety" centers around this, encouraging adventure lovers to "normalize safety."
To that end, always wear a life vest or other PFD, familiarize yourself with your packraft and other gear, learn about water levels, conditions, and hazards, and above all, know your limitations. Many outdoor outfitters, such as REI, have started offering packrafting basics and safety courses, so consider looking into one locally.
Taryn Shorr is an avid outdoor enthusiast, frequent traveler, and wannabe photographer based in southern Arizona. She lives for the opportunity to explore The Great Outdoors, both at home and in new destinations, and firmly believes that nature is a form of both therapy and religion.