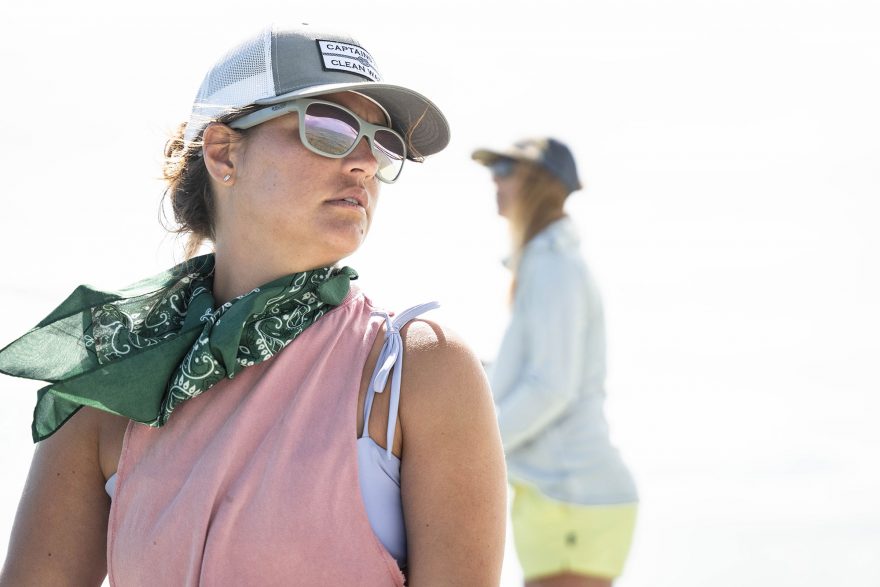 Going well beyond fit, factors such as UV protection and polarization should be considered when choosing sunglasses for water activities
---
You probably already know that the sun's ultraviolet (UV) radiation can wreak havoc on your eyes if you don't protect them while you're outside adventuring. Vision loss, eyelid sunburn and cataracts are just a few adverse effects of over-exposure to UV light. And just like visible light, UV light reflects off surfaces like water, making it even more important to protect your eyes while you're out on the water.
But you also probably know that the sun isn't all bad. There are a lot of benefits to sunlight: UV light from the sun can support bone health, generate the production of vitamin D and promote good mental health.
So, when you're out on the water, soaking up that vitamin D — whether kayaking, surfing, stand up paddle-boarding, boating, canoeing, etc. — having a good pair of sunglasses is essential to help protect your eyes from the sun's UV radiation. And, the right sunglasses will also help protect your eyes from small debris and wind.
With so many sunglass frames and lens options online and in retail stores — and with so many varying price points — it can be overwhelming to choose a pair of sunglasses that are right for you and give you the fit and protection you need while out on the water.
Here are a few things to look for when you're choosing a pair of sunglasses for water activities and a recommended brand that makes quality eyewear:
Look for a Polarized Lens
Polarized lenses (vs. tinted lenses) are meant to reduce glare from surfaces that reflect light — like water.
When you're out on the water, you may notice a bright glare coming off the water that causes you to squint, even while wearing tinted lenses. That's due to sunlight bouncing off of the water's surface horizontally and striking your eye at an angle.
But with polarized lenses, you'll notice you won't be squinting. This is mainly due to the surface of the lens. Manufacturers make polarized lenses with a laminated surface that contains only vertical stripes, so only vertically-polarized light will be allowed to enter your eye. The glare from water (which is horizontal) is eliminated because none of the horizontally-polarized waves of light can bypass the polarized filter.
Although some tinted lenses have anti-glare, they still don't offer 99 percent/100 percent protection against glare. If you move your head at a certain angle, horizontal light can still get through and create bright spots.
Polarized lenses also allow you to see below the water's surface. So when you're out kayaking with polarized lenses, you'll be able to see hidden obstacles and search for fish along the way in clear water, since polarized lenses take away the constant reflection of light on the water that you normally see.
Look for Sunglasses with 99% UV Protection
According to Dr. Cheryl Khanna with the Mayo Clinic, to protect your eyes, you want to look for sunglasses, "that block 99 percent to 100 percent of both UVA and UVB rays and screen out 75 percent to 90 percent of visible light.
"Yes, UV eye protection matters," said Khanna. "UV radiation from the sun can damage not only the skin of your eyelid but also the cornea, lens and other part of the eye."
Bottom line, when you're online or in a retail store, make sure the sunglasses you choose have at least 99 percent protection against UV rays so you can adventure out on the water in confidence. Keep in mind, too, that you may not want to wear polarized sunglasses as your daily go-to shades as they limit the amount of light that can enter.
Pay Attention to Frame Shape
The sun's rays can affect your eyes from different angles, so you'll want to pay attention to the frame shape. If a frame is too straight, you're leaving a lot of your eyes on the side exposed to harmful rays.
Khanna recommended opting for wraparound sunglasses or close-fitting sunglasses with wide lenses that protect your eyes from every angle. Some contact lenses also offer UV protection, but should be worn in combination with sunglasses to maximize protection.
Top Recommendation: Bajio Sunglasses
After years of wearing tinted anti-glare lenses out on the water while kayaking, I've recently transitioned to polarized sunglasses by Bajio. And I'm sold!
I've finally found the perfect fitting sunglasses for me. The Gates by Bajio are built with a stronger bio-based nylon frame that's super light with a very nice curve to cover those side sections of my eyes where horizontal light reflecting off the water has a tendency to sneak in. I typically wear smaller-framed sunglasses, and these fit perfectly.
The Gates also have a comfy rubberized section above the nose and on the ends that keep the sunglasses from sliding down my face while I'm out on the water — especially when it's hot and sweat is an issue.
Bajio's engineering team designed a proprietary polarized lens technology (Lapis) that tames glare and fatiguing blue light transmission. And it's noticeably different from tinted sunglasses — even tinted sunglasses with anti-glare technology.
I noticed right away that I'm not constantly squinting on the water. My eyes feel relaxed. And, I'm impressed by the clarity and visibility of fish in the water. I could even see little minnows below the surface.
After wearing (and bragging) about my Bajio sunglasses, my husband had to try a pair in a bigger frame. He fell in love with Bajio's Bales Beach sunglasses. They're perfect if you want a larger frame and have glass polarized lenses. They also have a nice curved frame with Bajio's Lapis polarized lens technology that blocks 95 percent of blue light, as well as durable anti-scratch and oleophobic lens coatings.
If you're looking for a larger frame with a glass lens to wear out on the water, the Bales Beach are a good choice. If you wear a smaller frame, stick to the Gates. Both of these styles come in a variety of frame and lens colors, which is an added perk!
Bajío is the Spanish word for the shallows, that part of the ocean that sits between the land and the deep blue. It is the connection zone, teeming with life. It's the nursery of the ocean where most sea creatures are born and raised.
Bajio also focuses on sustainability. They've partnered with Fly Fishing Climate Alliance and have committed to go carbon neutral by 2030 in an effort to save the eco-systems and fish their business depends on.
Suzanne Downing is an outdoor writer and photographer in Montana with an environmental science journalism background. Her work can be found in Outdoors Unlimited, Bugle Magazine, Missoulian, Byline Magazine, Communique, MTPR online, UM Native News, National Wildlife Federation campaigns and more.