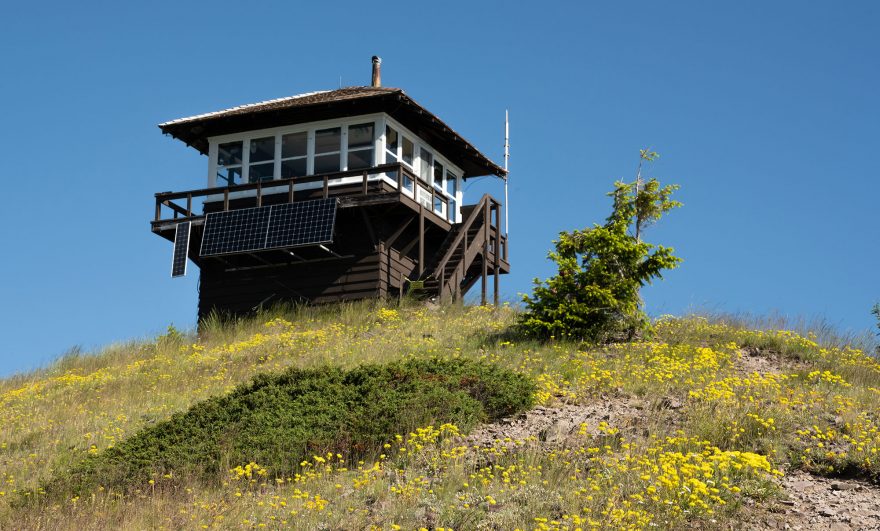 Fire lookout tower history — and how to book your stay and tips for your visit
---
If sleeping on a mountain top far from civilization sounds like an adventure, you may want to explore the idea of spending a night or two in a decommissioned fire lookout tower. There are more than 70 lookout towers available to rent across seven Pacific Northwest and other mountain states states: Idaho, California, Colorado, Montana, Oregon, Washington and Wyoming. And yes, staying in a lookout tower is as cool as it sounds, and you'll pay only between $30 to $60 per night through www.recreation.gov.
But it's not glamping. Although the 360-degree views are alluring and staying the night in a decommissioned fire lookout tower carries nostalgia, the living area in one of these remote fire lookout towers is primitive. You may occasionally find a propane stove, a folding cot or a chair, but only a handful of lookout towers have electricity or toilets, and you'll most likely need to haul in your own water.
History of fire lookout towers
U.S. Forest Service crews, with the help of Civilian Conservation Corps crews, started building a handful of fire lookout towers in the U.S. after the northwest's devastating fires of 1910. According to the USFS, the 1910 fires burned 3 million acres and killed enough timber to fill a freight train 2,400 miles long. That's when early fire detection became a priority.
Crews constructed the fire lookout towers high above tall forest trees on the top of mountain peaks — ideal for long-range visibility to detect a fire. Many of the fire towers are square wooden structures fitted to large railroad water tank towers. These tank towers had an existing ladder system and most of them extended between 20 to 60 feet tall.
Originally, seasonal workers known as "fire lookouts" lived in these structures during fire season (typically June to September). Their job was to watch for smoke and determine its location using a device known as an Osborne Fire Finder, then to let the USFS know when and where a fire was detected. Fire lookouts also reported weather changes and reported locations of lightning strikes during storms in case of ignition.
Today, the number of fire lookout towers continues to dwindle from thousands to hundreds, as new technology — like drones and planes — become more commonly used for early detection of forest fires. The fire lookouts that remain, known as "guardians of the forest" live in isolation each year on mountain summits. But their numbers are fading fast with less than 30 employed today.
Booking your stay at a fire tower lookout
If you want to book a stay in a fire lookout tower, you can easily book online through the National Recreation Reservation System at recreation.gov. On this website, you'll find information for each of the lookout towers in this region that are available for rent, including how to get there, length of stay, amenities and more. You can also find a phone number of the local ranger station to be able to chat with someone about the lookout tower for more specific information.
In my home state of Montana, I stayed in the Double Arrow Lookout tower in the Lolo National Forest near Seeley Lake, Montana, overlooking the Swan mountain range. This lookout tower is a 14-by-14-feet structure atop a 20-foot structure built in 1933, and it was an amazing experience.
The Double Arrow lookout tower has electricity and a covered walkway all the way around. But the access road is steep (since you're climbing up a mountain) and more than a mile of the road is dirt and gravel — requiring a high clearance vehicle like a truck or jeep. If you're not used to Forest Service roads, you may think you've gone off the path. There were some utensils and cook wear in the tower and two cots to sleep on. There is also a nice fire pit below and some trails to hike leaving from the tower.
On the Recreation.gov website it states, "Guests must furnish everything they need in the way of bedding, cooking and eating equipment and cleaning supplies. Guests will also need to bring their own food, towels, soap, garbage bags and toilet paper, among other supplies deemed necessary."
The lookout towers are available on a first-come first-serve bases for people over the age of 18. Some of the lookout towers close seasonally for repairs, and some are only accessible by hiking in — with no accessible road, so you'll need to do your homework and determine what type of lookout tower is right for you. If you're not keen on heights, stay away from lookout towers more than 20 feet tall, as some can stand as high as 60 feet tall, and you'll need to climb a series of stairs to reach the dwelling.
Tips for your stay in a fire tower lookout
Before you book your stay and commit to staying the night in one of the 70 fire lookout towers available for rent in the mountain states, do some research. Once you've decided on which fire lookout tower is best for you, here are three tips that could make your stay even better.
Make safety a priority
Fire towers are often the tallest structures on the mountain. After all, the fire lookouts needed to see the entire valley below for up to 20 miles. Know your own physical limits. Know what's required in getting to the fire lookout tower. And be sure to check the weather before you go, as staying in a fire lookout tower in a storm could be unsettling. It's a good idea to bring an emergency radio with NOAA weather alerts, so you'll have time to prepare for a storm if needed. Remember, too, that these towers are remote — deep in the backcountry — so you'll need to know some basic wilderness safety and carry things like a first aid kit, flashlights and have an off-line GPS system. If you have kids, know that the USFS highly discourages bringing children younger than 12 with you because climbing some of the lookout towers can be very steep.
Be smart about what you pack
You'll have to pack in basic necessities like food and water, but you also need bedding and cooking supplies if you'll be cooking your meals. Most of the lookout towers have a fire pit, too, so consider bringing your own firewood. But check your local ranger district for firewood restrictions as each location is different. You should also consider packing in other supplies like a flashlight, a first aid kit and a solar powered lantern/cell phone charger. If you're hiking to the tower, be smart about how heavy things can be and pack accordingly.
Practice Leave No Trace
It's nice to stay in a clean fire lookout tower. And it's even nicer to experience a garbage-free backcountry landscape. Leave No Trace is a set of outdoor ethics created by the Leave No Trace Center of Outdoor Ethics promoting conservation in the outdoors. These seven ethics are plan ahead and prepare, travel and camp on durable surfaces, dispose of waste properly, leave what you find, minimize campfire impacts, respect wildlife and be considerate of other visitors.
Suzanne Downing is an outdoor writer and photographer in Montana with an environmental science journalism background. Her work can be found in Outdoors Unlimited, Bugle Magazine, Missoulian, Byline Magazine, Communique, MTPR online, UM Native News, National Wildlife Federation campaigns and more.
Feature image by Kelly vanDellen, Shutterstock. Secondary images by slworking2; recreation.gov; and Parker B, Shutterstock