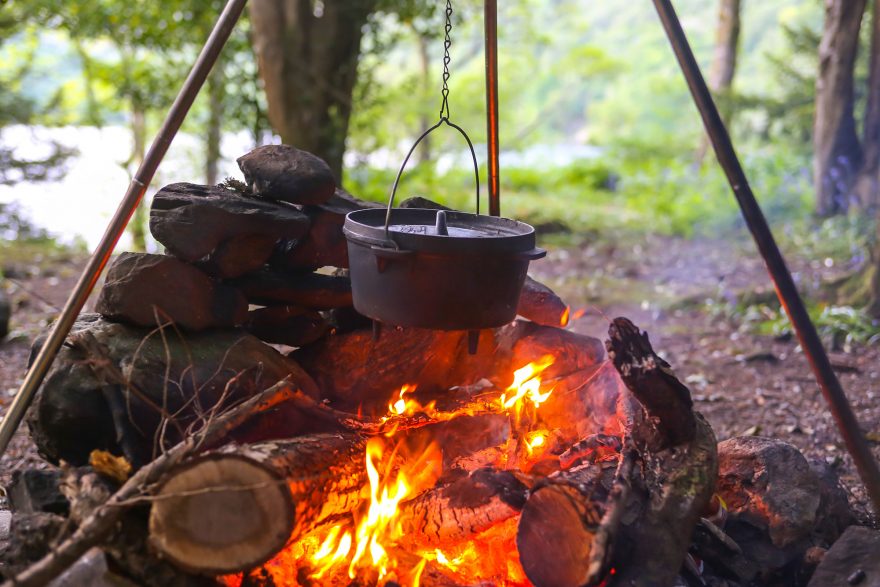 Breakfast is arguably the most important meal of the day, and that's especially true when you're camping, hiking or doing any other sort of adventuring. It quite literally fuels your day.
While breakfast is important, simplicity is a top priority when you're camping or otherwise in the wilderness. It's all about keeping the ingredients, prep work, and cleanup to a minimum. Enter Dutch oven breakfast recipes.
Dutch ovens have been around since the 17th century, originating in the Netherlands (as you might expect, with the word "Dutch" being included in the name). Because they're heavy, Dutch ovens may not initially seem like a great option for camping. However, their weight is actually a tremendous benefit when it comes to campfire cooking. They distribute heat evenly and retain it for extended periods of time. Dutch ovens' large volume also means you can usually get away with cooking everything in one pot, even if you're on breakfast duty for the whole camp.
Dutch oven breakfast ideas
To help you jumpstart your early-morning adventures in The Great Outdoors, we've rounded up our five favorite Dutch oven breakfast recipes.
From classics like Dutch oven biscuits and gravy to more innovative dishes like Dutch oven breakfast pizza, there's something here for even the pickiest appetites. Say so long to the days of eating fruit or instant oatmeal for breakfast while you're camping, because once you try some of these Dutch oven breakfast ideas, you'll never go back.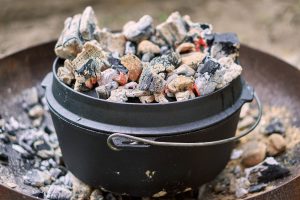 1. Dutch Oven Breakfast Casserole (from Allrecipes)
"Mountain Man" casseroles, like this one from Allrecipes, are wildly popular with outdoor enthusiasts. And for good reason: They're quick and easy to make, versatile in terms of flavors and ingredients, and are a wonderful way to feed several people. Think of Dutch oven breakfast casseroles like the morning version of campfire chili.
This casserole is genuinely delicious as-is, but you can use any similar recipe as an adaptable base. Then, feel free to throw in whatever ingredients you have on hand, switching it up from time to time with different meats or garnishes. Roll everything up in tortillas and add some salsa to convert this casserole into Dutch oven breakfast burritos!
2. Dutch Oven Breakfast Pizza (from Camping for Foodies)
Everyone loves breakfast pizza. Like a slightly more structured version of breakfast casseroles, Dutch oven breakfast pizza is simple to make, easily tweaked and feeds a crowd (or just you — we're not judging). Plus, it's pizza.
Camping for Foodies' take on breakfast pizza involves a simple cornmeal crust, followed by a layer of eggs and toppings. Just like with traditional pizza, you can use virtually any combination of toppings. As a few ideas, some of our favorites include ground sausage, ham, mushrooms, green onions, jalapenos, and cheese. Simply add them, unbaked, about 10 minutes before your Dutch oven breakfast pizza is done.
3. Dutch Oven Dutch Baby (from Self Proclaimed Foodie)
Dutch babies go by many names: Bismarck, German pancake and Hootenanny, to name a few. Whatever you call them, Dutch babies are generally regarded as fancy, something reserved for special occasions. Interestingly, they're very simple to make!
Falling somewhere between a crepe and an extremely fluffy pancake, a Dutch baby is made of a simple batter and rises substantially during baking. That's why it makes the perfect Dutch oven breakfast! Self Proclaimed Foodie lays out the easy-to-follow steps, from pouring the batter in a piping-hot Dutch oven to topping the Dutch baby with berries. You may never want to go back to basic eggs and bacon!
4. Dutch Oven Breakfast Quiche (from Love the Outdoors)
It doesn't get much simpler than an eggy pie for breakfast. That's exactly what quiche is, and they're incredibly adaptable. We highly recommend this recipe from Love the Outdoors, but of course, you can adjust it to your heart's content. Bacon and cheese is a classic combination, but you can also sub in chorizo or use ground turkey and a variety of green veggies.
This quiche calls for a pre-made refrigerated pie crust (how easy is that?!), but you can omit it completely if you're following a low-carb diet. You can also use egg whites, and it's easy to swap in milk substitutes or skip cheese if you're dairy-free.
5. Dutch Oven Biscuits and Gravy (from Easy Campfire Recipes)
Is there a breakfast dish more comforting and hearty than biscuits and gravy? Hint: the answer is no. It's a tried-and-true campfire classic, but there's one way to make biscuits and gravy even better. Turn it into a Dutch oven breakfast dish!
You'll notice that the recipe we recommend from Easy Campfire Recipes technically isn't for biscuits and gravy. Instead, it's a super easy (just five ingredients — and two of those are salt and pepper!) but incredibly tasty sausage gravy recipe that goes perfectly with your favorite biscuits. Make your own from scratch or keep it simple and use refrigerated Pillsbury biscuits.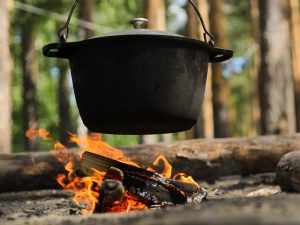 Tips for Dutch oven breakfast cooking
We've mentioned this before, but it's worth saying again: Get a high-quality, heavy-duty Dutch oven intended specifically for camping. Look for pre-seasoned cast-iron models, and bonus if the lid doubles as a separate pan. More rugged Dutch ovens meant for outdoor use are far more durable than household models and will last for many years.
Once you have the right Dutch oven for campfire cooking, consider getting a campfire grill or grate. This simple contraption is incredibly handy at camp, providing a level cooking surface for the heavy pot.
Pre-mix all your Dutch oven breakfast ingredients at home. Keep dry and wet ingredients separate, then mix at camp. This allows you to ditch bulky containers and avoid the risk of something breaking or spilling in transit. This even works for eggs — simply crack them into a condiment squeeze bottle at home.
During cooking, rotate both the lid and the Dutch oven itself a quarter-turn in opposite directions every few minutes to ensure even cooking time. This isn't crucial in meals like chili, but is essential in baking to avoid under- or overcooked spots.
Pack some tortillas and aluminum foil or Ziploc bags so you can re-purpose Dutch oven breakfast leftovers into tacos or burritos for later in the day.
Taryn Shorr is an avid outdoor enthusiast, frequent traveler, and wannabe photographer based in southern Arizona. She lives for the opportunity to explore The Great Outdoors, both at home and in new destinations, and firmly believes that nature is a form of both therapy and religion.
Feature image by FTH, Shutterstock; secondary images via Pixabay and Unsplash