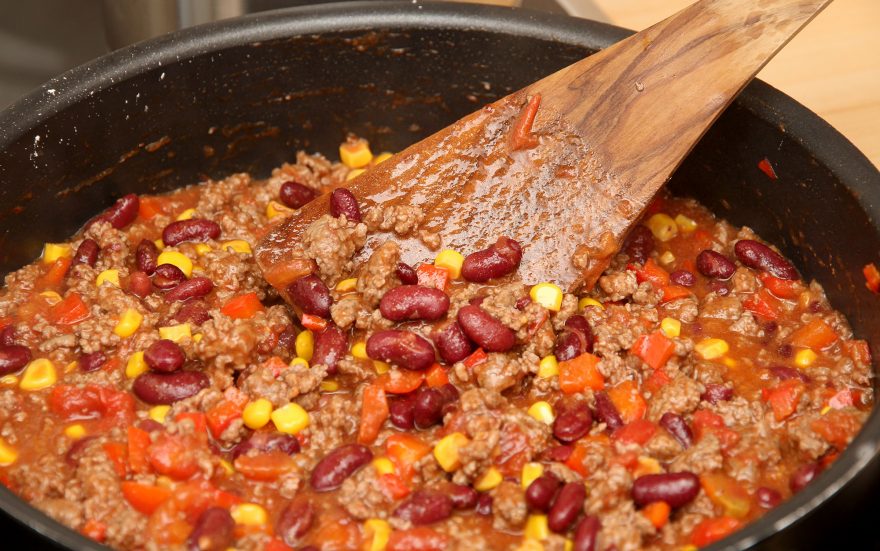 Camping and chili go together like peanut butter and jelly or spaghetti and meatballs. Or, more appropriately, graham crackers and roasted marshmallows. Chili around a campfire is a warm, comforting and hearty match made in heaven.
Campfire chili is a wonderful way to feed a crowd, as it's easy to make double or even triple batches, and it's generally very affordable. One of the best things about campfire chili, though, is its versatility. Whether you're a serious carnivore, don't care for spicy foods or follow a vegan diet, there are dozens of camping chili recipes to satisfy your tastebuds. Plus, they can all easily be adjusted to meet individual preferences or dietary needs.
Another great thing about campfire chili is that it's made by almost literally dumping the ingredients into your trusty Dutch oven and simply heating them. A quick note on Dutch ovens: If possible, use one designed specifically for campfire cooking. Cast iron Dutch ovens for camping are extremely durable and withstand high heat for long periods of time. The Camp Chef model we recommend even has a lid that doubles as a separate skillet! A campfire grate also goes a long way in making cooking at camp easier, keeping your Dutch oven level and preventing spills.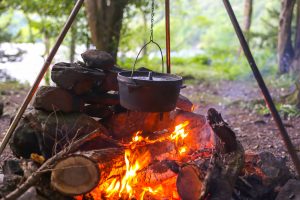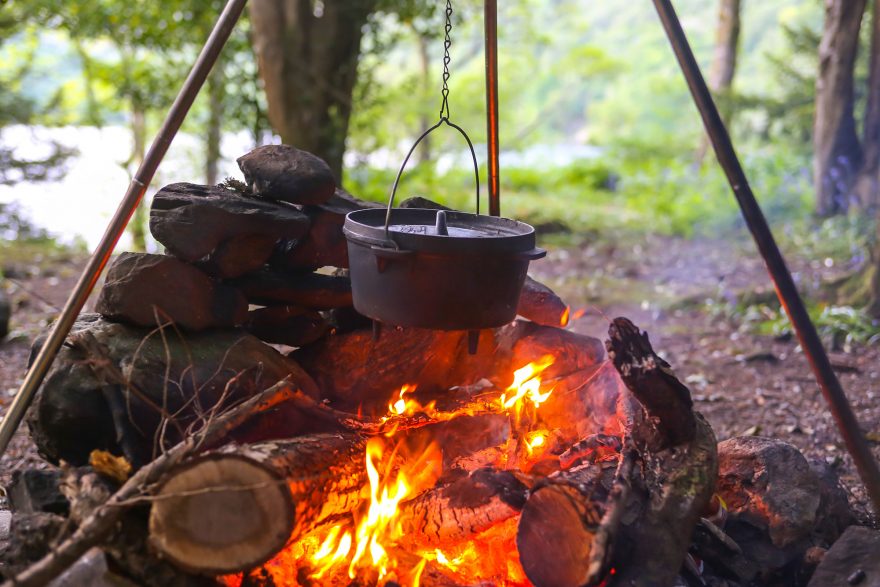 Dutch Oven Chili Recipes
With so many Dutch oven chili recipes out there to choose from, it can be overwhelming deciding which one to try first. To help you focus on what's important — enjoying the warmth of your campfire and a delicious meal beside it — we've rounded up our five favorite Dutch oven chili recipes. We even included vegan and low-carb/paleo campfire chili options to help you stay on track while you're in the backcountry.
1. Classic Campfire Chili (from Camping for Foodies)
This is one of those Dutch oven chili recipes that warms you straight to the bone. Chop your veggies, brown your meat (Camping for Foodies recommends a blend of ground beef and pork sausage), then simmer them with spices, beans, and liquid. Something that sets this apart from other camping chili recipes is the inclusion of V-8, rather than broth. It lends a super flavorful, rich taste.
Note that this campfire chili simmers for two hours, but it's worth the wait! Cooking "low and slow" allows the flavors to meld beautifully. To pass the time, bust out a deck of cards and play some games.
2. White Dutch Oven Chili (from The RV Atlas)
Dutch oven chili recipes are often "red," based around dark beans and ground beef, but that certainly isn't a rule. Why not switch things up and try a lighter, "white" chili? This version from The RV Atlas is just as hearty and filling as traditional campfire chili, yet it's just slightly lighter. That makes it easy to enjoy year-round, even in the summer heat.
The protein source in this camping chili recipe is chicken, and white beans stand in for kidney beans. Add green chilies for a bit of a kick, and use chicken broth to keep it light. Voilà!
3. Dutch Oven Chili and Cornbread (from Fresh Off the Grid)
We can't speak for everyone, but we think cornbread alongside a bowl of campfire chili is a necessity. The best part about this Dutch oven chili recipe from Fresh Off the Grid is that the chili and cornbread cook together in one pot!
Start by cooking your chili in the Dutch oven as you normally would. We're huge fans of this version, but feel free to substitute another camping chili recipe. While the chili cooks, whip up the cornbread. You can make it even easier and use a basic store-bought mix! Add the cornbread mix on top of the chili, cover with a lid, and cook for an additional 20 to 30 minutes.
4. Spicy Vegan Campfire Chili (from Champagne Tastes)
It's somewhat difficult to find vegan Dutch oven camping recipes, but this one from Champagne Tastes is pure gold. This campfire chili recipe has a beer base and packs a decent punch, making it perfect after long, active days, especially in cold weather. You can also easily tone it down, so don't worry if spicy food isn't exactly your thing.
Start by sautéing a mixture of onions, peppers and jalapeños. Simmer in beer broth for a few minutes, then add diced tomatoes and beans. Feel free to add more veggies or swap the beer out for veggie broth, but otherwise, that's it!
5. Paleo Campfire Chili (from Laura Fuentes)
The idea behind low-carb and paleo diets is to consume lots of protein and very few carbohydrates. That isn't always easy with Dutch oven chili recipes, as most of them include beans. While beans are high in fiber and have several other benefits, they're also high in carbs.
This paleo chili recipe from Laura Fuentes allows you to enjoy all the hearty flavors of traditional chili, but without the high carb count. It's not technically a campfire chili recipe, but cooks perfectly in a Dutch oven at camp. The recipe uses low-carb veggies and ground beef, but feel free to substitute ground turkey, sausage, chicken or even bacon.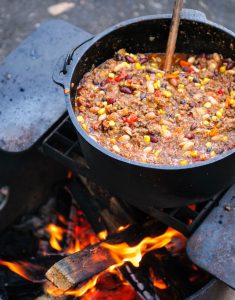 Tips for Making Dutch Oven Chili
Chop veggies at home, then store them in reusable food storage bags. Not only does this reduce your prep and cleanup time at camp, but it also frees you up to enjoy more precious downtime around the campfire. Plus, it reduces the waste you have to pack out! Alternatively, you can even make campfire chili completely beforehand, then simply reheat it over the fire.
If there are different tastes in your group, consider making a mild Dutch oven chili recipe. Then, set up a toppings bar with items such as jalapeños, tortilla chips, shredded cheese, hot sauce and sour cream. This allows everyone to customize their campfire chili!
Your favorite camping chili recipes can easily be turned into "Frito pie" or "walking tacos." Buy several individually-sized bags of Fritos, then scoop the chili directly into the bags and let everyone add their own toppings. Don't forget the camping sporks!
The type of fire that's ideal for making campfire chili is different from the type of roaring fire you want to relax around. Check out our guide on building a good campfire for cooking to ensure your Dutch oven chili recipes turn out perfectly.
Taryn Shorr is an avid outdoor enthusiast, frequent traveler, and wannabe photographer based in southern Arizona. She lives for the opportunity to explore The Great Outdoors, both at home and in new destinations, and firmly believes that nature is a form of both therapy and religion.
We are committed to finding, researching, and recommending the best products. We earn commissions from purchases you make using the retail links in our product reviews. Learn more about how this works.
Feature image by OFC Pictures, Shutterstock; secondary images by FTH, Shutterstock, and BGSmith, Shutterstock