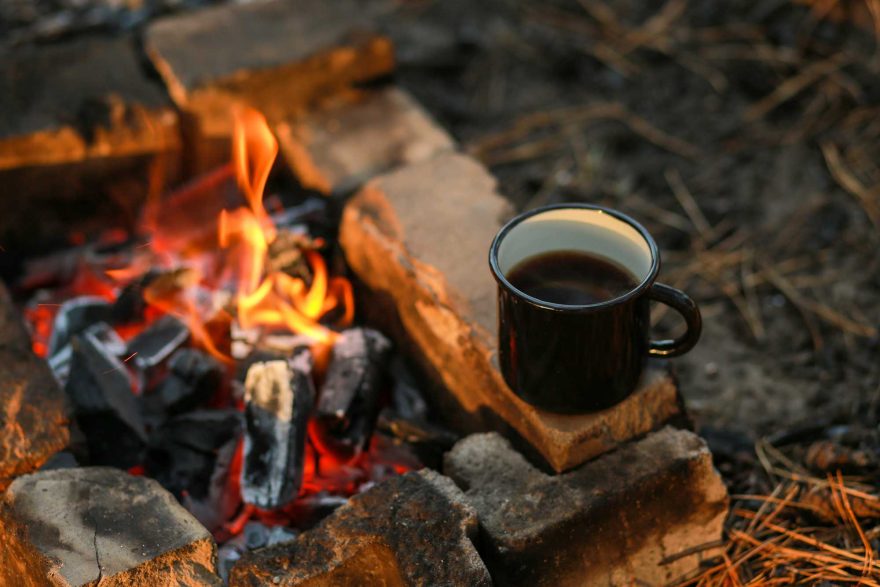 If you're a coffee lover like me, you know that a good cup of coffee can help you set your day up for success — especially in the backcountry. And just because you're camping, or "roughing it," it doesn't mean you need to sacrifice a good cup of joe when you wake up after a night sleeping under the stars.
When you're camping, packing a bulky household coffee maker and trying to find electricity (if you're primitive camping) may be difficult and not the easiest option. You could consider one of the several ways to make coffee when you're camping, like cowboy coffee (adding coffee grounds to hot water) or using coffee in a bag (like tea) or even instant coffee packs. I've tried all of these coffee-making methods, and they'll all work in some fashion for you. But for me, instant coffee packs just don't compare to making a fresh cup of coffee with a French press, also known as a press pot or coffee plunger.
Inventors in France designed a coffee press (now known as a French press) in the mid 1800s — originally using a cheesecloth screen fitted to a rod and pressed into a pot of hot water with coffee grounds. Today, the modern French press coffee maker is made of a narrow cylindrical pot with a plunger with a built-in filter screen. When you press the screen down into hot water through ground coffee, it separates the coffee grounds and creates a rich-tasting cup of coffee.
A French press isn't as fancy as it sounds, and it's actually easy to use. And, you can even find packable French press coffee makers in durable materials like plastic or stainless steel that are perfect for camping. Although, if you do choose a plastic French press coffee maker, be sure to do your research and make sure it's free of bisphenol-A (BPA) so you know your coffee is safe to drink and doesn't have a weird taste.
Throughout years of camping in my home state of Montana, I've figured out a French press set up that works best for me — giving me a bulletproof way to enjoy a great cup of coffee when I'm away from home. Here's what I recommend:
French Press Coffee Makers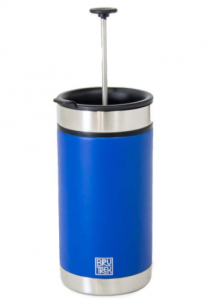 The BruTek Steel French Press Travel Mug made by Planetary Design is a durable one-person option for camping and weighs in at just 15.2 ounces. One of the best things about this French press is that you can drink right from the press — eliminating the need for extra coffee mugs or cups. And, it's BPA free, has a tough exterior and will keep your coffee hot for hours.
This French press also makes a very clean (and great tasting) cup of coffee. You just add your own fresh coarse coffee grounds and hot water. (I typically add three heaping teaspoons of coffee grounds since this French press holds about 20 ounces of water). Then, you let the coffee set for four minutes, then slowly plunge the built-in plunger down, separating the coffee grounds from the water and leaving you with a delicious cup of hot coffee.

---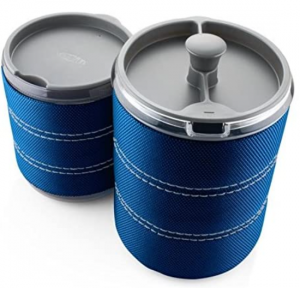 The GSI Outdoors Java Press is a go-to French press that is great for two people. It's lightweight and easy to pack. And, you can also drink directly from the mug, but it also has a pour spout so you can divide up the 30 ounces of coffee between two people into separate mugs if desired.
It has double wall insulation with a ballistic nylon-wrapped sleeve so you won't have to worry about burning your hands on the outside. And, the silicone-ringed plunger design leaves your coffee clean and free from gritty grounds like cowboy coffee.
The GSI Java Press works the same way as other French press coffee makers. Simply add hot water and coffee grounds, let it set for about four minutes and then slowly press the plunger down.

---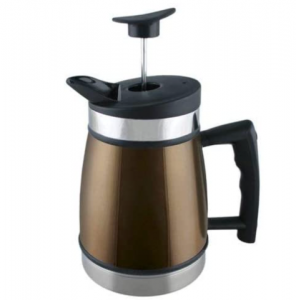 The BruTrek French Press Tabletop coffee maker is compact enough to throw in the back of your car (for car camping) and big enough to accommodate a larger crew. And, it's made with double-walled, vacuum-insulated, 18/8 restaurant-grade stainless steel — making it extremely durable. It's also easy to pour and will keep your coffee hot for hours. It weighs 2 pounds, so it's ideal for use when you're camping close to your car, not lugging around in the backcountry.
To get the best flavor, Planetary Design recommends using coarse coffee grounds and adding about 2 tablespoons for every 8 ounces of water. Pour over with clean, filtered, almost-boiling water and let steep for three to five minutes, depending on strength and preference.

---
Boiling Your Water
If you have a morning campfire, that's a great way to boil your water for coffee. But if your flames have died out, or you're looking for a quick-boil option, I recommend using a small jet boil set up. Here's what I use: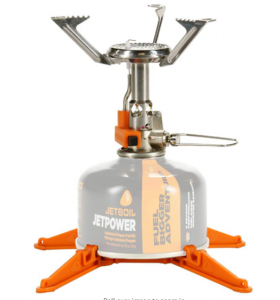 The compact Jetboil MightyMo Ultralight and Compact Camping and Backpacking Stove setup measures just 4.3 inches by 3.9 inches when it's folded down and weighs just 13.4 ounces. It also has an easy-to-use push ignite button. You'll need fuel, like Jetboil Jetpower Fuel, or any similar size small propane tank to use it. But it's so easy! And, it boils your water fast. It's also built to last a long time, so you'll have it for many years.

---
Pot and Coffee Mugs
Any small camping-grade pot will work to boil water, like an affordable G4Free small portable pot set. And for your coffee mug, bring your favorite mug from home, or pack along an actual camping cup. I like the Coleman 12 ounce enamel mug, (a camping staple and found at mostly any brick and mortar camping store), and the ust KLIPP Biner mug — a stainless steel coffee mug with a carabiner handle — is another great option.
Suzanne Downing is an outdoor writer and photographer in Montana with an environmental science journalism background. Her work can be found in Outdoors Unlimited, Bugle Magazine, Missoulian, Byline Magazine, Communique, MTPR online, UM Native News, National Wildlife Federation campaigns and more.
Feature image by Vlada Tikhonova, Shutterstock