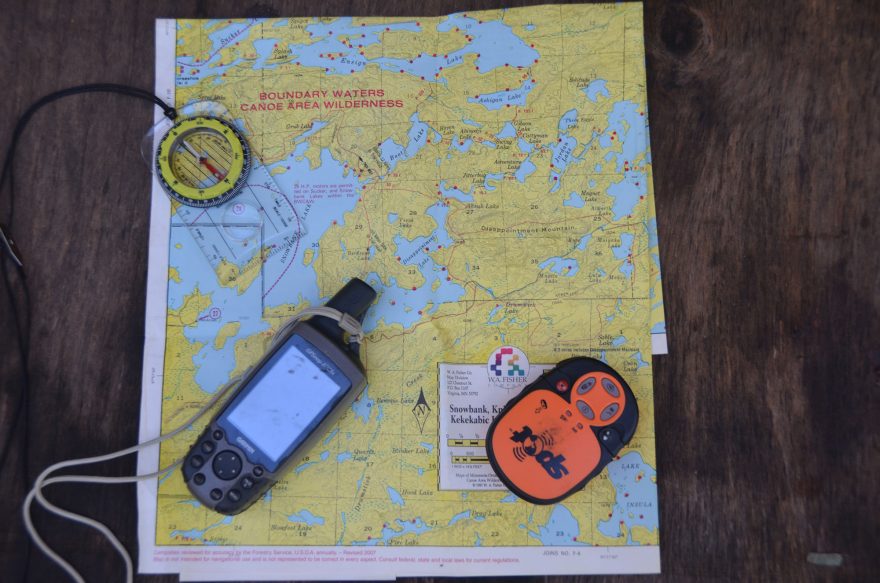 There are a handful of devices that you can choose to help avoid getting lost in the wilderness and to ensure your safety
Clearly, there is some danger in wilderness travel. While physical injuries are a threat, we must also be aware of our surroundings and location to avoid getting lost. Your safety and survivability in the backcountry could depend on it.
There are a few main ways that people track where they are (or at least to have a general idea of their location), and if you have a cellphone signal, this could do wonders to helping search and rescue teams get to you efficiently. (Be sure to read our guide for Preparing for a Wilderness Outing, which will further improve your chances of being found.)
Here are the navigation tools adventurers and others who enjoy the backcountry use to minimize the danger to themselves.
Map and Compass
Even in country I know well, I carry a map and a compass. Several years ago in Ontario's Quetico Park, my buddies and I were stopped by park rangers to check paperwork. I had it. But it took a few minutes to dig it out of the pack, show it to the rangers and resume our paddle. I had made the portage we wanted many times — knew right where it was. Yet, we had drifted during the check farther than I thought, and we paddled a couple hundred yards in the wrong direction. A quick glance at the map reoriented me and we were on our way.
For me, the most useful orientation of a map is to have it with the top of the map in the direction I'm heading. By fifth grade, most kids are taught the top of the map is north. For me the top of the map should show the terrain ahead of me.
And carry a compass. A simple device. The arrow points north, or magnetic north, which is not the same as geographic north. But on a single trip, the variation from true north is not a factor. Particularly on a cloudy day or at night, a compass can keep a wilderness traveler headed in the right direction.
GPS
GPS, standing for Global Positioning System, relies on triangulation with multiple satellites and your handheld device to determine location, (which can be described as latitude and longitude or UTM coordinates, etc.), within a few feet. How many is a few? My unit says nine feet. The Department of Defense, which operates the technology that those of us in the U.S. access, claims the civilian system is accurate to within 50 feet 95 percent of the time. Pretty close.
In my experience, the most useful aspect of the GPS unit is to mark waypoints. A waypoint, landmark, whatever you want to call it is a spot you want to return to. Suppose you found a five-star campsite. On your GPS, you can save the spot as a waypoint. Or the specific location where a portage starts or ends.
For navigation purposes, remember the GPS is direct line and does not adjust for deep lakes, swift rivers or rough terrain.
My GPS also shows maps from all over the world. The display is handy, though too small for much real navigation use. Every year I take several kayak trips down a nearby wild and scenic river. The GPS map tells me about where I am and how much farther to the state park.
SPOT
SPOT is a satellite communication system. SPOT X includes a Bluetooth connection that permits two-way communication. This kind of system requires a service contract.
Using GPS technology, SPOT can send signals to designated receivers, which allows continuous tracking. When you are in the wilderness, family and friends will know where you are. Less demanding on the battery, SPOT lets you advise those on your list your location and condition. When I'm in the wilderness or merely traveling away from home for a few days, about the same time each day I send a note to the effect that I'm OK, and SPOT includes GPS coordinates.
A feature I have never used is an SOS message that goes worldwide to rescue providers. A EMT friend told of a rescue on Arkansas' Buffalo River. His team had a SPOT signal, but they could not find the person who sent it. They lowered a member of the team down a 50-foot cliff and found a young man under an overhang with a broken leg. If I had to use my unit once to save my bacon, it would be worth the cost of the device and the service contract — just once.
We go to wild places for adventure. We need to assure ourselves and others we will be safe.
Tim Mead is an outdoor writer with 35 years experience. His articles and photos have appeared in national, regional and state magazines. He is a past president of both the Southeastern Outdoor Press Association and the Outdoor Writers Association of America.
Feature image by Tim Mead