Regardless of your experience, if you're thinking of investing in your own stand up paddleboard, you'll want to make sure you're set up right so you're confident out on the water
Stand up paddle boarding is a great way to explore different bodies of water — from flowing rivers to lakes and reservoirs and oceans. It also gives you a unique vantage point on the water, since you'll be standing up, of course. You can easily see what's below you in the water while also being able to see far into the horizon. It's also a way to get a full-body workout in. Best of all, it's a perfect activity for people of all ages, body types and skill levels.
Maybe you've rented a stand-up paddle board on vacation or borrowed one from a friend and enjoyed it. Now, you're thinking of buying one of your own. Or maybe you're new to stand up paddle boarding altogether. Regardless of your experience, if you're thinking of investing in your own stand up paddleboard, you'll want to make sure you're set up right so you're confident out on the water.
Since manufacturers make stand up paddle boards out of several different materials (like carbon fiber, foam and plastic), it's important to gain knowledge on what's out there and then match your needs to the best stand up paddle board for you. You'll want to consider weight, price, durability, performance and how much storage space you have available.
Here are some of the best stand up paddle boards and ideas on what to look for when making your choice: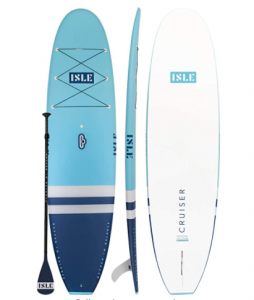 Isle Cruiser Stand Up Paddleboard Bundle
This lightweight foam molded Isle Cruiser stand up paddleboard weighs in at just 28 pounds, making it ideal for longer hikes to bodies of water. This bundle comes with a carbon hybrid adjustable paddle with a nylon blade, an 8′ coil leash and a durable nylon touring center fin, so you'll have everything you need to start paddling. It comes in both blue and orange shades so you can choose the color you like best. It's rated for a paddler up to 236 pounds, so it's ideal for lighter paddlers. Since it's lighter weight, this board is ideal for flat, calm water like a lake, pond or reservoir.
The Isle Cruiser is 10' 5" long and 32" wide, so you'll have a nice wide platform for maintaining your balance or even doing yoga. You can even bring along a child or pet since the board is fairly long and there are bungees for storing some small personal items. You'll need to consider storage space at home and how you'll transport a 10' 5" board out to the water.
With a smooth feel, the deck of this board will keep you feeling confident with its gripping surface. With a molded foam core, it feels similar to an epoxy board without the weight as it's laminated with fiberglass. You'll also notice a nice soft textured croc skin padding that's soft to the touch. And the nylon touring center fin allows you to slide with ease through the water.
Pros: Lightweight and easy to carry
Cons: Foam can be dented slightly from straps while transporting
Bottom line: Great for beginners; bundle comes with everything you need

---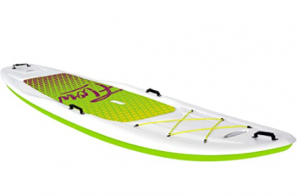 Pelican flow 106 Stand Up Paddleboard
The Pelican flow 106 hard shell stand up paddle board is a great option for both adult and youth beginners. Weighing in at 47 pounds, it's considered lightweight and is fairly easy to carry with both a front molded handle and a side carrying handle. This board can be used in all water conditions but learning on this board in calmer waters is ideal.
Made with Pelican's patented "Ram-X" thermo plastic material, the injection molded board is semi flexible and extremely durable. The padded section for your feet gives you good grip and boasts a nice anti-slip material. You can even store a fair amount of your personal items in the elastic bungees on front like a small bag and water bottle. The built-in eyelets also allow you to easily clip on and secure extra items using a carbineer. With a maximum weight capacity of 230 pounds, this board is only suited for lighter paddlers.
Pros: Durable with storage, lower price point
Cons: 47 pounds can be heavy for some paddlers to carry long distances to the water
Bottom line: Great board for beginner paddler under 230 pounds

---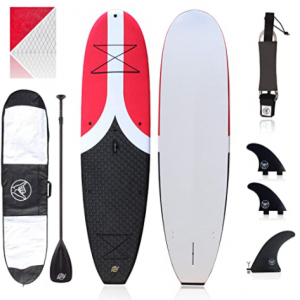 South Bay Board Co. Big Cruiser Stand Up Paddleboard
The Big Cruiser by South Bay Board Co. is another good bundle option for beginners and intermediate paddlers. Although it has a foam core, the board has 6-ounce resin layers on top and bottom, so you'll notice more durability with this board than other foam-core boards. It also comes with an "EZ carry" handle and has built in kayak seat hooks, so you can add on a seat and get even more use out of this board.
For heavier riders or riders with a child or pet, this board will allow you to ride with confidence as it will support up to 350 pounds on the water. And users rave about this board's stability out on the water. Since it has squared off rails for extra stability and a wide rounded nose, you'll notice this board will help you maintain strong board balance — making it a good choice for beginners.
At 10'4", this board is ideal for men and women while adventuring on calmer waters and it's another good option to take you from box to water. Weighing in around 50 pounds, you'll want to make sure you don't have to travel longer distance or you're confident carrying 50 pounds.
Pros: Easy to balance and holds up to 350 pounds
Cons: Large board and can be harder to transport, and foam can ding against rocks
Bottom line: Easy to use, affordable and ideal for beginners

---
Inflatable Stand Up Paddleboards
Inflatable stand up paddleboards have been around since 2014 and are an affordable option and great for both beginners and intermediate paddlers as they're stable, rigid, lightweight, come with everything you need to go from box to water and are easy to store and transport.
Libby Schneider of Missoula, Montana, has been using an inflatable stand up paddle board for the last few years and recommends you look for an inflatable board that's at least six inches thick and two feet wide for added stability. "I have two dogs and two kids, and a wider thicker board for me is bullet proof," said Schneider.
Schneider uses an inflatable paddle board year-round in Montana, and it's held up nicely over the years. "When it's cold, I'll wear my winter boots on it and bundle up," said Schneider. She said that's where the thicker inflatable board is essential for maintaining balance — preventing falls into cold water.
"I refuse to fall in. I'm a princess and I hate being cold," she said. "If your board is thin, it's like trying to stand up on a surfboard and it'll just sink. The thicker the better — especially for a blow-up paddle board."
Schneider always inflates her stand up paddle board near the maximum PSI. "If you don't inflate it enough, it folds into a "C," and it's super rocky and hard to stand up on." said Schneider, who also recommends investing in a portable electric pump that plugs into your car so you can pump it up easily when you arrive at your destination.
Inflatable stand up paddleboards can also be used to float rivers. "I like to float the Clark Fork River while my kids are on tubes," said Schneider. "If they get stuck in an eddy I can easily pull them out with my ankle leash while on my stand up paddle board."
But by far, one of the best things about an inflatable stand up paddle board is that it's easier to carry than hard shell boards and most of them even come with a carrying case or backpack.
"When I'm done floating the river, I just deflate my board, put in in the backpack and hike back up to my car," added Schneider. The only con to stand up paddleboarding for Shneider is finding someone to go with her at any given moment in all weather conditions.
Schneider uses an inflatable Jimmy Styks Monsoon stand up paddle board she bought a few years ago (now discontinued). Here are three of the top comparable inflatable boards for 2020 that are newer with improved features and materials.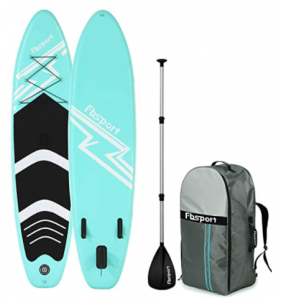 FBSport Premium Inflatable Stand Up Paddleboard
This durable FBSport Premium Inflatable Stand Up Paddleboard feels similar to a harder foam board when it's filled air, making it a top choice for durability. And since it comes with all of the accessories you need — a removable fin, ankle leash, paddle, high pressure hand pump and a carrying backpack — you're ready to set out on the water right away. You can also choose from 10 colors.
Measuring in at 10'x30"x6" and weighing just 22 pounds, this premium inflatable board is easy to maneuver, can hold up to 280 pounds and allows you to feel incredibly stable with its wider base. The front bungee area, like other boards, securely holds your personal items.
One of the main features of this FBSport premium board is it's scrape-resistant anti-aging material. Since the board is made with military grade dual layer double wall fabric (DWF) stitching, you can be confident that it won't deflate while you're out exploring.
Pros: Affordable and easy to balance
Cons: None
Bottom line: Best beginner board for all skill levels

---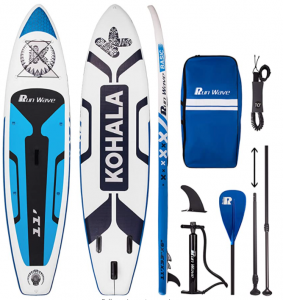 Runwave KOHALA Series Stand Up Paddle Board
This Runwave Kohala Series Stand Up Paddle Board is a unisex board that's best for taller paddlers since it's a longer board measuring 11'x33"x6". It's made of high-quality PVC materials with a layer specifically designed for superior air holding. Like other bundles, this one comes in around $300 and has everything you need to go from box to water — including a foldable and adjustable paddle, safety leash, manual pump and storage bag. It also has a comfortable handle in the middle making it easy to carry out to the water.
This board also has a high weight capacity of 352 pounds, making it ideal for heavier paddlers or paddlers towing around a child or pet. This board is ideal for use in colder weather conditions, too, since it's made of such thick PVC. For the money, this is one of the best all-around paddle boards on the market and has raving reviews from paddlers on Amazon.
Pros: Affordable and extremely durable
Cons: Not ideal for shorter paddlers
Bottom line: One of the best all-around paddle boards for the money

---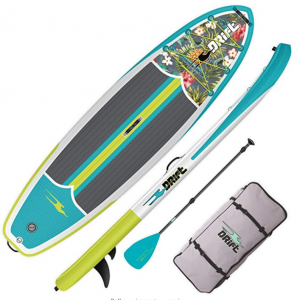 Bote DRIFT Inflatable 10' 8" Stand Up Paddleboard
For a go-anywhere board, the Bote DRIFT Stand Up Paddleboard is the most universal for both adults and youth alike as it weighs in at just 19 pounds while maintaining a wide surface that's easy to balance on. With board dimensions of 10'8″x33″x6″, even younger paddlers will find this board easy to maneuver on the water.
Bote makes this board using a high tech process to transform military-grade PVC into a rock-solid rigid platform. With a core of composite drop-stitch fibers connected to the nearly indestructible outer skin, this board will stand up to anything you want to do on the water.
One of the major differences between this DRIFT board and other inflatable boards is it's longer-style fin — Bote's signature Entry Rocker style hull that sheds water and keeps the board nose up. This longer-style detachable fin is ideal for helping with balance for both beginner and intermediate paddlers and performance wise feels just like a hard-shell paddle board when gliding through the water.
This board is ideal for packing up and traveling with it on a plane as it's folds down into a compact backpack. It's also a great board for both lakes and rivers and can handle jet ski wakes while allowing you to stay in control. It can also support up to 250 pounds and is covered by a 1-year manufacture's warranty at no additional cost.
Pros: Feels just like a hard shell paddle board when inflated
Cons: Hand pump is time intensive, recommend an electric pump
Bottom line: Comfortable and easy to carry incredibly stable board

Suzanne Downing is an outdoor writer and photographer in Montana with an environmental science journalism background. Her work can be found in Outdoors Unlimited, Bugle Magazine, Missoulian, Byline Magazine, Communique, MTPR online, UM Native News, National Wildlife Federation campaigns and more.
Feature image by Sanchik, Shutterstock; product images courtesy of the individual brands
We are committed to finding, researching, and recommending the best products. We earn commissions from purchases you make using the retail links in our product reviews. Learn more about how this works.