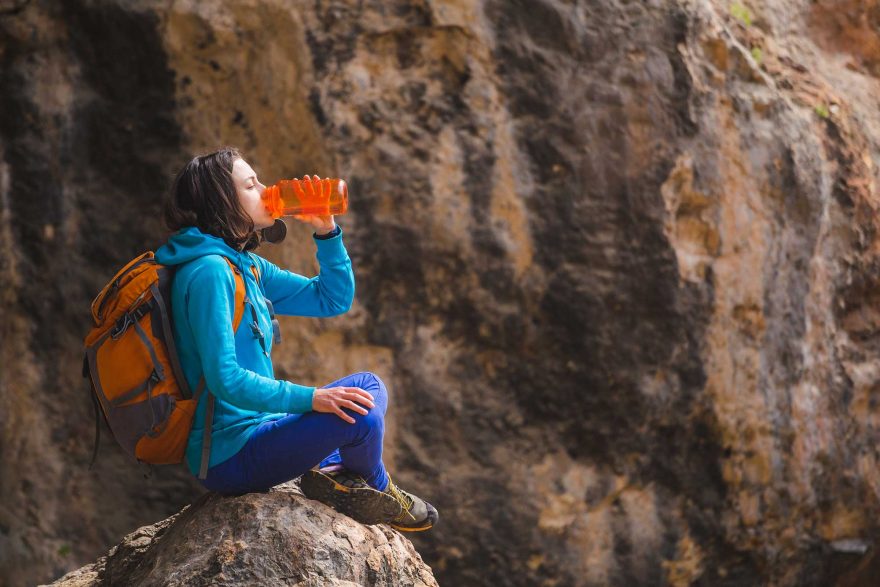 Water is heavy, and it's not practical to carry a lot on long hikes, so having a good hydration filtration or purification system handy is imperative
Whether you're a seasoned long-distance hiker or new to long-distance hiking, you'll need to make sure you stay hydrated on the trail. Although water bottles and hydration packs are great options for storing and carrying water on short hikes, they won't hold enough water for longer hikes. For those longer hikes, you'll need an alternative way to obtain, filter, store and drink water — keeping you sufficiently hydrated along the trail.
Most experts recommend that you should drink at least 1 quart (32 oz.) of water every hour when you're hiking, and possibly even more based on your age, height, weight, the temperature, altitude and the intensity of your hike. Water also weighs a lot. For example, 16 ounces of water weighs just over a pound, which makes packing, storing and carrying multiple gallons of water nearly impossible for long hikes — especially for multi-day hikes.
Here are four hydration options to consider for longer hikes to ensure you're drinking clean water in the backcountry: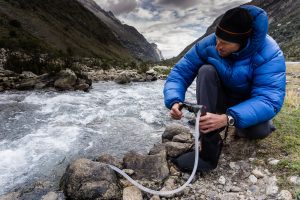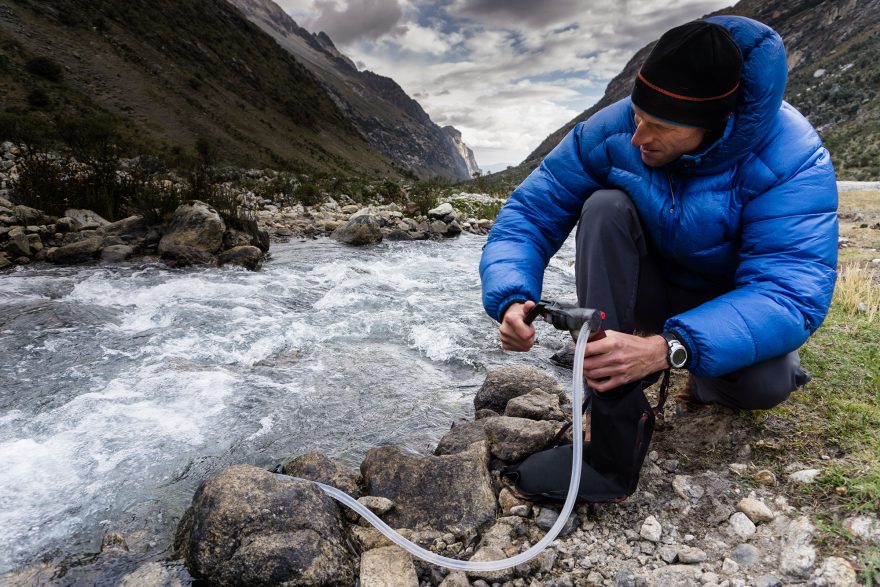 1. Personal Water Filtration Systems
Personal water filtration systems allow you to filter water as you go on your hike. For this option, you'll need to make sure your route has a fresh water source like a river, stream or lake. Lifelong hiker Sandy Balliet in Montana has used a Sawyer MINI filtration system for nearly a decade, and she carries it every time she goes out on a hike.
"While hiking in Shenandoah, I had one person in my group whose water bladder sprang a leak halfway through a 15 miler," said Balliet. "I was very glad I had the filter."
The Sawyer MINI is the lightest and most versatile personal water filtration system in the Sawyer line and fits in the palm of your hand. According to Sawyer, it provides 0.1 micron absolute filtration — removing 99.999999% of all bacteria, such as salmonella, cholera and E.coli, removing 99.9999% of all protozoa (such as giardia and cryptosporidium), and removing 100% of microplastics. It comes with a drinking pouch and a straw to drink directly from a water source. You can even connect it directly to a hydration pack tube, so you can collect, store and drink water along the trail. Two other popular Sawyer filters are the Sawyer Micro Squeeze Water Filtration System, which fits in the palm of your hand and holds 32 oz of water, and the Sawyer 1-Gallon Gravity Water Filtration System, which is ideal when you're at camp as it will gravity filter a gallon of water in about seven minutes.
Another respected personal water filtration system is the LifeStraw, which works just like it sounds. It's a straw that filters water as you drink directly from a fresh water source. The LifeStraw can filter up to 1,000 gallons of contaminated water without chemicals and doesn't require batteries and has no moving parts. It also removes minimum of 99.9999% of waterborne bacteria and weighs in at just 0.04 kilograms. The LifeStraw works best with clear water and allows you to attain water instantaneous (no pumping required). Although you can drink water instantaneously, the LifeStraw doesn't have high "sucking speeds," but it's still a great option for a fast on-the-go filtration system.
Another hydration option for longer hikes is a pump filter like the Katadyn Hiker Microfilter or the MSR Miniworks. Although pumping water can be a chore in the backcountry, these pumps are highly popular among multi-day hikers. To use, you simply place the hose end in the water, screw the other end onto your bottle or reservoir and pump. You can get roughly one liter of clean water every minute if you're pumping at a good pace. Both of these filtration pump will filter about 2,000 liters of water before needing to buy a replacement filter. They also have an active carbon core, so it reduces the bad taste and odor. For an even smaller option, the Katadyn Pocket Water Filter will filter about 13,000 gallons of water and is a popular option for international travelers and the U.S. Military.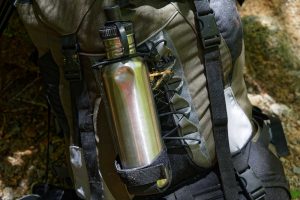 2. Personal Water Purification Systems
Although water treatments are often put into just one category — filters — there are also portable water purifiers that remove viruses from fresh water sources like rivers, streams, lakes and puddles. The level you need depends on where you're going. Since water-borne viruses aren't a threat in the U.S. and Canada, a filtration system is just fine. For international hiking, you'll want to consider packing a purification system.
One well-loved on-the-go personal water purification system for hiking is the Grayl GeoPress Purifier Bottle. This system looks just like a water bottle and works like a French press. You add water, press down the inner cartridge/bottle and you have clean drinkable water. According to Grayl, this purification system lets you tap into the world's water sources and safely drink from murky rivers, wells or lakes and their products protect you from global waterborne pathogens (viruses, bacteria, protozoan cysts), pesticides, chemicals, heavy metals and even microplastics. Their purifiers also improve taste, smell and clarity.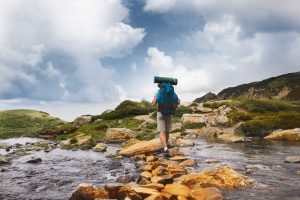 3. Water Treatment Drops and Tablets
Compact water drops and tablets are another ideal hydration option for longer hikes. With drops and tablet, you can use your hydration pack or other type of water reservoir (like a water bottle) to collect water and then drop a tablet into the water to purify it.
Long-time backcountry hiker Zach Jones used Aquamira drops when he hiked the Appalachian Trail a couple years ago, mostly because they are light. "Keeping your gear as light as possible is very important to many through-hikers, as they hike for thousands of miles," said Jones. The Aquamira 1 oz. water treatment (Chlorine Dioxide) kills bacteria and enhances the taste of water. And, you can treat 30 gallons of water in the field. According to the Aquamira website, Chlorine dioxide is generated when the Aquamira Water Treatment comes in contact with water. The unique formula works by releasing nascent oxygen, a highly active form of oxygen, which is a strong oxidant and a powerful germicidal agent. It's easy to use, made in the USA and has a four-year shelf life from the manufacturing date. "One thing to consider though is that you have to wait a little bit for the water to be ready, so don't wait until you completely run out of water and are very thirsty," Jones added.
Aquatabs are another water purification tablet option for the backcountry and come in a small lightweight package with 30 tablets. You can use just one tablet to filter up to 2 liters of clean water or a little less than a liter for dirty water. The active ingredient in these tablets is Sodium Dichlorisocyanurate, and they remove/destroy protozoa, bacteria and viruses. Note that water from Aquatabs will take about 30 minutes to work, so again, be prepared to start your purification process before your thirst kicks in.
A few other options are Potable Aqua Chorline Dioxide tablets and Katadyn Micropur MP1 tablets that are fairly cheap, lightweight and take between 30 and 40 minutes to purify your water.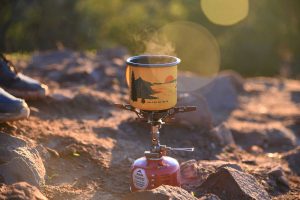 4. Consider Packing a Backpacking Stove
It's always best to have a backup plan. Although other water filtration systems should be your primary way to filter water out on the trail, it's good to have the necessary supplies to boil water if your primary water filtration system fails. By boiling water, you can kill off bacteria and make it safe to drink. So, consider packing a compact backpacking stove like the Jetboil Flash or Petforu Camp Stove for peace of mind.
Suzanne Downing is an outdoor writer and photographer in Montana with an environmental science journalism background. Her work can be found in Outdoors Unlimited, Bugle Magazine, Missoulian, Byline Magazine, Communique, MTPR online, UM Native News, National Wildlife Federation campaigns and more.
We are committed to finding, researching, and recommending the best products. We earn commissions from purchases you make using the retail links in our product reviews. Learn more about how this works.
Feature image by zhukovvvlad, Shutterstock; secondary images by makasana, Anne Webber, Grekov's, and  Wirestock Images, all Shutterstock