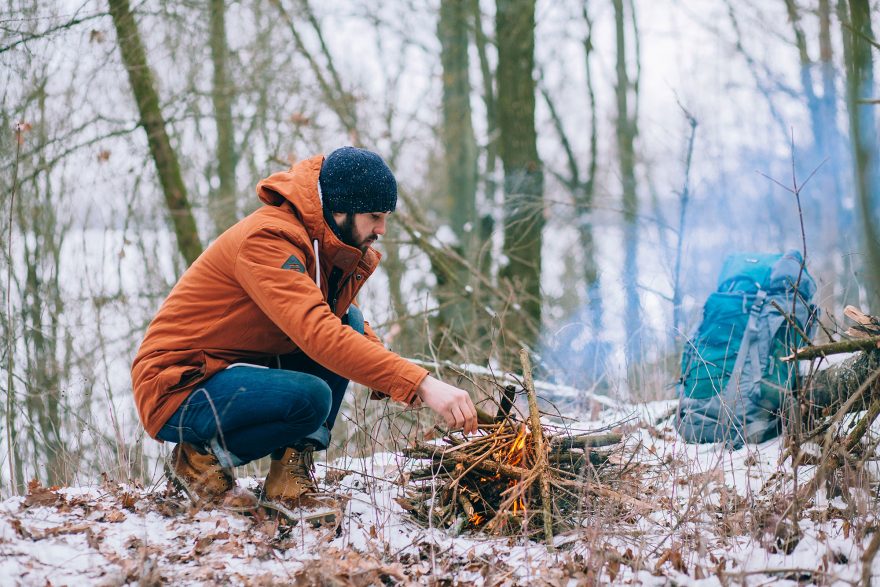 Adapting your summer camping gear to the shorter, colder days of autumn can extend your comfort zone well into the shoulder season and help you make the transition into winter camping. Oftentimes it requires no more than increasing the weight/insulating properties of the clothing and gear you already have.
The principles of layering your clothing remains the same, but it needs to be re-assessed in anticipation of the severity of the environment you'll be camping in. A thicker base layer, one that that wicks away perspiration efficiently will keep you dryer and warmer as the weather cools. You might also want to make sure your waterproof outer shells still repel water as melting snow and frost can dampen outer wear.
A summer tent will usually work as a three-season shelter, especially one designed to easily ventilate to help keep moisture inside the tent to a minimum. If you haven't been using a ground cloth beneath your tent, you may want to add one to minimize ground moisture from seeping up through the floor.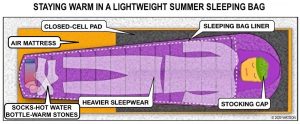 Perhaps the most significant adaptation for enjoying a warm, cozy cool season camping experience is to enhance your sleeping system: your sleeping bag and pads.
A quality "summer"-rated sleeping bag will theoretically keep you reasonably comfortable down to about +40° F and freezing. "3 Season" bags are designed for a comfort range down past freezing to about +20° F. Winter bags can range down well into double digits below zero! However, with just a few minor additions, even a light summer bag can keep you toasty warm on a cool, frosty autumn night.
Most often, simply adding a fleece or flannel liner to your sleeping bag, can increase its warming capabilities by about 10 degrees. Wearing a heavier base layer of sleeping clothing can add even more warmth.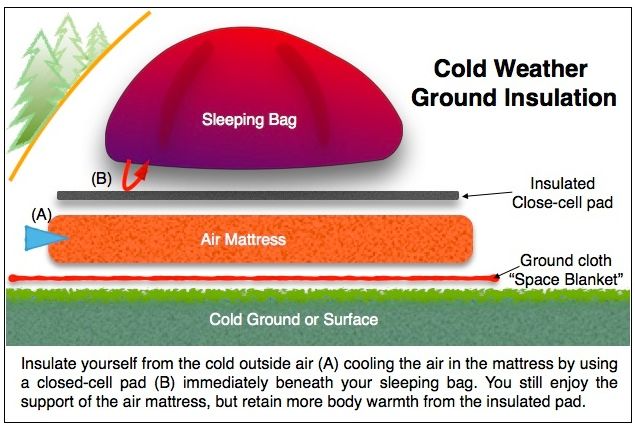 Adequate padding under your bag can assure you a warmer night's sleep as well. The cold from the ground and the air surrounding your bag can steal your body's warmth. The spaces in an air mattress, while providing cushioning, also cool from the ambient air. The density of a closed-cell sleeping pad keeps you warmer, but provides less cushioning.
A happy median is to use both: an air mattress as the base for comfort against a rough, hard surface and a closed-cell pad directly below your sleeping bag to insulate your body/bag from the cooler air. Combined, they form a comfortable and warming platform upon which to sleep.
Ventilation through your tent, especially during the frost-forming coolness of autumn nights, is essential to keeping moisture/condensation at a minimum inside your tent. Moisture builds from wet clothing or gear brought into the tent, from breathing vapor and even cooking in the vestibule area. It's equally important to keep as much moisture out of your sleeping bag as possible, especially if your insulation is natural down filling. Sticking your head inside your bag and breathing generates moisture in-side.
Even if you are not a "winter" camper, modifying your current summer gear just slightly will enable you to enjoy a much longer, yet comfortable and cozy camping season.
Tom Watson is an award-winning outdoor safety and skills columnist and author of guide books on tent camping, hiking and self-reliant survival techniques. His website is www.TomOutdoors.com.
Feature image by Dmytro Sheremeta, Shutterstock; illustrations by Tom Watson
We are committed to finding, researching, and recommending the best products. We earn commissions from purchases you make using the retail links in our product reviews. Learn more about how this works.