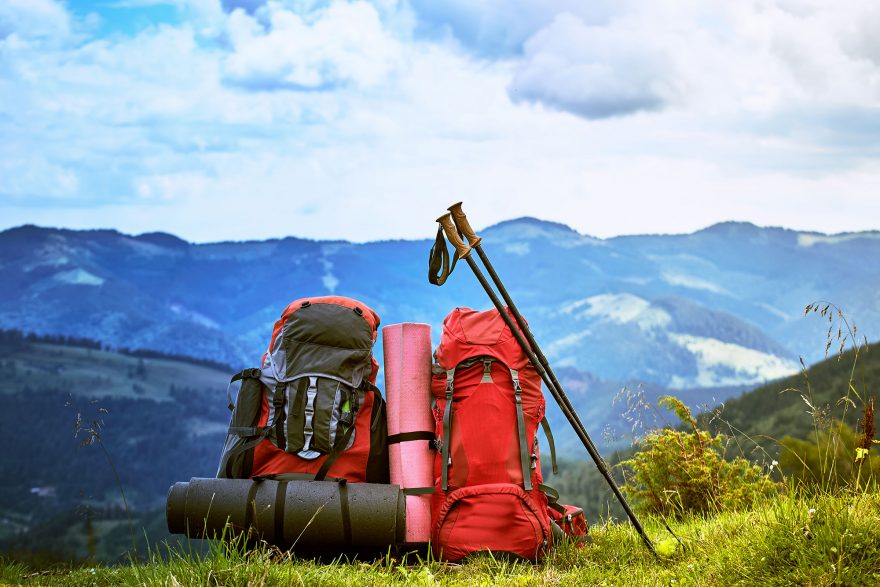 Knowing how to choose the best hiking backpack for your adventure is tough. There are so many options to be found online and in stores.
Although some hikers have a favorite go-to hiking backpack to use when they're out on the trails, there's a lot of hikers that don't put much thought into which backpack they use. Those hikers may not realize that a comfortable and well-fitting backpack can prevent back aches and can make your hike much more convenient and easier overall.
But knowing how to choose a backpack for your outdoor adventure can be tough. There are so many options out there — both online and on the long hanging line of packs in stores. The task can seem daunting. When you have the right backpack for you, you can have more confidence while out on your outdoor adventures.
Here are three things to consider when choosing a hiking backpack.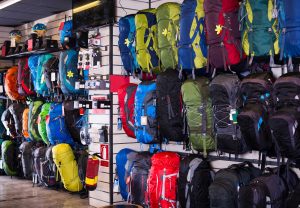 Consider Your Personal Hiking Needs
Ask yourself what type of hiking you'll be doing. Then, choose a size based on that. Since, backpacking packs are sold in liters, you'll want to have a baseline for choosing the right pack for you.
For example, if you're an average hiker who will be doing a lot of overnight hikes, you'll likely want a pack around 35 liters. That's enough room to store your food and gear for one or two nights, including a small tent, sleeping bag and sleeping pad strapped to the outside. A 35-liter pack can also get you through an extended day hike with plenty of room to spare! For example, my co-worker carries a Deuter Trail 30 pack for wilderness search and rescue — it is comfortable to wear for hours on hard terrain and has enough space and attachment points for gear in case a task stretches overnight. 
For a lot of day hiking, an 18- to 25-liter backpack will easily fit all of your hiking needs. My favorite day hiking backpack is my Patagonia Nine Trails Pack 18L. It allows me to move comfortably on day hikes in the mountains of Montana and has enough room for extra layers, snacks and water. The extra pockets and the big outside pouch are nice features, too. Another popular backpack option for day hikers is the Osprey Talon 22 men's hiking backpack. With a 22-liter capacity, this pack features stretch mesh pockets for storing water bottles, duel-zippered access, Stow-On-The-Go Trekking pole attachments, two zippered hip belt pockets and more.
Before choosing a day-hiking pack, consider your personal needs. How much gear do you need to carry? Will the pack fit all of your snacks and custom gear for the day? Are you in a cold or rainy climate? Is there enough room to pack that extra lightweight puffy coat or rain jacket? Does it have a hydration pouch or a sleeve to fit your hydration pouch? It's best to make a mental inventory of what you'll need.
In comparison, if you'll be venturing out on several three- to five-day hikes, most hikers will want a hiking backpack between 50 and 80 liters (like the Osprey Atmos AG 65, which is a favorite in my area). You can carry a lot more food, cooking fuel, extra clothes and a warmer sleeping set up in the winter along with all of your survival gear. Larger packs also have extra straps and plenty of outside loops for attaching your gear for easy access while out exploring. This size is very popular among backcountry skiers.
But this is just a general guide. If you're going to take a pack overnight and you have an outfitter nearby, choose what you're going to pack and take it with you to the store. They'll usually let you fill a pack to help gauge how much space you really need and to see how comfortable it feels at that weight.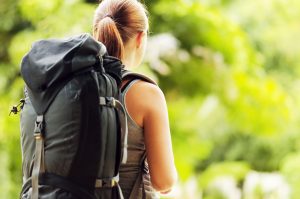 Consider Your Body Type
The right backpack for you is one that fits you comfortably and has a snug grip on your hips, where most of the weight (about 80 percent) is supported. You can choose from extra-small, small, medium or large frames in most hiking backpacks. Your torso length is significantly more important for choosing a pack size than your height.
You'll want adjustable suspension straps to customize the pack's fit for your torso, especially if you'll be wearing multiple layers of clothing in the winter and then using the same pack for a summer expedition with just a T-shirt. These straps are known as "load lifter straps" and are stitched into the top of the pack's shoulder straps. Kept snug, these straps help your pack from pulling away from your body — taking a lot of the strain off of your lower back.
Overall, you have four primary adjustment straps on your backpack. The hipbelt, shoulder straps, load-lifter straps and the sternum strap. According to experts at outdoor retailer REI, here's how to measure your torso length and hip size to find your backpack size.
Measure Your Torso Length
With the help of a friend, locate the bony bump at the base of your neck. This is where the slope of your shoulder meets your neck, also known as the seventh vertebra. Tilt your head forward to locate it more easily.
Using a flexible tape measure, have your friend start measuring at that spot down your spine, following the curves of your back.
Place your hands on your hips to feel your iliac crest, the twin pointy protrusions on the front of your hips. Position your hands so your thumbs are reaching behind you.
Finish measuring at the point where the tape crosses an imaginary line between your thumbs. This distance is your torso length.
Measure Your Hips
While less critical than torso length, this is helpful if you're considering a pack that offers multiple sizes or interchangeable hipbelts. To measure:
Take your tape measure and wrap it around the tops of your hips. This is the "latitude line" where you can feel your iliac crest, the two pointy bones on the front of your hips. A properly positioned hipbelt will straddle your iliac crest at this line.
Once you have your torso length and hip measurements, you can easily compare backpack sizes online and find helpful measurement in product descriptions.
For example, the REI Co-op Flash 55 Pack size small will fit a torso length of 18 inches and a hip size of 30 to 40 inches, compared to a size large that will fit a torso length of 20 inches and a hip size of 34 to 46 inches.
There are also a range of women-specific backpacks that also work well for younger hikers of either gender as they're built specifically for smaller body frames.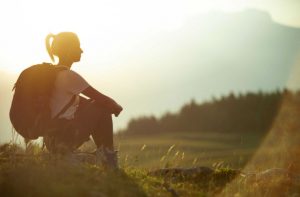 Consider Material & Durability
You should know the weather conditions you'll be hiking in when choosing a backpack. Some heavy-duty backpacks are made of a very strong nylon material with YKK-grad zippers that won't easily break on you. Will you be mainly hiking in snow at higher elevations? In areas with a lot of rainfall? In extreme heat or desert conditions? If yes, heavier fabrics will help your backpack hold up for many years in tough conditions.
Most durable and lightweight backpacks feature a Dyneema Composite Fabric Cuben Fiber (CTF3) or Ripstop Nylon.
Dyneema Composit Fabric is made from a thin sheet of ultra-high-molecular-weight polyethylene laminated between two sheets of polyester — making it a non-woven high-performance material. High-end backpacks in the $300 range like the Hyperlite Mountain Gear 2400 Southwest Pack feature this material and lives up to the durability test in rainy conditions and rugged terrain.
Ripstop Nylon is highly tear- and abrasion resistant and is commonly used to manufacture flags, banners and tents, in addition to backpacks. Manufacturers such as Filson, L.L. Bean and Patagonia sell waterproof or "dry packs" made primarily of Ripstop Nylon.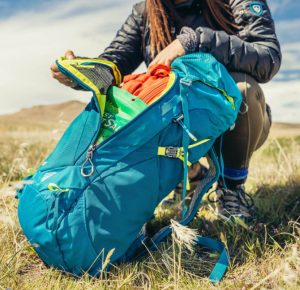 Consider Minimalist Backpacking
A new trend in hiking is adopting a minimalist philosophy. "Minimalism" when it comes to choosing a backpack is about packing light. Carrying less weight can be good for your body and carrying less gear can be good for your mental space with less to think about on the trail.
Carrying less also means you need to do your research to make sure you're packing essentials. For example, instead of carrying large water filters or hydration bladders, consider a smaller container with water purification tablets or choose a lighter weight tent that can affix to the outside of your pack.
Minimalist backpacking also means you can use a smaller backpack for longer hikes. Minimalist backpacks with smartly organized pockets like the Osprey STRATOS 36 are becoming more popular for overnight hiking trips in the backcountry.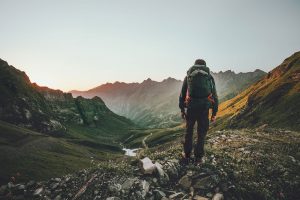 Consider Comfort
Having an uncomfortable backpack out on a hike may make your outdoor experience less than desirable. If your shoulders or back ache from carrying your pack, that's a good sign that your pack needs some adjusting, may be sized incorrectly or needs some added comfort features.
Consider a pack with ample padding. Some packs have extra cushioned hip pads that help keep you comfortable and prevent you from getting "sore" spots.
There are also backpacks with ventilation to prevent excess heat building up on your back causing you to sweat (a lot). You'll want to choose a pack that lets air flow behind your back. This is often achieved with stylized padding or mesh backing.
You may also want a backpack with a water reservoir so you can hydrate on the move. This will make a quick break easier as you won't have to unstrap your pack and/or try to twist your arm to pull your water bottle from the side pocket.
Suzanne Downing is an outdoor writer and photographer in Montana with an environmental science journalism background. Her work can be found in Outdoors Unlimited, Bugle Magazine, Missoulian, Byline Magazine, Communique, MTPR online, UM Native News, National Wildlife Federation campaigns and more.
We are committed to finding, researching, and recommending the best products. We earn commissions from purchases you make using the retail links in our product reviews. Learn more about how this works.
Feature image by trek6500, Shutterstock; secondary images by Caftor, Shutterstock; Efired, Shutterstock; Camelbak; Gregory; and everst, Shutterstock