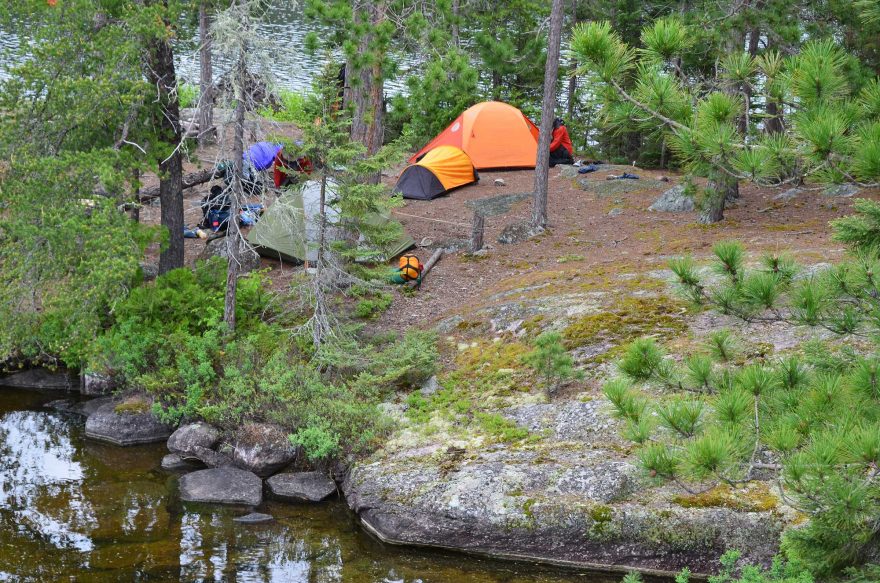 Many of us long to camp somewhere in the back country. Where we can see the sunrise or sunset without peering through trees in the neighbor's yard. Or listen to loons calling from one lake to another.
It's easy to find wilderness. Every state, at least as best I know, has designated wilderness areas. Once there, however, what factors should be considered in setting up camp?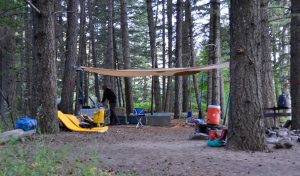 In some wilderness areas, the Boundary Waters Canoe Area in Minnesota and the Sylvania Wilderness in Michigan are examples, camp sites are designated. As wilderness camping became more and more popular in the past 50 years, favorite camp sites were denuded of vegetation, fire rings multiplied, and top soil was eroded. Several experiments with alternate camp site rules led to a determination that designated locations to camp were the optimum strategy. In the Boundary Waters, for example, outhouses and mandatory fire rings are available at sites.
Where camp sites are designated, use them. Don't wander off to make your own site. Folks who have spent careers managing wilderness have sought means to optimize public use. Respect their judgment.
As an additional means of protecting wilderness, many such areas require access by permit only. Whether your anticipated location requires a permit is easy to determine with a quick internet search. All the sites I have visited provide information how to apply for a permit, any fees required and time limitations.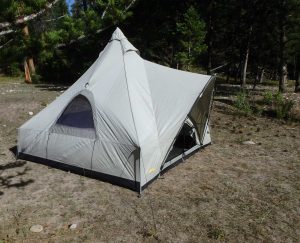 But suppose you are going to a wilderness without designated sites? Two recent trips I made into wilderness in Montana were into areas where no designated sites existed. With friends, I hiked into Sylvan Lake in the Beartooth Wilderness. Six miles up to 9,500 feet. When we topped the ridge and headed down toward the lake, a multi-acre meadow appeared. There was plenty of space for us to scatter our tents. And we were a quarter mile from the lake. Both are qualities desired in wilderness camp site selection.
On a horseback trip into the Bob Marshall Wilderness, the outfitter took us to a lightly wooded area. While our tent and the base camp equipment were conveniently close, there was enough space in the larger area that successive campers would be able to avoid utilizing the same space over and over. And a privy was set up 100 yards from the South Fork of the Flathead River and all the wastes were toted out.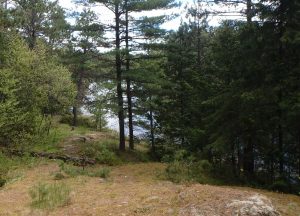 Ontario's Quetico Provincial Park, adjacent to the Boundary Waters, does not designate camp sites. There are, however, many camp sites that have been utilized by campers for years. Given the history of the area, some of the sites may have been in use for hundreds of years. If a site has been used, rather than seek another nearby area and break down the ecosystem there, use the established site. Rather than create a new fire ring, use the one that's there. (And if there's trash about, pick it up, burn what you can and carry the rest out.)
Among my favorite trips to Quetico Park have been the ones where we portaged the canoes and gear into lakes rarely used. Where to camp? Seek an open spot in the forest where you will not need to disrupt the vegetation, move rocks (critters live under them) or logs. In most cases, we were able to find a flat, relatively open site. In an effort to minimize visits from mosquitoes or black flies, a long isolated point helps.
There is certainly a lure in going into the backcountry and finding a place to appreciate the things we appreciate about wilderness. Take care. Find a good spot. Enjoy.
Tim Mead is an outdoor writer with 35 years experience. His articles and photos have appeared in national, regional and state magazines. He is Past President of the Southeastern Outdoor Press Association and current President of the Outdoor Writers Association of America.
Images by Tim Mead