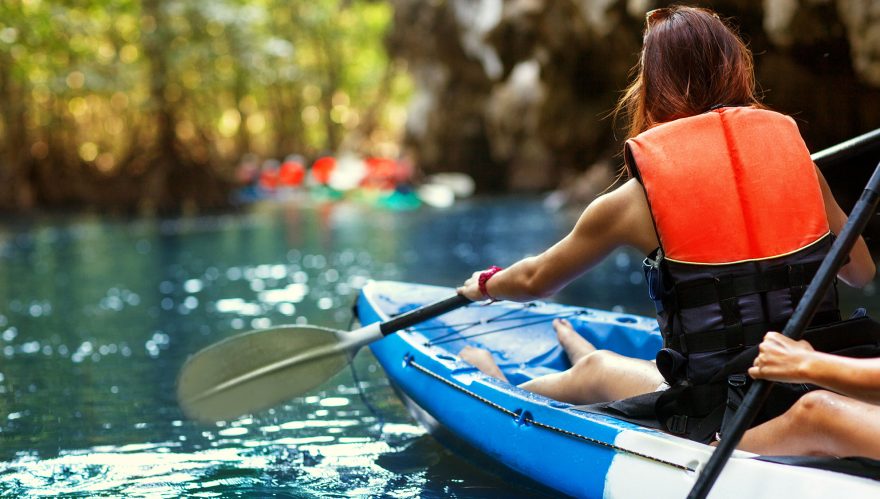 It might be intimidating to do your first kayaking trip, but no matter if it's a day trip or over-nighter, here are some things to keep in mind that'll help
Kayaking is a fun way to get outdoors for a few hours, a day or a whole weekend, while staying cool. Whether you've been out on the water in your own or in a rented kayak before or you're gearing up and getting ready for your first kayaking trip ever, we wanted to offer a few suggestions of what to know when planning and packing for the adventure. (If you're interested in buying a kayak check out this guide.)
The first thing to decide when planning a kayak trip is where to explore. There are several factors that go into this decision, including weather, water levels, length of trip, available put in and take out points, and the type of kayaking (flatwater, whitewater, etc.).
One of my favorite tools in helping me plan float trip details is the GoPaddling app. You can search by city, specific landmarks or waterways. The app shows put in and take out points and then estimate how long it will take you to kayak. You can even navigate to the points from the app. The availability of parking, bathrooms, campsites, boat ramps and other amenities are viewable in the app as well. Trip plans can be saved and shared. It is highly recommended to share your trip plan with someone outside of your group, that way someone knows when to expect you back.
If you (like me) live somewhere that river levels are constantly changing and sometimes too low to kayak, checking water levels at this website can ensure that you're kayaking comfortably and not carrying your kayak long distances.
After the details are decided and planning is in motion, you'll need to consider what to pack and bring. Needs vary based on goals, length of trip and weather. Even if you're not kayaking during the height of summer, be sure to bring sunscreen and use it throughout the day. Sunburns from water trips are not fun, especially if you still have a few more miles to kayak. I also bring a sun shirt, aka a shirt that is lightweight, long sleeve and provides UV protection.
No trek is complete without food and water. Make sure that the snacks that are packed are weather stable — avoid mayonnaise or foods that need to stay cold. I tend to pack a sandwich, fruit and crackers in individual reusable silicone bags in a small lunch box. The bags are durable, water resistant and easy to open even when wet, but do not open on their own.
I freeze some water in bottles to use as ice packs and to drink as they melt since it is imperative to have enough water to stay hydrated throughout the trip. Any large water bottle will work, but I really love my Hydro Flask with the straw lid. It keeps the water cold and floats in case of tipping. I can also use a carabiner to clip it to my seat, so it does not roll around in the well.
These are just a few things to consider when planning and packing for a kayaking trip. The biggest thing about kayaking is to remember to enjoy it. Put your phone in a dry box or in the dry storage so it doesn't take a swim without you (you can also use something like a Phoozy to protect it).
Then pause and take a moment to notice the beauty and quiet that being in nature and on the water provides.
Michelle Bufkin is a freelance communication specialist who enjoys a variety of outdoor activities — from agriculture to adventure sports.
Feature image by Rock and Wasp, Shutterstock
We are committed to finding, researching, and recommending the best products. We earn commissions from purchases you make using the retail links in our product reviews. Learn more about how this works.