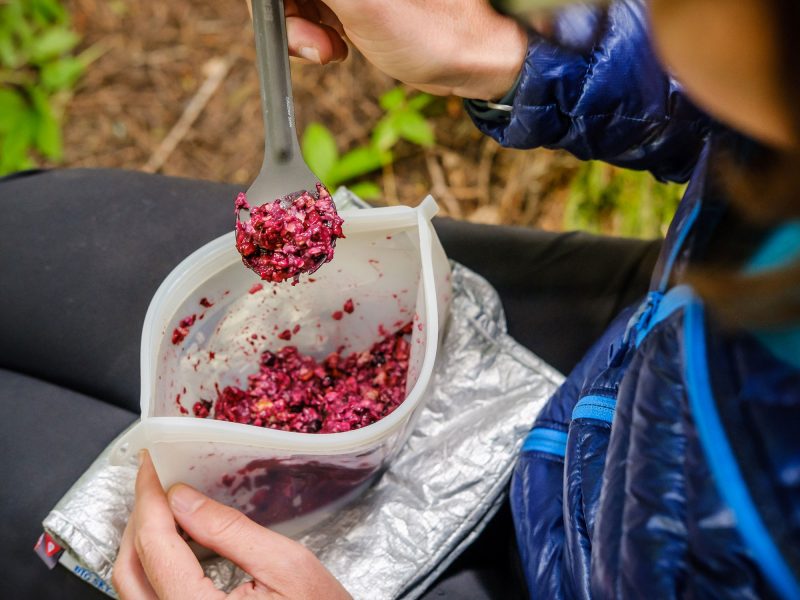 Berry Breakfast Crumble, a nutritionally dense backpacking breakfast, was inspired by my favorite mixed berry crumble dessert recipe. Who says you can't have a treat for breakfast? Especially when it provides protein, complex carbohydrates and fiber to fuel your hike.
Our Berry Breakfast Crumble recipe requires only dry ingredients, and you might be surprised by how quick and easy it is to prepare at home. The ingredients, which are vegan, can typically be found in grocery stores without having to place online orders. Places such as Trader Joe's are excellent sources for freeze-dried ingredients in small quantities. Using dry ingredients rather than preparing fresh meals that are then dehydrated greatly reduces the time spent preparing your backpacking meals. This might be an eye-opener for some and may make you reconsider those expensive, bulky, freeze-dried meals.
To entice you to give this recipe a try, only 1-2 ounces of water is required to rehydrate it on trail. This reduces pack weight by carrying less water for meal prep and reduces the stress of finding a camp near a water source. Less water also means less fuel is required to heat the meal. This can further reduce your pack weight since a smaller canister can be packed.
Like all Backcountry Foodie recipes, this meal is designed to be freezer bag style. This is a nice convenience as it reducing the time spent cooking and there's no pot to clean. This meal in particular rehydrates almost instantaneously, which is great for those cold mornings when you want to get moving as soon as possible to stay warm.
We're certain that your fellow backpackers will drool over your breakfast as they force themselves to eat their packet of instant oatmeal!
Berry Breakfast Crumble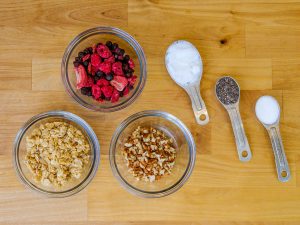 INGREDIENTS
½ cup freeze-dried berries (14g)
½ cup full-fat granola (60g)
2 Tbsp pecans, chopped (14g)
1 tsp chia seeds (5g)
1 tsp cane sugar (4g)
1 Tbsp coconut oil (14g)
Substitutions: Any mixture of berries (blackberries, blueberries, strawberries, raspberries) may be used. Recommend reading food labels and choosing full-fat granola without dried fruit to maximize the calories per weight ratio. Gluten-free granola can be used as a gluten-free alternative. Chia seeds provide an additional source of nutrition but can be left out without greatly altering the taste or texture of the meal.
Nutrition: For a lower calorie meal, do not add the 1 Tbsp (120 calories) coconut oil.
HOME DIRECTIONS
Prep time: 3 minutes
Put all dry ingredients in a bag or container to be used in the backcountry.
Pack 1 Tbsp (14 g) coconut oil to be added when consumed. Recommend double bagging the oil in the event there is a leak.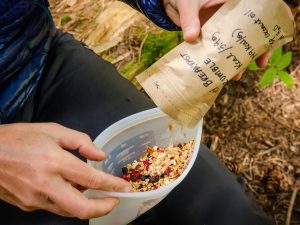 FIELD DIRECTIONS
Prep time: 1 minute
Add 1-2 oz (30-60 mL) hot water to the berry mixture.
Let stand to allow berries to fully rehydrate.
Add 1 Tbsp (14 g) coconut oil to berry mixture.
Stir to mix well and enjoy!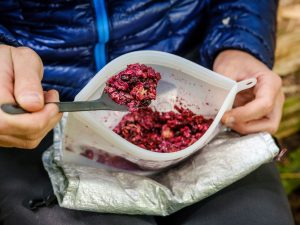 NUTRITION INFO (per serving)
KCal/oz: 149
Calories: 583
Protein: 15 g
Carbs: 70 g
Fiber: 12 g
Sugar: 25 g
Fat: 39 g
For a printable version of this recipe, click this link.
Aaron Mayhew, the Backcountry Foodie, is a dietitian utilizing ultralight meal planning for the great outdoors. Her recipes and meal planning services are a result of hiking thousands of miles and field testing hundreds of recipes to ensure they meet hikers' high energy needs. Get a lifetime recipe and meal planning subscription on her site, backcountryfoodie.com.
All images are courtesy of Backcountry Foodie