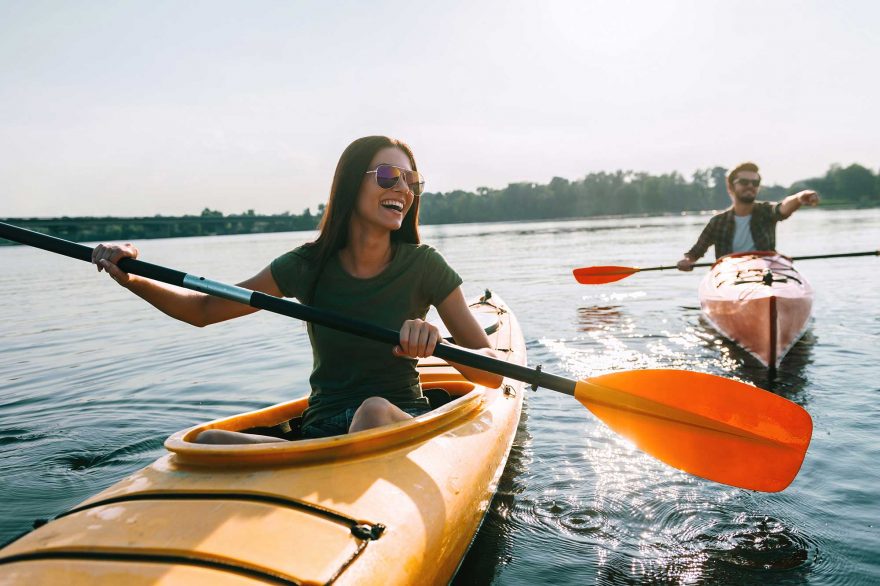 It could be water dripping off the paddles as you glide through a calm body of water or the solitude you experience that has inspired you to purchase your first kayak. With this exhilarating feeling, anxiety builds as you start you research options, with so many models out there. For an experienced paddler, this could be simply a difficult selection; however for a beginner, the choice can be downright overwhelming.
Some of the key questions you'll have to explore before getting your first kayak are:
How will you be using the vessel?
Where will you be paddling and how often?
Will you be out on a lake in calm waters, on a river or in rougher ocean waves?
Will you be looking for a more relaxed experience with nature or an adventurous day touring?
With a quick internet search, you can find an abundance of tips for this process. You could also locate a local shop, which can offer experienced people to answer all your questions or even possibly rent a kayak for a trial use. But here, we're going to go through a few of the basics, so at least you'll be prepared to ask the right questions and have a baseline from which to make a decision.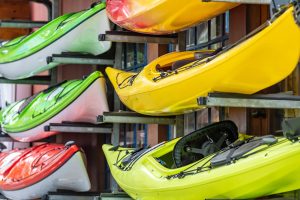 The first thing to consider is whether you want a sit-on-top or a sit-in.
Sit-on-top kayaks are user-friendly, being viewed as well suited for a recreational day on the water or for fishing. Versatile, these are usually a good option for beginners and are better suited for warm environments because you will get wet. They can be easy to get on and off of while providing a good level of stability.
Sit-in kayaks are more traditional and have a cockpit, giving you shelter from the wind and water. You can add extra coverage with a spray skirt, which is a flexible waterproof cover with a hole for your waist. These tend to offer more storage space and are generally constructed with foot braces. Contrary to what some may think at first glance, sit-in kayaks are actually quite roomy. They can be more efficient to paddle than the sit-on-top variety due to their lower center of gravity.
Once you've determined whether a sit-in or sit-on-top style is right for you, you can look into the various types of kayaks to choose from. There are touring kayaks, fishing kayaks, modular kayaks and more — all provide their own advantages and disadvantages.
You should consider the hull design, which is the shape of the bottom of the boat. It can make a difference in performance and stability on the water.
There are two types of stability that should be explained before going further into hull types. Primary stability or initial stability refers to how stable the kayak is when first getting into the boat. Secondary stability refers to how stable it is once you start paddling.
Here are the types of hulls to consider:
Flat Hull: Stable and maneuverable. The flatter the hull, the more stable your kayak will be. Ideal for recreational kayakers in flat water conditions. These can be good choices for beginners and offer great initial stability.
Rounded Hull: Rounded edges increase speed and allow for easier travel. These are more maneuverable and offer more secondary stability.
V-Shaped: Cuts through the water, helping travel in a straight line. Good for recreational paddling, ideal for touring or long-distance trips. They offer poor primary stability but more secondary stability.
Pontoon: Known to be very stable because they combine flat hulls and rounded hulls. They tend to be slower and combine both primary stability and secondary stability.
It's important to keep in mind the capacity of each kayak and this should be clearly listed when purchasing. The capacity includes the paddler's body weight, as well as additional items in the kayak. This can include coolers, fishing tackle and other gear.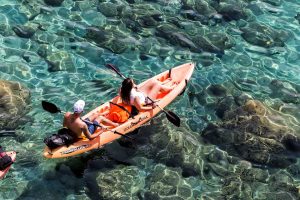 Generally, the longer and narrower the kayak, the faster and straighter it will go.
A kayak is more stable and easier to turn if it's wider and shorter, but it may sacrifice speed. A wider kayak can be a good beginner's choice as you grow accustomed to being on the water. Recreational kayaks are about 8 feet to 13 feet long and made for small lakes, rivers, creeks and other calm waters. They can navigate narrow inlets or passageways efficiently. Touring kayaks are longer, about 14 feet to 18 feet, and built to handle large waves, bigger rivers or larger lakes.
Your height should be accounted for when considering a kayak's length, particularly with sit-in kayaks. For a good experience, you'll want to make sure you fit inside well. If you are a big guy like me, a 12-foot-long boat is more comfortable than a boat that is 10 feet long. Adjustable footrests can help accommodate your height in your kayak. It can help taller people in smaller kayaks and shorter people in longer kayaks.
Since this is a big purchase, you should feel confident and comfortable. Once you find the right style, you should then find the right paddle. Take time to learn some kayaking basics, including how to launch, how to paddle and steering. This will allow you to have a more enjoyable time on the water.
Joel M. Herrling is a freelance outdoors writer/photographer in central New York. He enjoys spending time in the outdoors with his family.
Feature image by G-Stock Studio, Shutterstock; secondary images by Debbie Ann Powell and Ververidis Vasilis, Shutterstock
We are committed to finding, researching, and recommending the best products. We earn commissions from purchases you make using the retail links in our product reviews. Learn more about how this works.