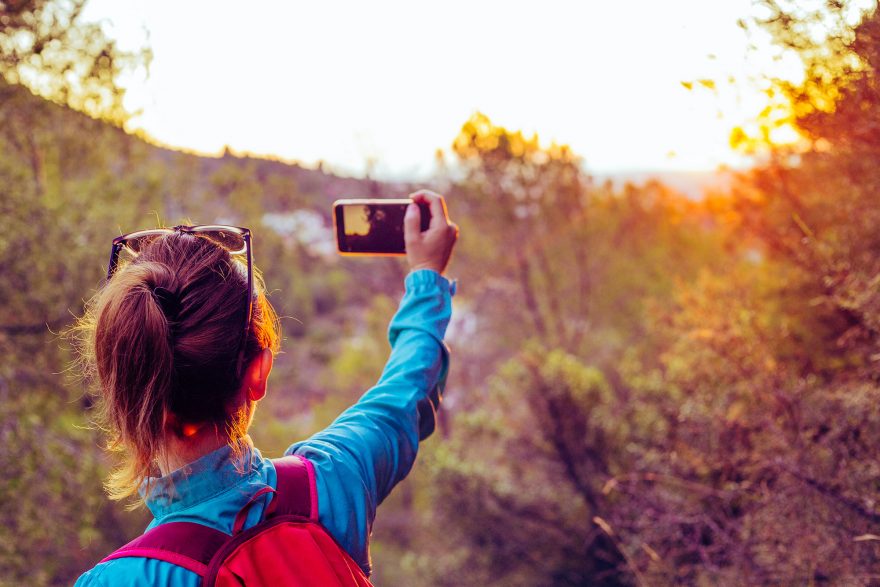 Hiking is a recreation that is both versatile and easily accessible for most people. It's a hobby that people of any level, from seasoned pro to beginner, can enjoy. And while being in good shape plays a role in one's hiking abilities, there are many factors to becoming a better hiker. It might only take good footwear, or an app, to help you make the next leap to a more advanced stage on the hiking trail.
When I first started hiking, I forgot all my hiking "gear" on a climb of the Bishops Peak Trail in San Luis Obispo, which is one third of the Tri-Tip Challenge that locals and tourists partake in. If you've never been on this trail, it's 3.3 miles of switchbacks, 1,010 feet elevation gain and rocky — and on the particular day I hiked it in wrangler jeans, cowboy boots and no sunscreen or water, it was sunny and hot. I learned very quickly that I needed to step up my game. The last thing I (or any of us) need is to be the focus of a search and rescue callout.
 

 

View this post on Instagram

 
While my schedule doesn't lend to becoming an expert-level hiker, I have advanced to intermediate simply because of the small changes I have made over the course of my hiking hobby. While some might seem obvious, these tips are important to consider no matter where you are in your hiking journey.
Don't go alone. There are many reasons for this, such as possible heat exhaustion, snake bites or getting lost on a trail you don't know. While you shouldn't let fear of any of these dangers keep you from hiking, it's always better to be safe.
Dress in layers. I learned the hard way my first few times hiking. It was in the colder season, so I would bundle up, and inevitably get too hot. Light layers that are easy to wrap around your waist, or put in your bag, are the best. I suggest finding pants that can roll up, or unzip into shorts, a button-up shirt with a T-shirt, or sports bra underneath, and a light jacket.
Carry a bag. There are many bags out there, but consider what your needs are before committing to a bag. I carry this bag from REI because it's lightweight, has carrying capacity for everything I might need, hangs off my shoulders and isn't a thick material. However, you may need a bigger, more durable bag for longer hikes, or to carry more items. Regardless, you won't regret having one for your essentials.
For those of us who love to hike with our dogs, get a dog pack, to lighten up your load (consider a brightly colored one just in case you become separated), don't forget your plastic doggy bags and always carry a bowl (foldable bowls changed my life) and water for them.
Good hiking boots. I used to hike in regular tennis shoes because I didn't think it really mattered. Except, it did. I would slip easily, roll my ankles, and the soles of my feet were not happy with me after a strenuous hike. There are many brands out there, but I bought these Merrells because they are high-quality and go with a lot of my hiking gear (because it's OK if you want to look somewhat put together).
Water bottle. I have become a big advocate for reusable water bottles. Besides obvious reasons, plastic also doesn't stay cold, right? However, some brands are a bit pricey, and finding something that was lightweight and insulated was hard. I settled for a Pogo from Target, which has done quite well for me and is in anyone's budget.
Stretch. I almost never do this, and I regret it the next day. Loosening up is healthy and necessary for your body. It doesn't have to be a long session — just do it quickly before you start your hike! Here are some great stretches to try.
Download the AllTrails app. This app shows you possible hikes in specific areas and gives you specs on each hike so you can decide if you want to climb it. People can review their hike, leave photos so you can see what it looks like at specific times of the year, and it tells you whether the hike is easy, moderate or advanced, among many other things. It's also a modern way to keep track of where you are, in case you do get lost.
Go on practice hikes. If you have a short, easy trail close to you, try to hike that often to stay in shape, and keep your body prepared for bigger hikes.
Don't always do the most trafficked hike. I love Yosemite, but sometimes, those more popular hikes are not fun because there are way too many people. If you are comfortable, and can be safe, take the "road less traveled" and do a hike that most people aren't doing. The views are usually amazing.
Take it slow. You should pace yourself on the trail. Taking breaks is a way to ensure you aren't overwhelming yourself and allows you to enjoy the views that trails provide.
 

 

View this post on Instagram

 
Becoming a hiking expert doesn't happen overnight, but even the slightest changes can improve your ability immensely. Exploration is one of the greatest joys of life, and there is so much to see out there in the world, so it can become discouraging if you're never prepared. The great thing is, it's not hard to become a better hiker, and changes are as easy as the things mentioned on this list, so don't let small inconveniences keep you from adventuring. Happy Hiking!
Markie Hageman lives in California and is an agribusiness graduate from Fort Hays State University. She is the Communications Coordinator for California Rangeland Trust.
Feature image by AngelaCapitan, Shutterstock