Learning some skills for trail running in mud — and how to navigate those sloppy conditions — can give you more confidence during a workout.
---
If you're hitting the trails in the coming months (especially in springtime), chances are you'll encounter sloppy conditions along the way. In my area of Montana, like all mountain states, trail conditions change rapidly as you run up a mountainside. At the base of a trail you may have dry conditions. As you climb in elevation, you could find yourself trail running in mud and muck — facing oodles of puddles. And even farther up, you could still find patches of ice and snow well into the summer months.
But regardless of where you're trail running, learning to navigate the muck can give you more confidence out on the trail. Here are five tips to help you run more confidently in the mud.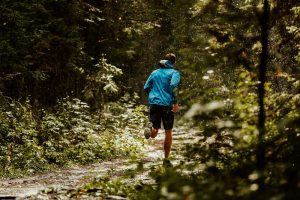 1. Run Through Puddles
Remember when you were younger and your parents told you not to run and jump in puddles? Well, you'll want to do the opposite when you're trail running. Think about it. If every trail runner ran off-trail and avoided the puddles, the trail would change — this is known as "trail braiding." And trail braiding leads to trail erosion. Sure, you'll get mud splatters, but that's part of the adventure. You can wear your mud splatters as a badge of honor. By running through puddles and staying on the trail, you're helping to conserve the trails you enjoy.
2. Have the Right Footwear
Soaked feet can be very uncomfortable when you're trail running. If you're going to run through puddles, you'll need the right shoes and socks. Look for shoes that drain water. Sure, some shoes have waterproof coatings, but once water gets in your shoe (and it will), you'll need to get it out. You can imagine how uncomfortable shoes filled with mud and water can be when you're miles from your car. You'll also need socks that help your feet breathe. There's a myriad of sock brands out there. When sock shopping, look for socks with mesh ventilation zones that let your feet breathe or neoprene socks that keep water from reaching your feet altogether.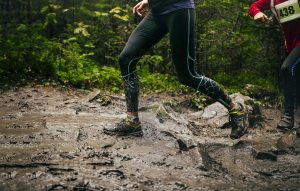 3. Adapt Your Trail Running Style
When you're running in mud, you should be mentally prepared to change your running style. Mud is slippery. It helps to stay relaxed, run more upright than you normally would, shorten your stride and slow down. Of course you'll move a lot faster on a dry trail, but in muddy conditions you want to take noncommitting shorter strides — especially when running downhill. Slowing down and taking shorter strides helps you maintain your center of gravity and ultimately leads to less wipeouts. You should also use your best judgment. Running long distances in muddy conditions can be physically and mentally taxing. Know your limits.
4. Consider Using Add-on Traction Devices
When navigating muddy trails, you may want to consider using an add-on traction device for your running shoes. Some easily slip over your shoes; some screw into the sole of your shoes. And some are even built into shoes. All of these options can be effective when running in mud and icy/snowy terrain. It's like adding a 4-wheel-drive mode to your shoes. Runner's World tested some of these add on traction options.
5. Pre-Train for Success
Running in mud can feel like running in sand. You're slower, and it takes more energy to propel yourself forward. Try adding more squats and lunges into your pre-training routine. This will help with your strength and stability. Also, building up your calf muscles is key to running in mud and muck. If you're already a trail runner, it's likely you've encountered sore calves at the end of a long run. Adding calf strengthening exercises to your training regimen before the muddy season can help you move easier and prevent injury.
Suzanne Downing is an outdoor writer and photographer in Montana with an environmental science journalism background. Her work can be found in Outdoors Unlimited, Bugle Magazine, Missoulian, Byline Magazine, Communique, MTPR online, UM Native News, National Wildlife Federation campaigns and more.
Images by sportpoint, Shutterstock
We are committed to finding, researching, and recommending the best products. We earn commissions from purchases you make using the retail links in our product reviews. Learn more about how this works.