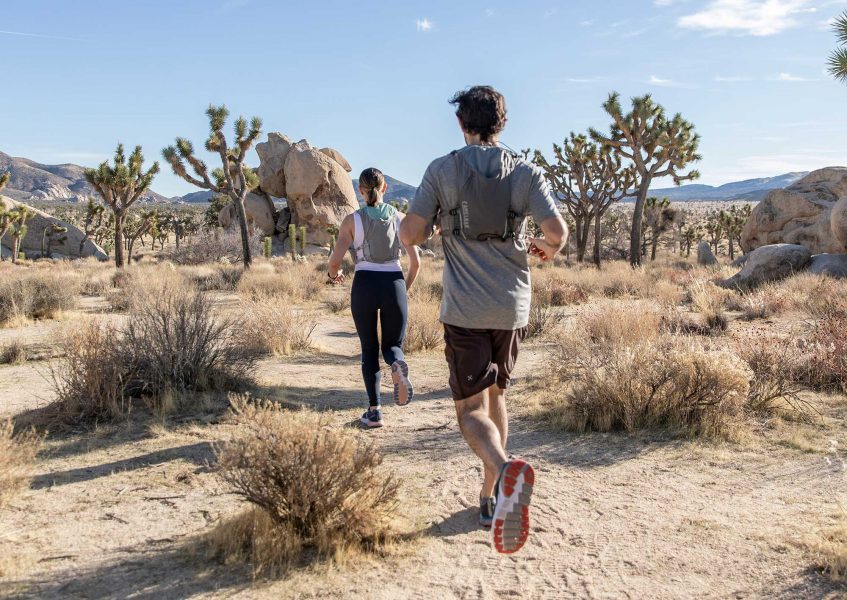 For those of us who take to the trails and roads as runners, there are three main style options for choosing the best hydration system: a vest, a belt or a handheld.
---
There are several negative effects from becoming dehydrated during a run: your blood flow and sweating capabilities are impacted, thus becoming more difficult for your body to regulate its core temperature; your balance and coordination can decrease; and your post-run recovery is slowed, just to name a few. Running, like with every workout, requires you to stay hydrated, and especially if you're out on the trails, where aid stations and water fountains are few and far between, choosing the best hydration system for your performance abilities is vital.
How much water you need, specifically, varies from person to person. A Minnesota native running a race in Texas probably needs more water than a native Texan who's used to the higher temps. A performance athlete like professional trail- and ultra-runner YiOu Wang, who has conditioned herself to go the distance race after race, will probably require less hydration than an pleasure runner taking part in her first half-marathon.
For those of us who take to the trails and roads as runners, there are three main style options for choosing the best hydration system: a vest, a belt (aka waist pack) or a handheld.
Wang, a California-based runner who has been a CamelBak athlete since 2015, gave us a hand in explaining each type of hydration system, including highlighting the benefits and drawbacks they hold. Wang's favorite distances are between 50k and 50 miles, so she knows a thing or two about being out in the heat for hours (or even overnight) as part of a race, and the endurance and needs of a runner who is pushing him- or herself to the limit.
When looking at the best hydration systems for running, no matter if you're a veteran of the trails or a beginner, here are the things to consider: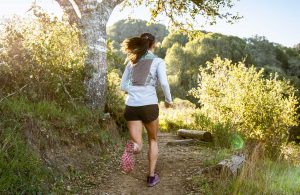 Hydration Vests
Hydration vests, because of their higher capacity, are usually geared toward long-distance trail running, where water/aid stations are less common — or, in some instances, are non-existent entirely. Typically, road runners don't need to carry as much "stuff," both in terms of hydration and other gear or food for calories.
The three best reasons to choose a hydration vest are:
You don't have anything in your hands: Your hands and arms can both swing freely as you run, and because the vest hugs your body, you can maintain basically the same level of balance as if you would if you weren't wearing the vest.
You can adjust the vest to fit perfectly: Every good-quality running vest will have multiple points that you can adjust so that it fits you well — no matter the exact shape of your body.
You can carry a lot of gear: Especially for a multi-hour or multi-day adventure, having the ability to carry a sufficient volume of water and enough calories with you will be important.
Over the past decade or two, there has been a lot of research and fine-tuning of vest materials done to improve padding, breathability and fit. "I think there's been a lot of innovations in different kinds of mesh material that are less irritating and less rough against the skin," said Wang, who's favorite vest is the CamelBak Women's Ultra Pro, a women's-specific fit of CamelBak's elite Ultra Pro Vest.
With a good vest, chafing shouldn't be an issue. There is a clear connection between fit and chafing — meaning that if you're experiencing chafing, it's likely because you haven't sized your vest properly.
Hydration vests are made either with a bladder on your back or with soft bottles positioned over the front straps. Wang notes that she prefers the soft bottles in front because the sloshing of a rear-positioned hydration bladder can sometimes be uncomfortable. Additionally, since she has, through lots of training, adapted to needing less water on runs, a bladder on her back would be more volume than she usually needs.
And you shouldn't carry more than you need, because you can be sure that anything you pack into a vest is going to start to feel quite heavy on a run the more hours you get into it. Wang said a vest's adjustability is a factor here, too, because when you place more items in a vest, you need to be able to loosen the fit so you can still breathe properly. Being able to tighten or loosen the closure at the front of the vest allows you to find a comfortable place where you can breathe and where your items will be held securely in the rear storage pocket.
---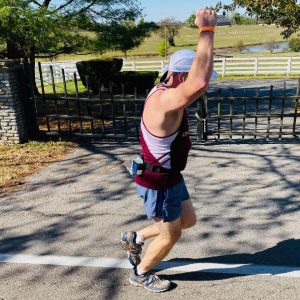 Belts/Waist Packs
A hydration belt is a good middle-of-the-road option when exploring what works best for you and in guessing at how much water you'll want to have on you for a run.
A belt should sit above the hip bones and not impede the movement of your femur in the hip socket. Wang said she always tests out whether she has a full range of motion with both legs when she has a running belt on. A lot of belts come with bungees or they're extremely elastic, so they should fit on the tighter side, helping to prevent them from moving up or down the hips when you run.
The three best reasons to choose a hydration belt are:
Your hands are not tied up: Like with the vest, not having anything in your hands can help you stabilize yourself on a tricky trail or can allow you to reach out if you happen to slip.
Your gear is distributed well around your midsection: Further emphasizing balance, having your water cinched close to our hips doesn't leave your gear weighing you down at an extreme end of your body.
Your breathing isn't going to be hampered: Yes, a waist pack is intended to be worn tightly, but no matter how tight you have it, it's not going to impact your chest and, thusly, affect your normal breathing rate.
If you have a water bottle or a soft flask in your belt, you need it to be held pretty tightly, so the hydration system itself will probably be tighter than you'd expect going into wearing it the first time.
"When I first put on a belt, I thought, 'This feels super tight,'" Wang said. "But then you start running, and if the material is a proper stretch, then it doesn't feel constricting, while also feeling like it keeps everything that you want to store on your belt secure."
Like anything, it's going to take a bit of getting used to — it's new material against your body, after all. But once you feel comfortable with a belt on, it opens up a world of benefits. If you are doing shorter runs and want to carry water as well as a phone, keys, etc., having a running belt is very convenient and useful.
---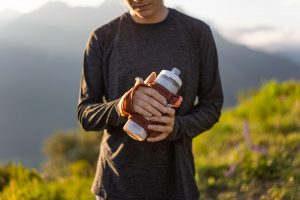 Handhelds
Handheld hydration options are great once you have trained with them awhile and are used to carrying the weight. The last thing you'd want to experience is hand cramping or other kinds of fatigue late in race. And many people love handhelds because they don't have to wear something around their torso and are convenient to pick up and set down. They are also going to be the most affordable option on this list.
The three best reasons to choose handheld hydration bottles are:
You don't have to wear anything that'll feel tight: If you don't like to feel at all constricted during a run, these are going to be your best bet.
You can typically carry just enough water that you'd need: There's a belief in the outdoors that if you have the space in your pack, you're going to fill it up, whether you need to or not. Same goes for water, and handhelds help prevent you from falling into the trap of carrying excess water for your length of activity.
You can refill a handheld easily: They're right there in your hand, and you don't have to take anything out of a pack.
Handhelds are nice for city or suburban training runs (with lots of water fountains along the way for you to fill up at) or for shorter races. Many of the best handhelds are cushioned to ease hand fatigue, and they have a strap to assist with your grip. If you're getting a handheld, it's also worth getting one with a small pouch on it, so that you do have a place for a key or a couple of bucks to buy a drink or a snack after a run.
Ryan Tipps is Managing Editor for ActionHub and has experience in a variety of digital and print media. Ryan lives along the Blue Ridge Mountains, is an avid hiker and backpacker and has been a part of the wilderness search and rescue community since 2005.
Hydration belt image courtesy of Daniel Sweet; all other images courtesy of CamelBak